Richardson, Texas – December 15, 2013 – In November 2013, the United States Olympian and Paralympian Association, Southwest Chapter, donated $1,000 to the United States Para-Equestrian Association's Jonathan Wentz Memoria Scholarship Fund. The large check was presented by 1984 Olympian Joan Hansen and 2002 Paralympian Gold Medal Sled Hockey Team and Marine Pat Sapp. Joan Hansen is also the Vice President of the United States Olympian and Paralympian Association. Both Hansen and Sapp visited the late Jonathan Wentz's home in Richardson, Texas, to speak with Wentz's family and friends and deliver the donation. Parents Tina Wentz and James Wentz, sister Christin Wentz, and United States Para-Equestrian Association President and Paralympian Hope Hand accepted the endowment in Jonathan's honor.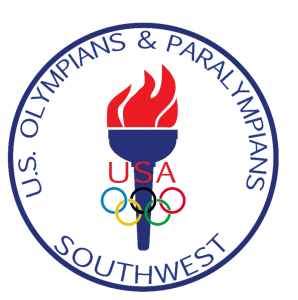 "The profound way that Jonathan Wentz lived and performed personified the Olympic Spirit," noted Joan Hansen. "His ability to encourage other competitors, mentor students and demonstrate capability instead of disability consistently in front of spectators and behind the scenes are the very reasons the United States Olympian and Paralympian Association, Southwest feels honored to donate to The Jonathan Wentz Scholarship Fund"
2002 Paralympian Gold Medal Sled Hockey Team and Marine Patt Sapp; James Wentz; Christin Wentz; Tina Wentz; Vice President of the United States Olympian and Paralympian Association and 1984 Olympian Joan Hansen; and USPEA's President and Paralympian Hope Hand Photo by Lindsay Yosay McCall
The United States Olympian and Paralympian Association (USOPA) was established on October 11, 2013 to partner and integrate Paralympians and Olympians into every facet of the Olympic and Paralympic Movement. In support of the United States Olympic Committee, twenty-two chapters of USOPA strive to foster the spirit of Paralympism/Olympism in each community, to motivate and encourage youth and to develop camaraderie among those who have shared the unique experience of representing their nation at the Olympic/Paralympic Games.
The mission of the USOPA is to create opportunities for local Paralympians and Olympians to become friends, united within neighborhoods, improving communities and inspiring youth to pursue their dreams. These local connections provide the greatest opportunity for breaking stereotypes and promoting Olympism, Paralympism and inclusiveness within regional settings.
Joan Hansen continued, "We encourage Paralympians to join their local USOPA chapters, become involved with sponsored events and help to shape inclusive policy as engaged decision-makers within each chapter's Board of Directors."
The Jonathan Wentz Scholarship Fund was established to continue the dream of Paralympian Jonathan Wentz; to advance High Performance Para Dressage in the USA by supporting and encouraging USA Para Dressage Young Riders to set the goal of International competition.
At age 13, Jonathan set the goal of riding for the USA in the Paralympics. At age 16, he
established a plan and budget to achieve his dream. At the age of 21, Jonathan was able to
achieve his dream of riding for Team USA in the 2012 London Paralympics earning the highest placing of all USA equestrians that competed in London. Another goal of Jonathan's was to develop a Para Dressage Young Rider program to help grow and improve Para Dressage in the USA. His scholarship fund will be used to offset the cost of YR Championships and International competition for Para Dressage Young Rider's and to encourage their participation enabling them to excel in their sport.
Scholarship funds will go toward assisting USA Para Dressage High Performance Young Riders (ages 16-25 within the competition year), who are actively competing in 3* and above International Para Dressage competitions, and have qualified for the U.S. YR Para Championships.
Funds shall be awarded to help offset competition expenses up to $1,000.00 per competition to help cover entry and other fees including stabling and/or shipping (must be greater than 500 miles one way) costs for competition.
Guidelines for Application of Jonathan Wentz Scholarship Fund:
USA athletes must submit a Jonathan Wentz Memorial Scholarship Application with expenses itemized, along with a copy of completed entry forms, invoices and/or receipts for consideration of scholarship funds, along with a list of their competition highlights, competition goals and competition plan/schedule for the current and future 2 years. (Example; 2013- 2014, 2015 -2016)
Scholarship funds are intended for direct payment of specific competition expenditures, entry fees, stabling, and/or shipping only. Checks made out to athlete or immediate family for reimbursement will require a completed W-9, and will be subject to approval. Scholarship funds may be awarded for a maximum of two CPEDI3* events per competition year or the YR Para Championships & one CPEDI3* with a maximum of $1,000.00 awarded per competition. Grants are subject to the approval of the USPEA board. Funds will be awarded based on "own horse" (according to FEI Para definition), distance to competition, number of competitions athlete is planning to attend in 2-year competition period, competition record, number of applicants and/or funds available.
Jonathan Wentz Memorial Perpetual Trophy
This trophy was established in memory of Paralympian Jonathan Wentz, to recognize a USA Para Equestrian ATHLETE (includes Para Dressage, Para Driving, Para Vaulting, Para Jumping, and Para Reining) who has competed and excelled in multiple International Competitions and received scores that contributed to the USA Individual and/or Team ranking on the FEI ranking list during the competition year. This individual has also served as a role model in advancing the sport in the USA, and educating the public on the discipline.
Paralympian Jonathan Wentz, at the age of sixteen established a plan to achieve his goal of representing his country at the Paralympics. Toward that goal he tirelessly trained and competed as a high performance Para Dressage athlete for the USA. He tenaciously pursued his goal while working to improve his sport through serving on USEF committees, giving riding demonstrations, public speaking and mentoring new riders. Jonathan felt it was extremely important for the growth of the sport for Para Equestrian High Performance athletes, to be recognized as athletes without regard to their disability, to be viewed parallel to Olympians. To achieve this level a Para Equestrian must be committed to training & competing consistently at the highest level, like their Olympic counterparts. It also requires a commitment to improving the sport and educating the public on all Para Equestrian disciplines.
The Jonathan Wentz Memorial Perpetual Trophy recognizes the USA Athlete's excellence in competitive Para Equestrian sport at the International level. This award honors USA athletes who serve as a role model for their sport and it commends those equestrians who help to advance Para Equestrian sport in the United States.
(This trophy was established by the USPEA to be given annually** at the USEF annual convention. There will be a perpetual trophy created for the names of the recipients. Disciplines not yet established are listed looking toward future growth in Para Equestrian High Performance disciplines. **The award will be given annually, if there is an athlete that meets the criteria.)
To make a tax-deductible donation to the USPEA Jonathan Wentz Scholarship Fund or Memorial Trophy:
Mail donations to:
USPEA, c/o Tina Wentz, 701 N. Waterview Dr., Richardson, TX 75080
Make your checks payable to:
USPEA and designate: "JW Trophy" in the memo
Use your Credit Card or PayPal by going to www.uspea.org.
Click on the "Donate Now" button and designate "JW Trophy" in the message section.
About the United States Para-Equestrian Association:
The USPEA is a network of riders, judges, national federation members, and equestrian enthusiasts. The association gives athletes the ability to get involved and expand their knowledge and experience in the Para-Equestrian sport. The USPEA encourages Para-athletes to participate in all disciplines under the Para-Equestrian umbrella.
The USPEA is a recognized affiliate of the United States Equestrian Federation (USEF) which serves as the National Governing Body for the equestrian sport. This relationship between the USPEA and USEF is to encourage Para-Equestrian competitors, leisure riders, coaches, fans and enthusiasts to network and get involved with the entire equestrian sport.
Ultimately the goal of the USPEA is to foster growth in the Para-Equestrian discipline. From growth in the number of participants to growth as a team, and growth in the experience and knowledge of all involved. From local horse shows to international Paralympic Games, the USPEA provides Para-Equestrians the knowledge and resources needed to succeed. The USPEA connects with the International Olympic Committee (IOC), the Federation Equestre Internationale (FEI), the United States Dressage Federation (USDF), USA Reining, and USEF which provide Para-Equestrians the top equestrian resources.
In June 2010, the USPEA earned its 501 (c)(3) status which has encouraged supporters to help supply funding to the Para-Equestrian Team as a recognized affiliate of the United States Equestrian Federation(USEF).
For more information about the USPEA please visit http://www.uspea.org/ or contact USPEA President: Hope Hand by e-mail: hope@uspea.org or by phone: (610)356-6481.
To view an online version of this press release please visit:   http://uspea.org/category/recent-uspea-press-news/