Deadline for Second Round is October 7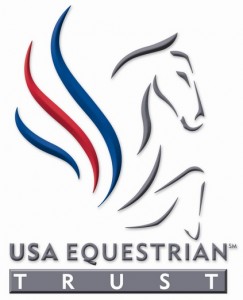 July 17, 2013 — Lexington, KY — USA Equestrian Trust has awarded nearly $210,000 in grants for 10 projects submitted by equine non-profits during the first of the foundation's two 2013 application periods.
The deadline for the Trust's second grant application period is October 7. Equine non-profits interested in applying for a grant can do so by using the Trust's online application form at www.trusthorses.org.
Those projects awarded funding were:
AMERICAN YOUTH HORSE COUNCIL ($5,000) to support its annual symposium that educates youth on all facets of the equine industry through demonstrations, presentations and discussions.
THE DRESSAGE FOUNDATION ($5,000) to help revamp its website and offer an improved online experience for visitors.
HEALING HORSES & ARMED FORCES ($15,600) to assist its equine therapy program for veterans.
HORSE PARK OF NEW JERSEY AT STONE TAVERN, INC. ($35,000) to replace the aging lighting system at the park's indoor arena to better serve its expanded clinic and educational program activities.
KENTUCKY HORSE PARK FOUNDATION, INC. ($25,000) to assist in the creation of a dedicated horse path at the Kentucky Horse Park to enhance safety for horses and riders.
USEF EQUINE HEALTH RESEARCH FUND ($21,173) for a research project at the University of Minnesota that is using next-generation whole genome sequencing to search for a genetic basis for shivers.
USEF U.S. SADDLE SEAT EQUITATION WORLD CUP ($50,000) to assist in hosting the 2014 International Saddle Seat Equitation World Cup. The Trust previously provided grant funding for the U.S. team's 2012 victory in South Africa.
USEF U.S. SADDLE SEAT EQUITATION YOUNG RIDER TEAM ($10,000) to develop riders for future U.S. Saddle Seat Equitation World Cup competitions. The funding will help the Young Rider Team host a competition against two South African teams.
UNIVERSITY OF NEBRASKA-LINCOLN ($29,100) to create new online educational materials for eXtension HorseQuest (http://www.extension.org/horses) and My Horse University (http://myhorseuniversity.com). Among the materials to be offered are instructional videos, articles, lessons and webinars.
WESTERN DRESSAGE ASSOCIATION OF AMERICA ($13,415) to create a video library showcasing Western Dressage, a new discipline inclusive to all breeds of horses.
To learn more about USA Equestrian Trust and its programs or to apply during the second round of grants, visit the Trust's website at www.trusthorses.org.
About USA Equestrian Trust
USA Equestrian Trust is a New York Not-for-Profit Corporation whose mission is to assist in preserving and/or enhancing the quality of equestrian sport in the United States of America. Its objects and purposes are exclusively charitable, educational and dedicated to the fostering of equestrian sports. The Trust is a private foundation pursuant to the United States Internal Revenue Code of 1986, and a Sustaining Affiliate of United States Equestrian Federation (USEF), the National Governing Body for equestrian sport in the United States.