High Performance and Conformation Hunters Turn Up the Heat The hunter horses were out in force on Monday.  Despite the heat, many rose to the occasion with numerous scores over fences in the 90s.  The stars of the hunter division, the high performance hunters, showed over fences and under saddle.  Judged on movement, style, and soundness, these horses jumped four foot fences and then returned for an under saddle class where their movement was judged on the flat.    Laura Chapot on Zealous First, each horse tackled a course of eight natural-colored fences designed to simulate the obstacles found while foxhunting.  The winner of the first over fences class was Miss Lucy, a chestnut mare owned by Helen Lenahan and piloted by Jennifer Alfano.  Miss Lucy impressed the judges with her slow, methodical rhythm and impressive athleticism over fences.  Her performance garnered a score of 90.  Rounding out the primary colored ribbons were Casallo in second place, ridden by Liza Boyd and Declaration in third place, ridden by Scott Stewart. Leigh Cofer on Camera Ready Next, the horses returned for the hack, which was won by Summer Place, owned by Pony Lane Farm and ridden by Maggie Jayne.  As Ms.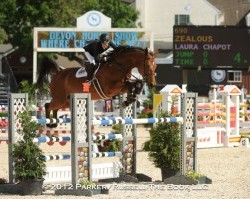 Read more at the source: High Performance and Conformation Hunters Hit the Ring!
Article excerpt posted on Sidelinesnews.com from Show World.
Double D Trailers Info