By Sarah Maslin Nir
Jessie Blake Lochrie is something of an equestrian contradiction. At night she can be found tearing up the dance floors in Brooklyn's edgiest underground clubs, taking in a deejay set or discussing the minutiae of electronic music, of which she has an almost encyclopedic knowledge. By day, she can be found surrounded by saddles, bridles and breeches, running New York City's last remaining saddlery in the middle of Manhattan, exercising that same encyclopedic knowledge while helping customers source everything equestrian.
And on the weekend? She's likely astride a paint Morgan named Trystan, riding around the New Jersey countryside.
Entrepreneurial Spirit
What little time there is left between the dance floor, the shop floor and the barn, Jessie, a 28-year-old with a red mane that would make a chestnut envious, has managed to create her own fashion brand that integrates all sides of her personality: New York chic and lasting equestrian heritage. Blake Goods, the Brooklyn-based belt company she launched in 2018, knits together the cool of street-ready fashion with the durability of barn-ready bridlework.
"In the past, people bought less and they needed their products to last a long time, and we've sort of lost track of that," Jessie said a few weeks after her debut collection launched, standing at Ithilien Stables in Whitehouse, New Jersey, the barn where she rides. At her waist was one of her first pieces, a rich mahogany belt with a unique circlet of brass she designed as the clasp. "As a lifelong horse person, I had an appreciation for high-quality leather that will last a lifetime, which I wasn't seeing in the broader market," she said.
Jessie decided to take matters into her own hands, and make it herself. Blake Goods' debut collection features four styles — so far — designed to be equally fitting for the show ring or the catwalk. And at just under $100, they're accessible enough to collect them all, but designed to be much more than fast fashion. They're intended to be heirlooms. "As riders, every day we are accustomed to high-quality leather in our lives; people who aren't involved with horses don't get to experience that," Jessie said.
With Blake Goods, she hopes to cultivate appeal and appreciation beyond just the equestrian world. She might be on to something: Within a week of her launch, Blake Goods' circle belt was selected by Man Repeller, the "it" fashion site for style cognoscenti, as an editor's pick.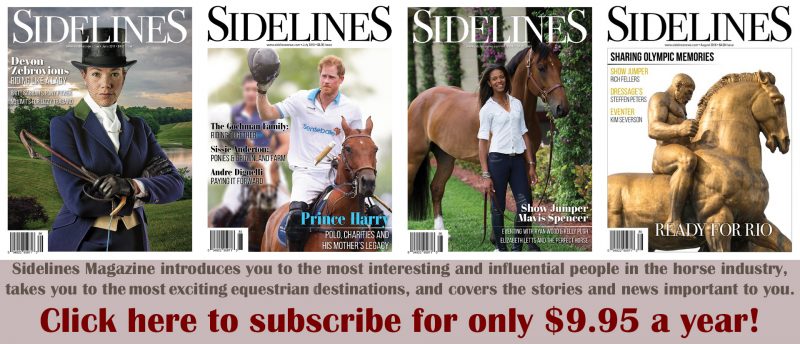 Manhattan's Last Saddlery
At her day job at Manhattan Saddlery, Jessie is surrounded by some of the most exquisite bridlework on the equestrian market. Jessie goes on frequent overseas trips to source products for the saddlery. The trips have taken her from the FieraCavalli in Verona, Italy, where she was unexpectedly swept along to a gala dinner for the show's 100th anniversary ("No one told me not to wear jeans!" she laughed) to the Spoga equestrian trade shows in Cologne, where dancers performed in padded riding underwear — and nothing else.
All along the way, Jessie has kept in mind that she's not just selling equestrian goods, but via the shop, owned by Nick Tsang, she's preserving the equestrian heritage of a city once built on horses: In 1880 there were at least 150,000 horses in New York City. Today, horses can only be seen pulling carriages through Central Park, and Manhattan Saddlery is the sole remaining purveyor in Manhattan.
But that legacy lives on in Jessie's own line, through the equestrian principles of durability and utility. "People don't buy a saddle and expect to get another one the next year; they want it to evolve with them, to last a lifetime," she said. "Why shouldn't fashion?" Her fashion notes come from the bridlework in which she has been ensconced in her profession. Leather for Blake Goods belts is locally sourced in the United States and tanned in one of the last American tanneries that uses a vegetable-based tanning process.
Riding and Poetry
To have horses in her life, Jessie has racked up a resume as diverse as her interests. "Truly, my resume is insane," Jessie laughed. She spent years dishing up lobster rolls and cracking Narragansett beers for customers at a local seafood shack on Cape Cod. "I was one of the worst waitresses of all time!" Her head was not in the restaurant game; it always was back at a local farm, where she had learned to ride on a naughty pony named Wesley. "He was like a Thelwell pony," she said. "So mischievous, but of course I loved him anyway."
Jessie started eventing, but once she moved to New York City to study at Eugene Lang College, she was drawn to the hunter-jumper world in which many of the barns within driving distance specialize. There, she found in particular, the intense focus needed for the equitation ring spoke to her.  There was a poetry to it, Jessie felt, that made sense to her — Jessie holds a bachelor's degree in poetry.
To Jessie, her diverse interests coalesce and make sense. "Riding and poetry appeal to me because they both require a huge amount of attention to detail and hard work to make the final result look effortless," she said. "You look at a great poem or a great rider, and think, 'I could do that, that looks easy,'" she added, "— which is a testament to the skill of the artist, or the rider."
Leather That Lasts
In launching her company, Jessie has become as encyclopedic as you'd expect about everything that goes into her products. "Most leather is chrome-tanned: it's faster, it's cheaper. But there are a ton of chemicals that are really bad for people and animals," she said. Most are made in developing countries, she added, which take unfair advantage of lax environmental laws, and put people at risk. "The major byproduct of chrome tanning is toxic waste water. It's really destructive."
The leather that goes into Jessie's belts therefore takes longer to craft, but the result, she says, is safer for the environment, and worth it. "The leather is instead tanned for a really long time, six to eight weeks, in a solution that is mostly made out of bark. Tree bark!" she said. "It's a slow and old-world, eco-friendly process."
Jessie designed the buckles on her belts to be riffs on the durable hardware riders know from halters and stirrup leathers. They're cast just as painstakingly as the leather they're mounted on. "It's an ancient process," Jessie explained. Molten brass is poured into molds made of sand, which is then cracked apart revealing the shiny new buckle inside. "Baby buckles being born!" Jessie gleefully captions her Instagram photos, where she documents each step of the artistic process.
A Life With Horses
Horses are a huge part of Jessie's life, but they aren't in the Massachusetts native's blood. Nevertheless, Jessie and her sister, Alicia, have managed to revolve around the animals they love: Her sister is a professional horse shipper, and the proud owner of an adorable pet rescue mule.
"The crazy thing is my parents have nothing to do with horses," Jessie said. "But my sister and I have made them our profession and life. No one knows where we got it!
"What I love about horses is that what you give to them, they give back to you," she added. "When you love your horses they blossom. Whether they're worn on the dance floor or in the show ring, I put a lot of love into my belts, and want what I create to give back to anyone who wears it."
For more information, visit www.BlakeGoods.com or @blakegoodsbrooklyn
Double D Trailers Info