This is the Final Blog from our Pony Finals Mystery bloggers! They did a great job! Wonder if we will ever discover who they are? Friends Addison Piper, Yasmin Rizvi, Caroline Passerelli, and Maddie Schaefer pose for a picture in the Alltech Arena.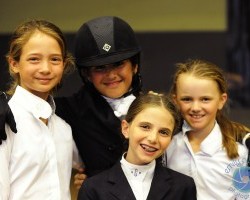 Read more at the source: Pony Tails: Final Day at Pony Finals
Article excerpt posted on Sidelinesnews.com from Show World.
Double D Trailers Info