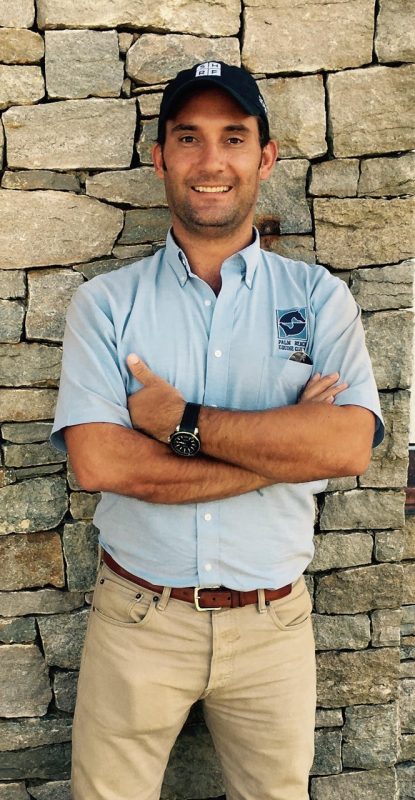 Richard Wheeler, DVM, was born in the U.K. and graduated from the Royal Veterinary College, London, in 2002. Dr. Wheeler then completed a two-year internship at Greenwood, Ellis and Partners (now Newmarket Equine Hospital) in Newmarket. In 2005, he moved to Wellington, Florida, to join Palm Beach Equine Clinic and he became a partner in 2009. Dr. Wheeler's primary concentration is equine sports medicine. He is an FEI Veterinary Delegate for Show Jumping and Dressage and has authored several published articles on the topic of equine sports medicine. Dr. Wheeler has served on the board of the USHJA Horse and Rider Advocates Committee. In 2016, Dr. Wheeler became a founding director of the Sport Horse Research Foundation. Dr. Wheeler and his wife, Jessica, have two children. Do you have a question you want Dr. Wheeler to answer? Send questions to editor@sidelinesnews.com.
There has been a lot of chatter recently about a common anticoagulant drug that is said to help prevent a life-threatening neurological complication of equine herpesvirus type 1 (EVH-1) infection. What are your thoughts?
There have been a few recent papers evaluating the role of coagulation in the neurologic form of EHV-1, and subsequently the potential use of the anticoagulant, heparin, as a treatment. This is very exciting, as there are currently limited treatment options for this rare but very dangerous strain of the disease. In one study from 2016, a Swiss research group administered heparin to approximately half of 61 horses infected with EHV-1 during an outbreak. The group that received the medication showed a lower incidence of neurologic signs (one out of 31) than the untreated horses (seven out of 30).
I discussed this topic with PBEC's Dr. Peter Heidmann, who is board certified in large animal internal medicine.
Dr. Heidmann said that as with many scientific studies, there are limitations, and this is further complicated given the rare and unpredictable nature of the neurologic strain of EHV-1. The study does, however, suggest a possible benefit for the use of heparin and if low-molecular-weight heparin is used, the risk is minimal. While we need more studies to investigate the full potential of the drug for this indication, given the severity of the disease, it is certainly a treatment option to consider.
My horse suffered an injury to the foot, and after an MRI examination, a surgery called navicular bursoscopy has been recommended. Have you seen good results with this procedure?
I think this is a very useful procedure and one that is routinely performed at PBEC, so we've seen a good number of outcomes.
The procedure involves the insertion of an arthroscopy camera (think key-hole surgery) through the bottom of the digital flexor tendon sheath in the pastern region. A hole is then made between the tendon sheath and navicular bursa, giving the surgeon a good view of the navicular bursa, flexor surface of the navicular bone and adjacent deep digital flexor tendon. Given that only a small incision is required, the technique is relatively noninvasive and usually does not take a long time under general anesthesia. The navicular bursa is a small structure, and one limitation of the procedure is whether the specific injury is easily visualized. Often we can predict this from the MRI results.
My advice would be to make sure you select a surgeon who has plenty of experience with such procedures and make sure they have a chance to evaluate the MRI images prior to surgery. PBEC's head surgeon, Dr. Brusie, has been performing this procedure for more than six years and has seen good results. In his experience, complications are rare.
As with most surgical procedures, there is rarely a quick fix; several months of rehabilitation and careful veterinary supervision, as well as good farrier care, will be important for success.
While each case is different, I am happy to say that since this procedure became available, I have seen many successful results with the horses returning to a similar level of training. In one study out of the U.K. in 2012, 61 percent of horses undergoing navicular bursoscopy returned to work sound, with 42 percent returning to their previous level of performance.
My horse hurt one of his tendons recently and my veterinarian mentioned the use of regenerative therapies. What are these therapies and how can they help over just rest?
Regenerative therapies are an exciting area of equine medicine that has developed rapidly over the last few years. This encompasses therapies that use natural cells and chemicals to encourage the horse's tissues to heal. These treatments can be used to treat some of the more challenging musculoskeletal injuries in the sport horse such as tendon and ligament injury and osteoarthritis. Many of these therapies are "autologous" meaning they use tissue from the patient and therefore are unlikely to produce an immune reaction.
One of these therapies is Platelet-Rich Plasma, or PRP. Platelets circulate in the bloodstream along with red and white blood cells. They play a vital role in blood clotting and, during normal healing, they promote tissue repair and regulate inflammation. PRP can be harvested by taking a sample of the horse's blood and spinning it down so there's a concentrated portion of plasma containing mainly platelets. This can then be injected into a tendon or ligament, as well as a joint that has acute inflammation. We've found this treatment can increase the quality of healing.
Interleukin-1 Receptor Antagonist Protein (IRAP) is a therapy that blocks a pro-inflammatory protein (called a cytokine), interleukin-1. It is produced by taking a sample of the horse's blood into a syringe containing glass beads and incubating it over a 24-hour period at body temperature. White blood cells within the blood recognize the glass beads as foreign material and produce anti-inflammatory protein or IRAP. The blood cells are then separated from the serum concentrated with IRAP. This therapy has the benefit of producing multiple doses with one blood draw, which decreases the cost of recurrent treatments. IRAP is used to manage osteoarthritis and inflammation in joints, especially with horses that require repeated treatments.
Stem cells are undifferentiated cells capable of self-renewal and are able to produce specialized types of cells. This means if put in a tendon, stem cells should differentiate into tendon cells. Stem cells are harvested from fat or bone marrow and also provide the "building blocks" to repair damaged tissue. The process involves harvesting cells, then concentrating and propagating them in order to deliver them to the area of injury. The goal of this treatment is to provide higher numbers of cells than the body would normally provide, which results in better-quality healing. Recently, allogeneic stem cells have been reproduced, which allow cells from a donor horse to be used in other horses.
Double D Trailers Info