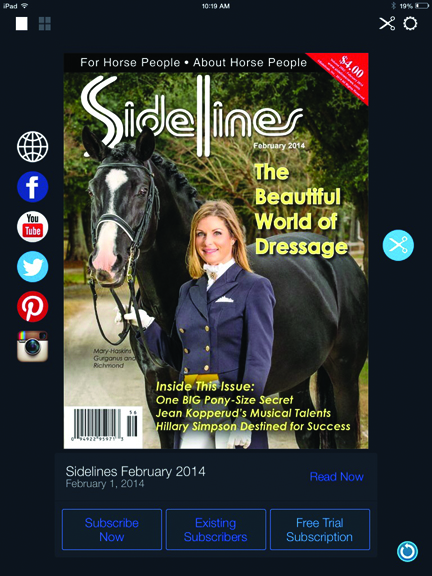 Big news for Sidelines! We are pleased to announce that we are launching an interactive digital magazine with our February issue. The digital edition will be available on all IOS and Android devices, as well as the Kindle Fire. Digital access will be available to all print subscribers – so now is a great time to subscribe or renew! Look for the Sidelines App this February. 
For the first time ever, the Rolex Kentucky Three-Day Event Presented by Land Rover will include a team challenge when it returns to the Kentucky Horse Park in Lexington, Kentucky, April 24-27.  The Dubarry of Ireland Nations Team Challenge will award $20,000 in prize money, while helping national teams prepare for the team competition at the 2014 FEI World Equestrian Games next summer. 
The Adequan/USEF Open Reining National Championship will be held as part of the Kentucky Reining Cup, which is being run in conjunction with the Rolex Kentucky Three-Day Event presented by Land Rover, April 24-27 at the KentuckyHorsePark in Lexington, Kentucky. The Reining championship will also serve as the Selection Trial for the 2014 Alltech FEI World Equestrian Games U.S. Reining Team.  Because of the Trials, the schedule is expanding to three days!
Horse lovers and readers alike will all love the newly released sequel, A Horse to Treasure, by Juliana Hutchings. The young author wrote her first novel, A Horse to Remember, when she was 14-years-old. Upon her college graduation from the University of South Carolina Juliana said, "I never planned on making it a series, but I like to keep busy so I sat down and started typing. Six months later the book was complete." Juliana has also started her own publishing company, Little Egypt Press. A Horse to Treasure is available on Amazon as a digital e-book and already has five star reviews.
Sidelines Magazine offers our condolences to Canadian dressage rider Pia Fortmuller on the loss of Orion, a 18-year-old Dutch Warmblood gelding. Her beloved partner passed away on January 19th.
What a loss – Sidelines Magazine offers our condolences to eventer Allison Springer on the loss of her recently acquired partner Lionheart. The Westphalian gelding, previously ridden by William Fox-Pitt to the silver medal in the 2012 Olympic Games, was euthanized after the second of two abdominal surgeries, which reveled that a vascular accident had occurred in the colon and both the small and large intestines were irreparably damaged. What a loss for both Allison and the United States eventing community.
It's a girl! Congratulations to Zara Phillips Tindall, granddaughter of Queen Elizabeth II, and rugby star Mike Tindall on the birth of their first child, a healthy baby girl. Zara is an accomplished equestrian, with a silver medal from the 2012 Olympics under her belt, and is in the running to compete in the Alltech FEI World Equestrian Games 2014 in Normandy later this year.
For all the gossip and photos subscribe! 
Double D Trailers Info