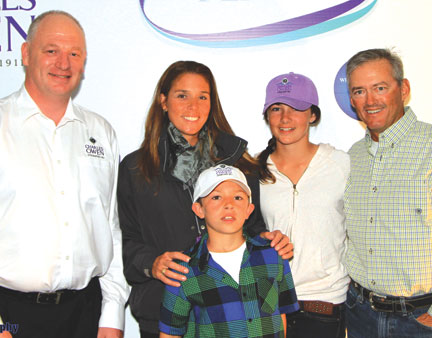 Roy Burek of Charles Owen with Nicole, Ty, Sophie, and Will Simpson celebrating the 100th anniversary of Charles Owens. Roy Burek, grandson of the founder, says that the company has many amazing projects in the pipeline including a new look and company logo to mark their centennial.
Photo by Anne Gittins Photography
Catching up:  Mary Ross really outdid herself at the Challenge of the Americas! Drag queens were part of the show and they "rocked the house!" And, might we add, lifted a few eyebrows!
Jennifer Alfano and the SBS crew always keep coming up with winners.  They have dominated the hunter divisions at HITS Ocala. This is becoming a tradition for the Buffalo-based trainer.
Congratulations to Reed Kessler, Charlotte Jacobs, David Arcand, Cayla Richards and Jessica Springsteen, who were on their way to Europe in late March to represent the US in the EY Cup in Lepzieg, Germany.
Congratulations also to Charlie Jacobs who was named the Show Jumping Hall of Fame Rider of the Month for February. Charlie competes in the East Conference Amateur-Owner division of the Show Jumping Hall of Fame Jumper Classic Series aboard Leap of Joy.
What was that we heard about a very prominent horse show photographer who didn't pay her vender fee at one of these big winter circuits and was barred from the show grounds – lock, stock and barrel? Now that was a serious oopsie if ever there was one!
An interesting bit of trivia from Tim Dutta, whose company has been the go-to global transportation company of the world's elite equestrians. "Our career highlight was the World Equestrian Games in Kentucky," said Tim. "It was the largest airlift of horses ever. We moved a total of 548 horses from 53 different countries from seven of the World Equestrian Games disciplines." Wow, now that is some feat!
Bob Drennan tells us he was spotted reading Sidelines between sets at the tennis match while Nadal and Federer slugged it out. We guess you can take the horseman away from the barn for a while, but not for long.
We hear that Geoff Teall has gotten out of the client-based training business and is busy on the road with his teaching and judging.
Internationally-renowned artist Josée Nadeau painted world-class jumper, Pablo Barrios, live in front of an audience at The Gallery at The Palm Beach International Equestrian Center in March, an event that capped off her exhibition.
Horse Show News: Flintfields Horse Park, home of the Horse Shows by the Bay Equestrian Festival, has plans well underway for the new footing that is being installed this spring in the main competition arenas and warm ups.
Sidelines loves promoting recycling OTTBs, and we congratulate After the Finish Line and their partnership in the Thoroughbred Celebration Horse Shows in Virginia, promoting off the track Thoroughbreds as hunters, jumpers and pleasure mounts. Their show dates are June 10-12 and November 18-20.  The Del Sol Classic Horse Shows in Del Mar, California is also teaming up with After the Finish Line their show dates are Aug. 17-18 and Oct. 1-2.
Double D Trailers Info