By Laura Scaletti
Portraits by Hannah Waroway
Horses are more than a hobby for Emma Callanan; they're the reason she gets out of bed each morning. Born into an equestrian family, Emma can't recall a day without horses in her life.
"My mom, Dana Hart Callanan, rode while she was pregnant with me until I was born. I've loved horses from day one, so I started riding when I was very young," Emma said. "As the years went on, I started choosing ponies instead of other activities like soccer or sleepovers, and the passion for horses kept going from there."
Growing up on her family's Hart Farm in Lebanon, New Jersey, Emma basically lives in the barn. "It's a lot of hard work living on the property, but I love having the horses right here with us," Emma said. 
Emma isn't alone when she's at the barn. Not only is her mom the trainer at Hart Farm, but her dad and brother get involved in the family business in their own ways. "Neither my dad, who's a professional golfer, nor my younger brother are involved in the actual horse portion of the farm, but they both enjoy the horses and doing farm maintenance. It's really a family affair and holds us all together," Emma said.
With her own tribe behind, Emma has made the most of her Junior years so far. "It's amazing to have your whole family involved in one way or another, always lending their support," she said.
Key to Emma's success has been Dana. "My mom has always been my rock and is by far the best horseman I've ever met. But it can be a bit of a balancing act, training with your mom, having her be your mom and living with your trainer constantly," Emma said. "The pluses of having my mom as my trainer outweigh the minuses every time."
Catch Riding
Captivated by ponies at an early age, Emma was competitively showing by age 6. She traveled to away shows with Dana's clients and entered the rated pony hunter ring shortly thereafter.
As the trainer's child, Emma didn't always have her own pony to show, but she always had a pony to show. "We took on a lot of ponies that were green, younger or needed to be fixed up. That's how I started catch riding and having the opportunity to work with sales horses and ponies," Emma said.
Although Emma had plenty of rides growing up, she also had her fair share of unplanned dismounts. "Every day from when I was 7 until I was 9 or 10, I was getting dumped and thrown to the ground," she said. "That's how I developed as a rider. I had to make the best out of each pony or horse I sat on, because all horses have a purpose—you just have to figure out what makes them tick." 
As Emma was searching for a Junior hunter, she made a discovery that would change the trajectory of her riding career. "I realized that the hunters didn't go to the Olympics. I immediately thought, I'm not putting all this work in to not represent the U.S. one day," she said. 
Instead of a Junior horse, 11-year-old Emma brought home a 5-year-old mare, Jarinka, whom she would go on to make up as her equitation horse. "It was a really special relationship. We ended up being mirror images of each other as we were both learning and growing," Emma said. "Jarinka gave me a running start into the jumper ring."
Even with a horse of her own, Emma continued catch riding when needed. Not only did catch riding help the owners and trainers of the mounts, but it also helped Emma further develop as a rider. 
"Catch riding has made me into a very understanding and confident rider. You have to quickly figure out what buttons you have to push to make the horse you're sitting on go its best," Emma said. "It's definitely improved riding my own horses, because it's made me really focus on what each horse is telling me they want on that given day, rather than relying on past experiences."
Emma has also benefitted from her years of catch riding out of the saddle. "I used to be an indecisive person. Catch riding has helped me be more in the moment, trust my gut and quickly react or make a decision," she said.
Hard Work & Horsemanship  
"I was fortunate enough to find my passion very early in life," Emma said. Living on the farm and being involved in the care of the horses daily has made Emma passionate about not only horses, but also horsemanship. 
Emma isn't your typical teenager. She's made a conscious decision to make horses the center of her universe. "It can be difficult sometimes as a teenager; you want to experience teenage social life. I feel I have a happy medium as I have friends who understand how committed I am to the sport. But at the end of the day, nothing is as important to me as knowing my horses are happy and healthy," she said.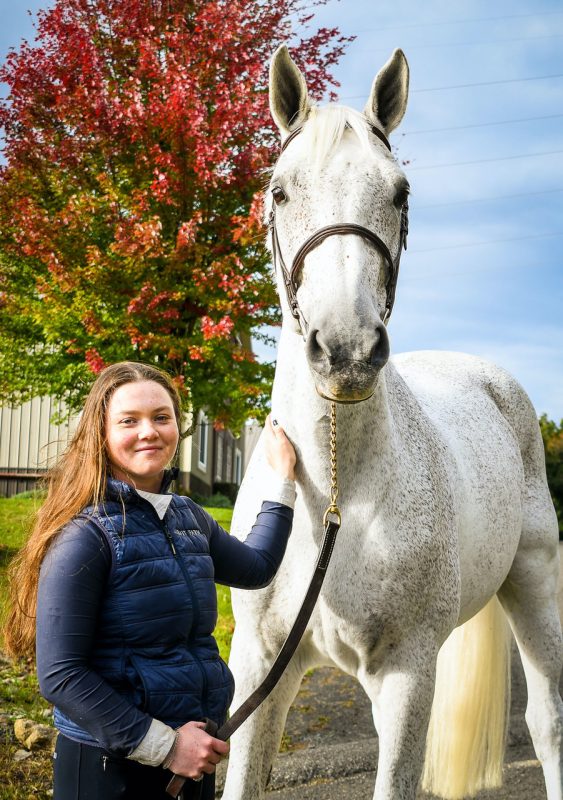 Emma credits Dana and Olympian and trainer Anne Kursinski with instilling in her the importance of horsemanship. "Growing up in a generation where the sport has become more of a hobby, I'm so lucky to have my mom and Anne as role models," she said. "They've taught me that horsemanship is more than taking your horse to the barn and untacking it. It's knowing their vital signs, understanding each horse's fitness level, knowing when they just don't feel like themselves and what their personality is."
Creating a partnership with a horse is key component of horsemanship for Emma. She did just that with her horse Q-Two. Dana didn't initially think he, a talented and spirited stallion prior to being imported to the U.S., would work out as a mount for Emma. "His owner said, 'Just put Emma on him; she will love him'," Emma said. 
At 12 years old, Emma had her first lesson on the 17-year-old Q with Anne in Florida. "I'll never forget it; Anne just kept going higher and higher with the jumps. I thought, I'm going to die, because he was so much horse and had so much energy. But he was an amazing horse," Emma said.
After surviving her first lesson, Q-Two took Emma from her first Low Junior Jumper class to her first U.S. team, first Young Riders and first 1.5m Grand Prix. "He showed me a whole other world that I didn't know was out there," Emma said.
"There is no greater feeling than knowing how much blood, sweat and tears you put into developing a partnership with your horse. It makes the wins that much more amazing and the losses a little less heartbreaking—actually, sometimes they are more," Emma said. "But I've learned that success can happen even without a blue ribbon, because you know you and your horse gave your all."
When thinking about the sport, Emma wishes more equestrians took the time to bond with their horses rather than getting off their horses, handing them off and hopping onto their social media accounts.
"It's normal for me to get up early, clean the stalls, get the horses ready for the show day and put in the hard work. It makes me sad that the sport has turned its focus away from horsemanship and more into a hobby," Emma said. "I take pride in that fact that regardless of the ribbon count, over the years I've made up some pretty great horses. Those partnerships are worth more to me than attending a party or being on Snapchat."
Last Hurrah
Emma is so committed to her equestrian lifestyle that she graduated from high school a year early to be able to devote even more time to the barn and competing. "I have one full Junior year left, so I wanted to be able to focus solely on horses without the distraction of school responsibilities. This year is for throwing myself completely into riding and seeing where things lead," Emma said.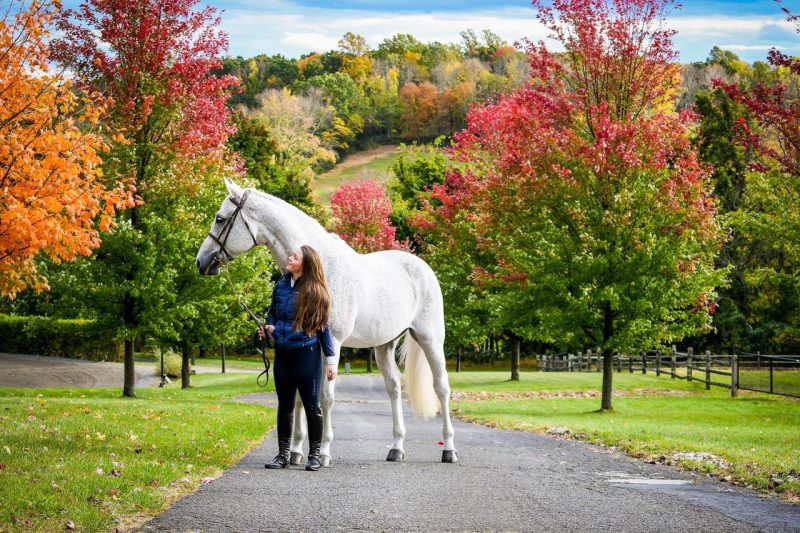 With her own Futuro Certo, Emma plans to spend her last Junior year showing him in the High Junior Jumpers, national Grand Prix and U25 classes. "I owe a lot of my success over the past few years to him. He's been a really fun horse to get to know because he's such a personality," Emma said.
Emma's immediate plans are to hit the ground running as the winter circuit ramps up. "When we are in Florida, I'm ready to ride or work for whoever needs me. I'm open to all opportunities to continue learning and becoming a better horseman," she said.
After she completes her Junior career, Emma plans to stick with horses. "I want to leave all options open, but I would venture to say I will turn professional. I'd love to spend some time in Europe, working over there and developing my riding" Emma said. "My end goal is to one day be on Team USA at the senior level."
While working on attaining her own goals, Emma hopes to bring horsemanship back to the forefront of the sport. "The greatest achievement you can have is seeing horses develop," she said. "I would love to help others change their mindsets and remember why we got into this sport: the horses." 
For more information, visit hartfarmmj.com or follow Emma on Instagram at Emmahartcallanan
Photos by Hannah Waroway, hpwaroway.myportfolio.com
Double D Trailers Info