By Britney Grover
Portraits by Shawna Simmons
Grant and Rebekah Seger are in the middle of an adventure, complete with unlikely romance, courageous risks and unexpected twists, all while championing values in the face of seemingly insurmountable odds. Their tale revolves around horses — and each other. Though Rebekah is more warrior princess than damsel in distress as she helps run Grant Seger Sporthorses in Corpus Christi, Texas, and raises their young family, Grant is the underdog hero: competitive yet honest, working hard with what he's given and defending family values as he strives to make it in the show jumping world.
Like many fantastical journeys, theirs was unexpected — and is still unfinished, as they make a cross-country move to further their quest. "We didn't plan on pursuing horses as a career; we just fell into it," Rebekah said.
"I only started riding to get her to fall for me," Grant admitted. "Riding just to impress her became a full-time pursuit of being a top show jumper."
Chivalry Isn't Dead
Despite their mutual interest in horses, Grant and Rebekah came from very different equine backgrounds. Grant was raised going to horse shows with his father, Bernard Seger, a serious amateur show jumper who trained four horses for the 1996 Olympics in Atlanta, when the U.S. provided all the horses for the pentathlon. Grant's aunts are both avid amateur eventers, and Grant followed partly in each of their footsteps by competing in both show jumping and eventing.
Rebekah, on the other hand, was simply born a horse girl. "No one in my family rides," she said, "I was just addicted at a very early age. Grant and I first met at a barn when we were 10 and 12 — he was this crazy eventer kid and I was a hunter."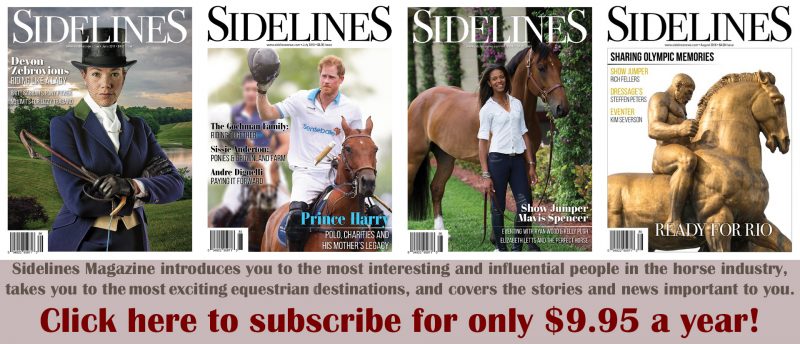 "It wasn't a match that anyone anticipated," Grant added, and when Grant took some time off from riding to play baseball in high school and then go to college, it looked like the barn sweethearts were on separate paths. Rebekah remained in Corpus Christi and focused on her blossoming real estate career, staying involved with horses by training a few sale horses while Grant attended Texas State University.
But true love had its own plans — plans that involved horses. During the summer of 2013, Grant's dad, who stayed involved in the local equestrian scene, mentioned to Rebekah that Grant was in town before heading back for his senior year. Rebekah invited Grant to a friendly riding get-together, and that was it. "We reconnected," she said, "and were married a year later."
An Unexpected Journey
With a degree in entrepreneurial business and not knowing what to do with it, Grant and Rebekah's reconnection proved fateful not just in romance but for his career. "I started riding again to impress Rebekah, and I was so competitive it quickly took off from there," Grant said. "I focused on show jumping; I didn't do what most of the kids are doing now, coming up the junior ranks of show jumping, since I had been an eventer. So I was a little behind the eight ball."
That didn't stop Grant from jumping into the fray. "Right before we got married we actually purchased our first farm, on the same street as Grant's parents," Rebekah said. "It came up for sale and Grant was riding again and I had a horse, so we bought this as an investment in what we anticipated being Grant's full-time job."
"We started with no money; we sold Rebekah's car to buy our first good horse and we built from there," Grant said. Without the funds for made upper-level horses, he has focused on buying and bringing along young horses as he has overcome the obstacles of being so far from the mainstream equestrian circuits as he established his business.
"I've tried to surround myself with people that I really trust and admire, and then keep in close correspondence with them," Grant said. "Both Kim Land and Johan Kachelhoffer have been instrumental in their advice and mentorship."
As it turned out, this young hero had the exact talents he needed to emerge victorious. "He really has a knack for developing young horses," Rebekah said. In just a few short years, Grant has taken not just himself but his horses and supportive owners to competing at FEI levels, and he's only getting started. "He's only been competing in grand prix for a little over a year, and he just jumped his first FEI two-star."
The FEI $72,000 CSI2* Grand Prix, held at Tryon under the lights, was on Dr. J, a horse Grant has had less than a year — and who was also jumping his first two-star. The next day, Grant jumped Cantucchini, known as Leo, in the $25,000 Grand Prix.
"Grant bought Leo as a 4-year-old in Germany, and he was so wild — he had never been to a show, never even been clipped. To this day, he's the only horse that has been lunged in front of us before being presented. I was watching videos from home and Grant was sitting on the horse's back in Germany, and though Leo was the wildest and youngest of the horses Grant tried that trip, we both knew he was the one. He's still our wild child, but he's incredible — and Grant has taken him from his first show to jumping grand prix."
"Leo is definitely the key to the future for me as far as big classes. He's just moved up to the smaller grand prix, but he has jumped something like 10 double clears out of 12 welcome and grand prix classes. If I don't get in his way, he normally has a pretty good handle on the jumping part," Grant added with a laugh.
Into the Unknown
That two-star grand prix is one of Grant's most meaningful accomplishments. "We had only one down but I watched a lot of top horses have a lot of difficulty, so I was very proud of Dr. J. We never intended for him to be an international grand prix horse, but he really handled the tough track with ease," he said. "Of course my marriage is my favorite accomplishment — and my son, Mason."
At just 2 ½ years old, Mason is already in love with horses and idolizes his papa. "He goes to night checks every night we're at a horse show," Rebekah said. "It's a long process of sitting on all the horses bareback with Grant, giving them more hay, and he's got to give them each a treat. Now he's started doing the lead line classes; we typically borrow someone's pony at every show and it's Mason's big day — who cares that Papa's in the grand prix right after, all of the photographs are of Mason."
Mason is part of the reason that Grant is undertaking a big change. "We're at a point with the horses that I'm just traveling so much," Grant shared. "With our family, it doesn't work to be 20 hours away from every show. I'd like Rebekah to be able to drive up on a Friday afternoon and spend the weekend at the show, because right now she and Mason come to every single show. I want to continue that."
To that end, the Seger family is delving deeper into the heart of horse country and moving from Texas to Aiken, South Carolina — across the country in the dead of winter with 12 horses, three large dogs, a cat and a 2-year-old, two weeks before Rebekah is due to have another baby boy.
"We're committed to jumping at the top of the sport, and that in conjunction with the family is a big reason for this move," Grant said. "I want to be able to go to all of these international grand prix without having to be gone for most of the year. I want to continue moving up the levels and develop these horses into real two-, three-, four-, five-star competitors."
Grant will take his string of talented young horses and the support of his owners to Aiken, where he'll continue to focus on bringing out each horse's potential. He will also take his perspective of what's most important as the Seger saga continues.
"Grant has been adamant about Mason and I coming to every show: He says it's not worth it if we're not there. He's very passionate about keeping the family all together. He doesn't want to miss any moments with Mason — and I'm alright, too," Rebekah laughed. "It's an adventure, that's for sure."
For more information, visit www.grantsegersporthorses.com
Photos by Shawna Simmons, www.sasequinephotography.com
Double D Trailers Info