By Laura Scaletti
Portraits by Melissa Fuller
There are three things Juan Andres Rodriguez loves: his family, his home country of Guatemala and horses. Together, family, horses and Guatemala have enabled Juan Andres to travel the world to pursue his show jumping dreams. No matter how far the journey takes him, Guatemala has always had his heart.
Born into an equestrian family, Juan Andres was destined to be a horseman. His father, Wylder, has devoted his life to developing dressage and jumper riders in Guatemala and Central America. Juan Andres and his brother, also named Wylder, were two lucky recipients of that knowledge. 
"Horses are in my blood, so it was clear from an early age that I would be a professional. Jumpers were always my sport; I love every aspect of the discipline," Juan Andres said.
Growing up in Guatemala, Juan Andres got to experience a horse scene unfamiliar to Americans who compete in the sport. "The training structure is Guatemala is comprised of Riding Academies and Riding Clubs, where adults go to ride early in the morning before going to work or university, while the kids spend their afternoons riding after school," Juan Andres said. "It was common for my father to have 100 horses in his program, with riders from the novice level to those with Grand Prix aspirations."
Juan Andres and his brother were two riders with bigger goals in mind. Today, thanks to their father's tutelage, they have each represented Guatemala in international jumper competitions.
"I have been so fortunate to have had many wonderful horses and owners who have enabled me to go to a lot of championships around the world. I've risen up the ranks from the North American Young Riders Championship to the Pan American Games and the Olympic Games," Juan Andres said. 
In 1999, Juan Andres had his first real international horse, Hamilton. "He was a great little stallion who took me to my first Pan-American Games in Winnipeg, Canada. With him, I jumped World Cup qualifiers and Grand Prix across Mexico, the United States and Canada," Juan Andres said.
With a lot of hard work and several memorable moments and horses in between, Juan Andres got his chance to compete at the Beijing Olympic Games in 2008 on Orestus VDL. 
Throughout his career, Juan Andres has won many individual and team medals while representing Guatemala in international competitions. "To represent your country on the international stage is a huge honor. Especially when you're on the podium and they are playing your national anthem, it's the best feeling any athlete can imagine," Juan Andres said.
Jumping for JustWorld
While representing his country at the 2008 Olympics, with the equestrian portions held in Hong Kong, Juan Andres participated in the fun and beloved Olympic tradition of pin trading. He happened to exchange a Guatemalan pin for a JustWorld International pin from Jessica Newman, Founder and President of JustWorld International. After returning home from Hong Kong, Juan Andres went to JustWorld's website and learned more about their mission. 
"Two weeks later he called me and said, 'My family and I run two international shows in Guatemala; we'd love to add a charity aspect to our shows, but since our country has so much poverty, can JustWorld choose a project that will benefit our local community?'" Jessica said. "I loved the idea of funds being raised at the show through horses in a country where we have a project."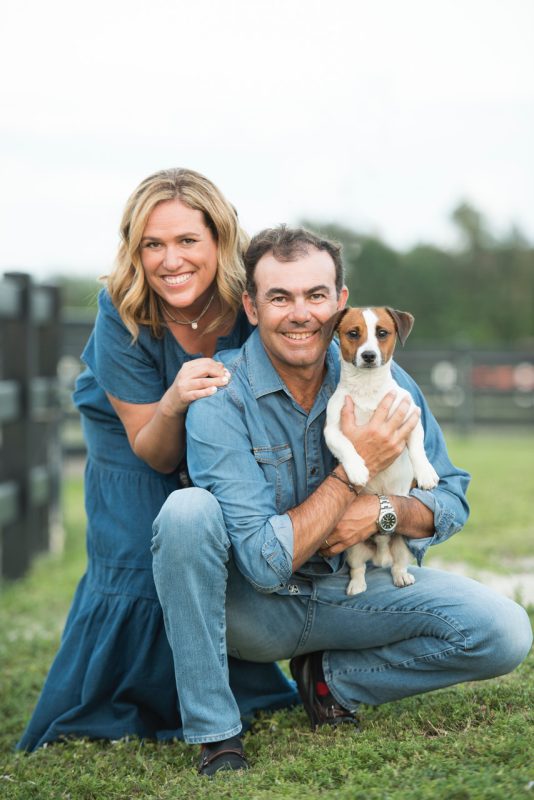 JustWorld International's mission is to raise awareness and funds in the equestrian community to support humanitarian projects that benefit impoverished communities and children in the developing world. Juan Andres' call spurred Jessica and her team into action. After much research, they found a project called Los Patojos.
"Los Patojos focuses on education, health and nutrition for children with fewer opportunities," Juan Andres said. "I'm very satisfied with the positive impact JustWorld has brought to many Guatemalan kids through Los Patojos."
A modest man who doesn't seek the spotlight, Juan Andres will gladly tell you about the impact JustWorld has had on Guatemala, but that's just part of the story. "Juan Andres is the whole reason for our project in Guatemala. He mobilized all of Guatemala behind Los Patojos and kicked off the fundraising efforts with amazing fundraisers he put together himself," Jessica said. "Juan Andres is one of JustWorld's major ambassadors and his family is devoted beyond belief."
"Dreams and ideas in action" is the motto of Los Patojos. Juan Andres helped bring the motto to life for one program graduate. Juan Andres is not only a rider and trainer, but he also owns Equus, the largest equestrian shop in Guatemala. "He recently hired one of the kids who graduated from our project in Los Patojos to run the tack shop," Jessica shared.
Wellington Ways
It was through Juan Andres' partnership with JustWorld that he started making a yearly trek to Wellington to attend the JustWorld Fundraising Gala. In 2011, Juan Andres began coming to Florida to participate in the Winter Equestrian Festival (WEF) circuit. 
"I came with clients and a few horses from Guatemala. After six consecutive years of doing WEF, I had established a clientele and was very busy in Wellington, so I decided to arrange to stay here permanently with my family," Juan Andres said.
Making the move to America was a change of pace for Juan Andres. "In Guatemala, I helped run my family's riding school where we boarded over 100 horses and trained riders of all levels from beginners through the 1.50m level. Here in Wellington, I run a barn with 28 horses consisting of clients, sales horses and horses in training," Juan Andres said. "Everything goes at another speed in America compared to Guatemala, especially during the winter circuit."
Juan Andres' Rodriguez Equestrian business is the culmination of his lifelong dedication to the sport. "On a daily basis, I'm able to train horses and riders who want to pursue this sport at a competitive level," Juan Andres said. "It was challenging at the beginning, but I've been able to establish a very solid business since I first moved to Wellington."
Not only is Juan Andres developing his own riders and horses in Wellington, he's also teamed up with Alberto Michan to host the Tuesday training sessions at the Jim Brandon Equestrian Center. Founded by Juan Andres and Alberto in January 2020, the MR Equestrian Training Sessions give riders an opportunity to ride in a stress-free and affordable show-like atmosphere, at heights from 1.0m to 1.40m each Tuesday from January to March.
"Riders can ship in and have productive training sessions over a full course of show-quality fences, set by FEI course designers. This is a great way to give young horses, young riders, new partnerships, horses that are having issues, etc. a way to have a positive experience in a relaxed environment," Juan Andres said. "We've had great feedback from the local equestrian community about how helpful these sessions are. In fact, this year we will be hosting Monday night sessions under the lights, so riders can train their horses at night prior to stepping into the show ring under the lights."
Next Generation
When it comes to developing the next generation of riders, Juan Andres doesn't have to look too far. His 17-year-old twin daughters, Ana Cristina and Ana Sophia, are following in their father's equestrian footsteps. Both are currently moving up the Junior jumper ranks on their mounts.
"As a dad and a trainer, I'm very proud of them. They are both very disciplined and committed to the sport. What I value the most is they have a special connection and love for the horses, so they are able to develop strong partnerships with every horse they ride," Juan Andres said. 
Just as Juan Andres did with his own father, the girls spend a lot of their time at the farm with him. "They help me a lot with riding and are a big part of the Rodriguez Equestrian operation," he said.
In addition to his daughters, Juan Andres has a strong group of young riders to keep him excited about the future. "My riders give me huge motivation. They are hungry for success," Juan Andres said. 
With all of them from different nations, many have already represented their countries in international competitions. "I've always been involved in developing horses and riders from the lower levels to as high as their aspirations would take them. A key component to success is establishing realistic and attainable goals," Juan Andres said.
One of Juan Andres' favorite competitions to expose young riders to championship experiences, like the Olympics and Pan American Games, is the North American Youth Championships (NAYC). "At NAYC, you represent your country and you're part of a team, so it's a great way to grow as a competitor and prepares riders to step up to the big leagues," Juan Andres said. "It's so inspiring for me to work with kids who have big ambitions in this sport. Hopefully I can help them reach all of their dreams."
Juan Andres' dream is one he's willing to be patient to achieve. "I would love to show together with Ana Cristina and Ana Sofia in a team championship, representing Guatemala," Juan Andres said. "We are going to keep working hard so we can make it there."
For more information, follow Juan on Instagram @Rodriguez_equestrian
Photos by Melissa Fuller, msfullerphotography.com
Double D Trailers Info