By Mary McCashin
Eventer Hillary Irwin's love of off-the-track Thoroughbreds is part of the 29-year-old's DNA. It all started when her grandparents bought a horse out of the newspaper in the 1960s. That horse turned out to be a pregnant Thoroughbred mare, which set her grandparents on a path of breeding racehorses that lasted until 2016.
As proud horse-loving grandparents, they wanted to instill a love of horses in their granddaughter, so they gave her an old carnival pony named Toby before she could walk. "I started jumping him when I was about 3, and by jumping I mean Toby was basically trotting over logs," Hillary said. "Pretty sure he was a saint reincarnated!"
Hillary's mom, Carrie Irwin, is also a horsewoman and began eventing at age 10, competing all over the East Coast and Canada, including the North American Young Riders Championships.
Hillary's family moved to Elkin, North Carolina, when she was 6, and by then she graduated to "the best first real pony," Miss Jemima Puddle Duck. "I rode Mima until I was about 10," Hillary said. "Then I started riding horses and haven't really looked back since. I broke my wrist twice and my elbow before I was 9, so if that didn't scare me away, I think I'll stick with it!"
Eventing World
Hillary worked her way through the ranks, and was an active member of the Yadkin Valley Hounds Pony Club from ages 6–18. She worked for David and Lauren O'Brien as a teenager, as well as Sharon White.
"David gave me so much ability in teaching young horses, which was all I ever had, and Lauren was always above and beyond when it came to soundness," Hillary said. "I am a bit OCD about everyday care of the horses. When I worked for Sharon, I was lucky to learn from her groom Kay Greenwood, who taught me so much about the little things, which I find necessary to enjoy this lifestyle. I enjoy the silence of a barn when no one is in it, just the horses eating. I like knowing who rolls on which side of their body, who eats how many flakes of hay, how much water they drink, when they take deep breaths in their gallop sets, when they are tired, when they are fresh, which treats they like, which events they like. I like the details."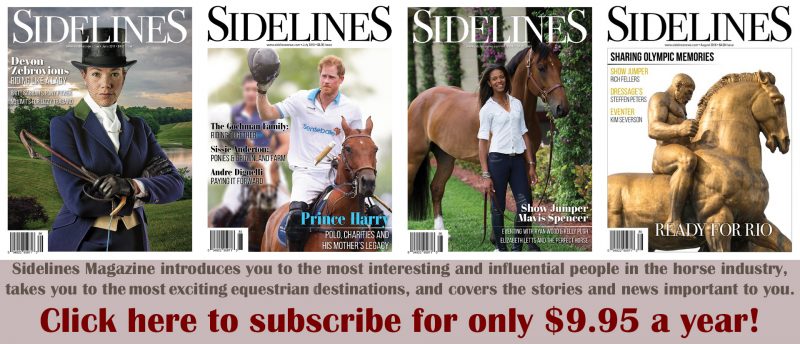 While many kids put horses on hold in college, Hillary didn't. She kept riding while attending both University of North Carolina-Chapel Hill and Appalachian State University, receiving degrees in both psychology and business. In 2017, Hillary moved from North Carolina to Lexington, Kentucky.
Meeting Gen
In 2010, Hillary was introduced to a Thoroughbred yearling named Kilbeggan, aka Gen. The bay yearling was bred by Hillary's grandparents. Gen literally trotted himself into Hillary's heart. "My grandparents bred Gen, so I have always known him," she said. "He was sent to the track as a coming 2-year-old, and returned early in the winter to be gelded.
"He was turned out in the winter, and that's when our love affair began. I was hacking another horse past his field and he came trotting up with his fancy, bouncy trot and just followed us around for a bit, no nickering or obnoxious behavior, just very curious about what we were doing and why. Every day while I was there for the week, he repeated the behavior, and it was just very cute and fun."
As a 3-year-old Gen was sent to Graham Motion, a trainer noted for his work with the 2011 Kentucky Derby winner Animal Kingdom. Hillary was unsure if their paths would ever cross again, but much to her delight, but perhaps not Graham's, Gen turned out to be a terrible racehorse. "He raced as a 3-year-old until June, and he was just awful at it," she said. "He finished last in two races, and second to last in one other."
Following his less than stellar racing career, Gen came home to Hillary. "I had to turn him out for six months to let him unwind and just grow up," she said. "He grew over a hand in one year. He just needed to get back to being his curious self, and seek out human interaction on his terms. Now he trots to me in the field when I call him, which makes my day, every day."
Gen can still be quite a handful, but as he has gotten older, he has become a professional when it counts. As an 8-year-old, Gen finished 10th at Bromont International CCI2*. In September, he won the Intermediate Championships for Area 8 and completed his first Advanced. "He's very good on the flat and really tries hard," Hillary said. "He's very correct and obedient as well, which really helps him score better. He is a cross-country machine."
Out of the ring, however, he's quite a playful character. "He has a high-pitched squeal that he does when he's going to have a nice little explosion, so you hold on pretty tight," Hillary said. "He does this at shows regularly, and really anytime something happens he thinks is worthy of his 'humor.' He is the most incredible horse, he's my horse of a lifetime, and I've grown to appreciate his quirks because they're what make him great."
Talented String
Hillary's talented string of eventing horses has grown to five OTTBs, each with their own unique personalities and quirks. One of Hillary's horses — By A Hundredth, or Lochte as he's known around the barn — was owned by Olympic swimmer Michael Phelps. The 6-year-old was originally trained by Graham Motion. When he's not being ridden, Lochte spends the majority of his time laying down, sleeping in his stall. "He literally sleeps 90 percent of the time, completely stretched out, totally passed out," Hillary said.
Hillary described Danehill Sunset (Dobby) as an odd little horse. "If you ever fall off or he gets away from you or he escapes his field, he will run straight back onto the trailer and load himself, or straight to his stall and not leave — even if there's no door," Hillary said. "I got off to fix a boot when cross-country schooling once and he got away from me. He ran about a mile back to the trailer and loaded himself onto my four-horse head to head, in his spot, and stood there until I came back to get him."
Aside from a few loyal sponsors, Hillary is hands-on when it comes to her horses. "I like to tack up my own horses," she said. "If someone is helping me, I always apologize and say it's nothing personal, and go back and redo things. I had a saddle go off the side before, so I'm a bit neurotic about things being properly on! I do most of the work with the horses myself. I have a great girl that helped me last winter and another this summer, but I am very much a part of their lives. I enjoy the tedious work!"
The Challenges
Hillary also teaches students, from teenagers to adults, and they inspire her. But Hillary's journey has not been without its ups and downs. "Challenges are common in this sport. I would say the biggest for me has always been financial. I pay the bills myself and it's quite daunting. All of the horses in my barn are off the track, and free. I rehab them if they have injuries."
Hillary is also well aware of the physical challenge that goes along with horses. "I think all riders struggle with this," she said. "I've broken far too many things to really count. I've competed horses with everything from a broken hand to a broken foot to a recently broken cheek bone. There's no rest for the weary, and that's the hard truth in horses — no matter how good or bad your day is, you still have to take care of them. If you're not getting better, someone else is. You really do have to get up every day trying to make everything better if you want to succeed — and that gets brutal when you're exhausted, when its 42 degrees and pouring rain, when you've gotten pummeled into the dirt the day before — but that's the sport. It's the sport that I love and I want to continue to flame that passion for it not only in myself, but in my students as well."
For more information, visit hillaryirwineventing.com
Double D Trailers Info