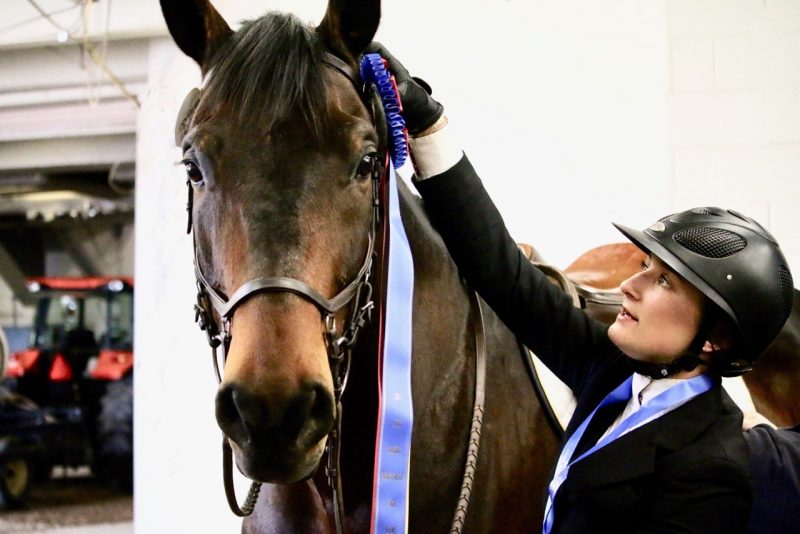 By Carrie Wirth
After donning a cap and gown and graduating from Sweet Briar College, 2018 USEF/Cacchione Cup winner Makayla Benjamin packed her bags and road-tripped to Wyoming with her best friend and IHSA teammate Courtney Barry. The two riders hit the trail and headed west for a five-month adventure as wranglers at Bitterroot Ranch in Dubois, Wyoming.
"It's definitely a nice break," Makayla said. "All my life I've done serious showing. It's nice to relax and enjoy the scenery. It's absolutely gorgeous out here."
Days on the ranch consist of preparing the horses, leading the guests on long morning and afternoon rides and working the young horses coming up. In October she and Courtney will road-trip back across the country to Virginia, then Makayla will settle into her first job with a manufacturing firm in Virginia in February.
"I'm always learning," she said. "Starting young horses here has been really helpful to my tool bag. It's different from what I've done, but they ride in a similar style. I do get to learn to ride Western, which is really fun."
Collegiate Success
When Makayla won the top hunter seat prize at IHSA Nationals in Harrisburg, she said it was a complete surprise. She was happy to have qualified for Nationals for the first time during her senior year and she hoped for top 10, but she didn't expect to win. What she did in the final round of the class was what her coaches and trainers had taught her. She gave the best ride she could, on that horse, on that day. It added even more icing to the cake of accomplishments for someone so young.
"I'm determined, sometimes stubborn," Makayla said. "When I want to do something, I do everything in my power to set myself up for success. At the same time, if I don't reach that goal when I expect or want to reach it, there's time to work toward it. I'm still going to live on day-to-day if x-y-z doesn't happen immediately."
She was proud of her accomplishment, as she should be: She'll be added to a list that includes Olympic gold medalists Beezie Madden and Peter Wylde and other greats of the sport. At graduation, she wore her IHSA national championship medal along with her honor society and dean's list sashes. Then, Sweet Briar gave her another honor — the Judith Molinar Elkins Prize for the mathematical, physical or biological sciences major who actively participates in the college community.
"It was a really cool honor," Makayla said. "Sweet Briar pushed me to learn all that I could. I loved every professor. I wanted to absorb as much as I could from each of them."
She was so passionate about Sweet Briar that when the school threatened to close, she and another student filed a lawsuit and won. Just a sophomore at the time, her testimony helped to convince the judge that the board and the president had committed fraud by accepting applications from students, knowing they planned to close the doors.
"When I first found out about the school closing, I was in utter disbelief, and I thought my life had just fallen apart," she said. "I hadn't planned on testifying, and I had not been briefed in any way."
The Past & the Future
It's rare when someone so young has the character and conviction to act and make an impact. Add to that her talent as a rider. Horses are in the Benjamin blood. Her grandfather, George Benjamin, showed Appaloosas. Her parents, Jan and Andy Benjamin, met at Purdue University riding on the IHSA team. The couple married and moved to Leesburg, Virginia. Makayla sat in the saddle in front of her mother at 2 weeks old.
Claiming the IHSA's top hunter seat prize wasn't the first time that Makayla had won a significant event. With an early start in the ponies and as working student for trainer Gavin Moylan, she competed in the hunter-jumper circuit.
"Working for Gavin was probably the greatest experience for Makayla," Makayla's father, Andy, said. "He made her tough."
"I remember she worked 22 hours one day," added her mother, Jan. "She went to work at the normal time in the morning."
In her sophomore year, Makayla was invited to compete in the AIEC, the international collegiate riding organization based in France. The competition combines dressage and jumping phases for a final score. In June 2015, she competed in Lund, Sweden, and was second in dressage and fourth overall. That qualified her for the finals in Marburg, Germany, where she won the jumping and was third overall. She stayed on in Germany and spent her winter vacation riding young jumpers.
"I hope to go back to Germany and ride again someday," Makayla said.
Down the road, she plans to work in a career outside of the equestrian world but continue to ride and compete. She says she hopes to import the occasional project horse.
With all she has achieved, Makayla keeps a healthy perspective. "So many other individual sports are about being mentally able to control your body," she said. "This sport is different because you work with a horse. You can feel like you did something really well and the next round find yourself in the dirt. I'm pretty level-headed that way."
Double D Trailers Info