By Britney Grover
David O'Connor says he's inspired by athletes from any sport who work to become true masters of their craft, but many would say that's exactly what he did in eventing. By the time he retired from competition in 2004, he'd won every color of Olympic medal—including individual gold from the 2000 Sydney Olympic Games aboard Custom Made—as well as medals from Pan Am and World Equestrian Games.
Growing up riding, David got a lot of miles in the saddle—literally. David was 11 when his mother took him and his 13-year-old brother on a coast-to-coast ride, over 3,000 miles. Next year marks the 50th anniversary since that trip, and his cross-country time since then has been on courses around the world. During his career from 1986 to 2004 he was named to nearly every U.S. Eventing Team, and went immediately from top competition to governance at the top of the sport.
David served as president of the USEF for eight years, followed by four years as the U.S. Eventing Technical Advisor and Chef d'Equipe and being named chair of the FEI Eventing Committee in 2018. In due course, David was inducted into the USEA Hall of Fame in 2009, and last December, the U.S. Olympic Endowment gave David the General Douglas MacArthur Exemplary Service Award, presented to only five individuals so far who have given "exemplary service" to the U.S. Olympic and Paralympic Committee and athletes.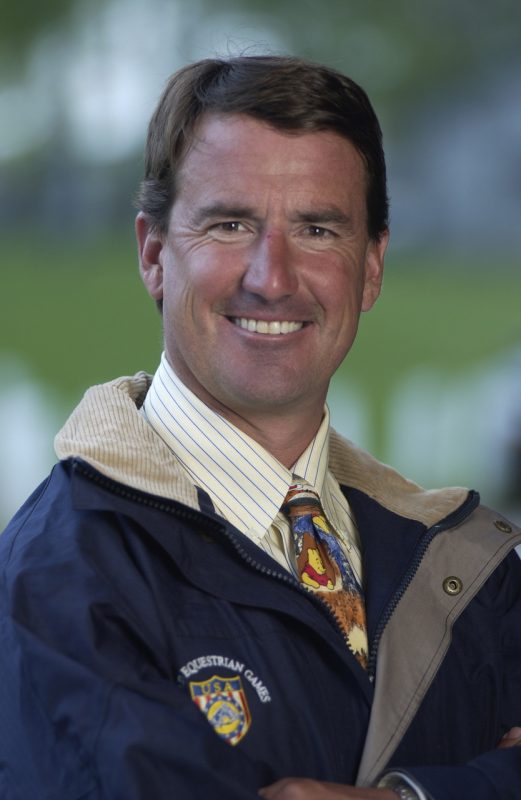 Photo courtesy of USEF Archives
What are your best early memories of riding?
We had our own ponies but we weren't really show kids; we lived in a semi-rural area, where we could go everywhere on our ponies and we just rode on our own. Riding your pony over to the neighborhood baseball game or football game, put your pony in a paddock and then ride home after the game—that was pretty normal. The next big memory would be the trip cross-country, when we rode from Maryland to Oregon; that was a lot of time to spend with the horses.
Any favorite horses over the years?
It's always hard to separate favorites out; they're kind of like children in some ways. There are some that really taught you a lot, there are some that helped your career at different times, there are some that really made your career and put you out onto the world map. They're all quite different, they all had inputs in my life that were quite unique; I had a horse called The Native that wasn't a world famous horse but he taught me a ton about horse behavior, besides the famous ones like Giltedge and Custom Made, those horses that everybody knows. They all become something quite special to your life, and when you look back you realize what an impact they had on you whether it was a horsemanship thing or being successful out on the world stage.
If you could tell every rider one thing, what would it be?
Always surround yourself with the best people you can find, then watch and listen. A lot of our grooms became excellent, excellent riders—we never gave them lessons, but they were just around it and that's how they rode. Also, don't try to break out on your own too early; take your time for your education, like you would in any other discipline or area of life.
If you had a week off, what would you do?
Go directly towards water. I would be out on some beach area and play golf in the mornings and spend time watching water in the afternoons.
Where is your favorite place you have been?
Ireland; both my grandfathers came from Ireland, and I'd spent a lot of time in England, but when I went to Ireland it felt like coming home. I really enjoy Ireland, the people and the scenery.
What's your favorite item of clothing to wear?
I actually really like getting dressed up, putting on a suit like I'm going out on the town. Because I'm farming the rest of the day, that feels special.
Something people don't know about you?
My interest in music, and how much that has affected different parts of my life—that influence and artistic side of music. I sang professionally when I was younger.
Have you had a funny horse moment that still makes you laugh?
They make me laugh all the time! But to go back all the way to the trip, they were long days and I was an 11-year-old kid, so I fell asleep and fell off. I don't know if it was that funny at the time, but it sure is funny looking back on it now. My brother laughed at me—until he did it in Wyoming, then I got him back. But I do believe horses have a sense of humor and like to play, so they do make me laugh a lot, just by their actions.
What is your favorite thing about being part of the horse world?
The horses! I think what they teach you about communication is really important. In the end, we study an interspecies language. It's not like horses don't know how to speak German or French or English—they don't know how to speak human. You spend your life studying that aspect and their incredible reaction to that, which I don't know if I understand after 50 years, their willingness to give and to give themselves to you in the right circumstances, and play the games that we play. It's pretty stunning. That's the most fun thing about the horses, dealing with another species and you get to play a game with them. It's a never-ending study; you never know it all.
Caption:
David O'Connor
Double D Trailers Info