HOUSTON, Texas  – Lia Chafee, a senior majoring in international communications and media at Texas A&M University, won the Pin Oak Charity Horse Show's 2nd Annual Collegiate Charity Invitational equestrian event, sponsored by Superior Energy Services,   on March 24th at Great Southwest Equestrian Center, 2501 South Mason Road, Katy, Texas.   Chafee was one of eight competitors.  Taking second place was Holly Eisbernd, a senior from Granada Hills, Calif., majoring in sociology at California Fresno State. Four of the top 12 2012 Pin Oak Collegiate Invitational teams  –Texas A&M, SMU, Baylor, and California Fresno State – which were selected for the National Collegiate Equestrian Association (to be held next month in Waco, Texas) were represented at Pin Oak.  For more information and competitor bios, see pages 116-117 in the 2012 Pin Oak Charity Horse Show Program at www.pinoak.org and www.varsityequestrian.com.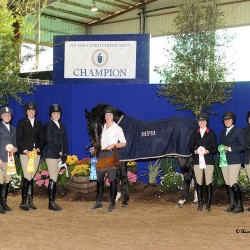 Read more at the source: An Exciting Weekend at the Pin Oak Charity Horse Show
Article excerpt posted on Sidelinesnews.com from What's Happenin'.
Double D Trailers Info