Nacho Figueras (3) of Grand Champions drives downfield with defender Alejandro Novillo Astrada (3) of Piaget closing in. Photo by Scott Fisher WELLINGTON, FL-March 10, 2014— -On a perfect, sun-drenched day for polo, Grand Champions captured the inaugural Great Futures Celebrity Polo Match Sunday at Grand Champions Polo Club. Led by Nacho Figueras, polo's ambassador and face of Ralph Lauren, Grand Champions (Melissa Ganzi, Marc Ganzi, Nacho Figueras, Nic Roldan) defeated Piaget (Marwan Mohey-el-dien, Jared Zenni, Alejandro Novillo Astrada, Juan Bollini) with a 3-2 victory in the championship final.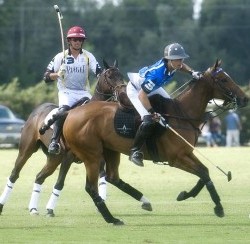 Read more at the source: Grand Champions Wins Inaugural Great Futures Celebrity Polo Match, Raises Money For Boys & Girls Club
Article excerpt posted on Sidelinesnews.com from Show World.
Double D Trailers Info