[LONDON] – Under the gaze of an enthusiastic full house at Olympia, The London International Horse Show, Italian Luca Maria Moneta leapt to victory and claimed the Alltech Christmas Puissance title for 2013. Surprisingly, this is Moneta's first puissance win and quite a win it was with him clearing the 7ft 2in jump in the final round. After going head-to-head with one of Britain's top riders, Guy Williams on grey mare Richi Rich III, in round five, Luca's gallant nine-year-old mare Quovo de Vains made it through to the final round.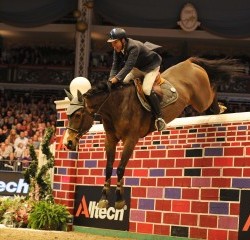 Read more at the source: Italian Luca Maria Moneta Claims the Alltech Christmas Puissance
Article excerpt posted on Sidelinesnews.com from Show World.
Double D Trailers Info