Recently,  Augusta, Georgia hosted the first leg of the Mercuria NCHA (National Cutting Horse Association) World Series of Cutting. The competive event will then move through Texas, Canada, Idaho, California, Ohio and Lyon, France before the end of 2013. TheNCHA, with 16,000 members nationwide, falls somewhere between eventing (USEA) with 12,000 members and dressage (USDA) with 30,000 members so it represents a significant number of competitors nationwide although membership tends to be clustered in regions where the sport first sprang up.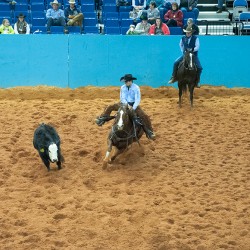 Read more at the source: Making the Cut
Article excerpt posted on Sidelinesnews.com from Chasin'.
Double D Trailers Info