"Nice Stephanie, pictured with Courtney Vince of Canada, was sold by Belgium's Ashford Farm and Jos Lansink Horses to Penelope Leprovost of France." Photo Credit — www.1clicphoto.com Lanse, Belgium — Enda Carroll and Courtney Vince of Ashford Farm, in partnership with Jos Lansink Horses, have sold the horse Nice Stephanie to Penelope Leprovost of France. Ashford Farm, based in Lasne, Belgium, bought the eight-year-old Swedish Warmblood mare (Cardento x Ralme Z) in June of 2011 in partnership with  2006 World Champion Jos Lansink of Belgium. Purchased as a sales investment, Nice Stephanie competed under Vince of Milton, Ontario, Canada, before being sold to Leprovost in April of 2012. "When we first tried 'Stephanie', she had all the qualities that we look for in a young horse; she was careful, scopey and had blood," said Carroll, who has represented his native Ireland in Nations' Cup competition as well as at the 2005 European Young Riders' Show Jumping Championship."We concentrate on buying the best young horse prospects and producing them, and I had wanted to invest in a horse with Jos not only because he is well-respected in the industry as a rider, but also as a dealer. 'Stephanie' presented us with the ideal opportunity." In 2011, Vince competed with Nice Stephanie in the young horse divisions, qualifying for the World Young Horse Breeding Championships held at Zangersheide in Lanaken, Belgium.Of the 206 horses competing in the Seven-Year-Old Division at the World Breeding Championships, Nice Stephanie was one of only 23 horses to jump clear in both qualifying rounds. This winter, Vince moved Nice Stephanie up to the 1.45m international division, competing in their first CSI2* Grand Prix in Valencia, Spain. Following that event, the horse was sold for Leprovost to ride.Ranked 16th in the world as of May 1, Leprovost is a regular competitor on the international show jumping stage representing her native France.Leprovost and Nice Stephanie made their debut together at CSI4* Antwerp, Belgium, held April 26-29, where the mare competed in her first 1.50m competition.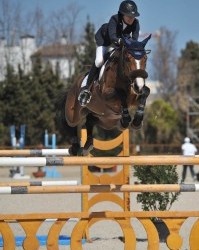 Read more at the source: Nice Stephanie Sold to Penelope Leprovost
Article excerpt posted on Sidelinesnews.com from What's Happenin'.
Double D Trailers Info