Sunday – the grand finale of Rolex Kentucky 3-Day Event, presented by Bridgestone, spotlighted 27 horses in the show jumping, which began at 12:45 pm. At this morning's final veterinary inspection, of the 30 horses presented, one did not receive the ground jury's nod and two horses, held for re-inspection, withdrew. Before the jog, two horses were withdrawn: RF Rovano Rex, but Marilyn has her second horse RF Demeter (one of the few mares entered in this year's Rolex) and Saturday night, after cross-country, Sara Kozumplik withdrew Manolo Blahnik, who comported himself great at his first-ever four-star even though he didn't complete. Kudos to Sara for putting her horse first – she's a class act rider and trainer all the way. This morning, Sara texted to me: "He was amazing yesterday. I had silly mistake at easy fence. so proud of him."  Manny is fine, by the way.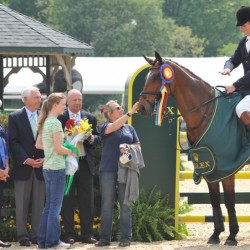 Read more at the source: Rolex Kentucky – 27 Jumped, Fox-Pitt & Parklane Hawk Won 2nd Leg of Rolex Grand Slam of Eventing, Allison Springer & Arthur USEF Nat'l…
Article excerpt posted on Sidelinesnews.com from LaurenGallops.
Double D Trailers Info