Wellington , FL- May 18, 2012- The Lionshare Farm team put in solid performances with great prizes throughout the first week at Old Salem.  Matti Fisher, who has been riding with Peter Leone and the LIonshare Farm team since 2005, won first place honors in the USEF Adult Equitation 3'3″ riding her own Peter Pan.  "I've had Peter Pan for so long that he's just kind of like my old pair of sneakers. He's so comfortable and awesome," shared Fisher.  Fisher and Peter Pan also earned respectable ribbons in the 18-35 Amateur Owners and in the Handy Class of the Performance Hunters. Matti Fisher on her jumper Sans Souci getting last minute coaching from Peter Leone. (Photo by Carrie Wirth) Fisher recently added the jumpers to her riding repertoire.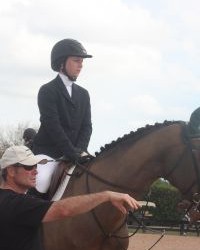 Read more at the source: The Pride of Lionshare Farm at Old Salem
Article excerpt posted on Sidelinesnews.com from Show World.
Double D Trailers Info