As the horses were being unloaded from the trailer, it became apparent that the Hispanic fellas had decided not to make the trip. A couple of years before, a Mexican groom had killed a black racetracker in a knife fight on the backside. At the Fair Grounds Racetrack in New Orleans, it was well known that Mexicans were not safe. I was immediately promoted from hotwalker to groom, leaving my former task vacant. As is customary at the racetrack, we hired the first person to walk in the door asking for a job. It's an easy business decision: if the new guy doesn't work out, not to worry.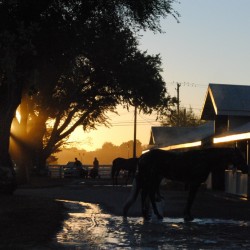 Read more at the source: Training Races: Part I
Article excerpt posted on Sidelinesnews.com from Injecting Perspective.
Double D Trailers Info