By Jan Westmark-Allan Course Walk!! If you live in the Washington, DC area you might already know that the Washington International Horse Show (WIHS) is a big deal!! The show takes place at the Verizon Center, October 23 – 28 and this year they celebrate their 54th show!  Sidelines  Magazine is a strong supporter of the WIHS, and we are also a strong supporter of FUN THINGS TO DO!!! That is why we are giving you and a friend a chance to win a "Course Walk" with a Grand Prix rider on Saturday night the 27th at 6 pm at the WIHS.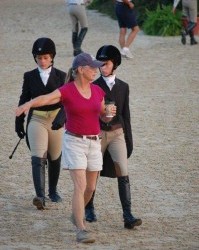 Read more at the source: Walk With A Grand Prix Rider at the Washington International Horse Show (And They Won't Even Mind!)
Article excerpt posted on Sidelinesnews.com from Editor's Notes.
Double D Trailers Info