Wellington, FL (September 19, 2013) – Families and horse lovers, mark your calendars now for 11:00 a.m. this Saturday, September 21, when Wellington's Barnes and Noble Booksellers at 10500 West Forest Hill Boulevard goes big over small equines with an appearance by American Miniature Horse Registry (AMHR) hooved ambassadors and namesakes, 'Barnes' and 'Noble.'   The two 'Minis' are brothers as identical as bookends, and will be part of a family-friendly morning festival celebrating The Big Book of Small Equines, co-authored by Florida horsewomen and equine publishing professionals Johnny Robb (JRPR, Inc.) and Jan Westmark (Sidelinesmagazine). Mini horse enthusiasts will also have the chance to purchase The Big Book of Small Equines and have it signed by either Johnny Robb or the ponies, who will 'sign' their names with paintbrushes.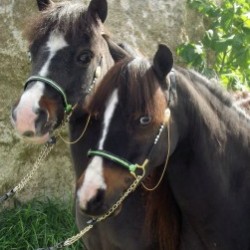 Read more at the source: Wellington Barnes and Noble Goes Big Over Small Equines This Saturday
Article excerpt posted on Sidelinesnews.com from What's Happenin'.
Double D Trailers Info