By Victoria Sheehan
Portraits by Melissa Fuller
Amira Kettaneh looks out of the truck window as the New England landscape blurs by. Luckily, she doesn't get car sick anymore and the eight-hour roundtrip commutes don't seem that bad. As her father drives, she usually uses the time to study.
She and her family are heading to Heritage Farm in Katonah, New York, from their home in Hollis, New Hampshire. Several times in the off-season, her entire family—her father, mother and younger brother—make the trip with her three horses, Gossip SA, Campino TH and Nashville Hero.
"Sometimes we will go two weeks in a row. We'll go for the day: drive four hours, lesson three horses, drive home and we'll do it again the next week," said Amira's mother, Leigh. "Our lives are a little different. Her dad and I do most of it. We ship our own horses and for all the spring, summer, fall and all of Indoors, it was just us taking care of the horses and grooming. It's a completely family-driven affair."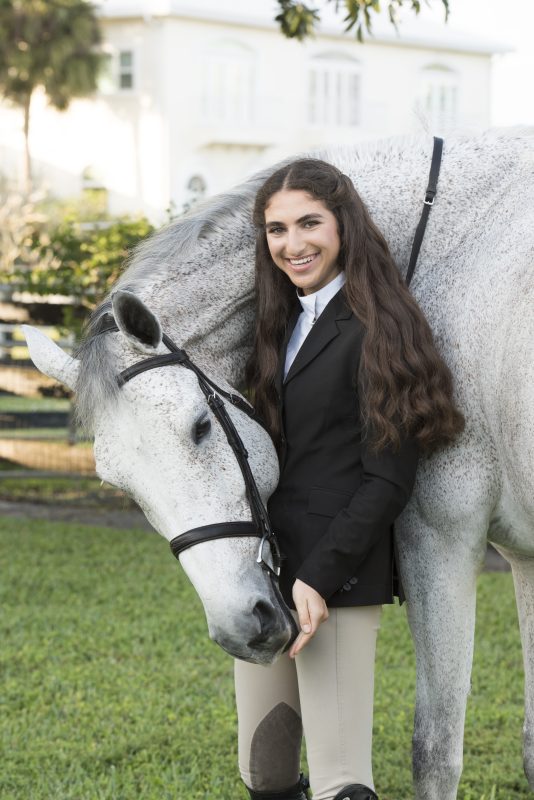 Amira and with her equitation horse Gossip SA, known as Gigi.
"It's hard work, but I feel lucky that I understand the time and effort that goes into working independently," Amira said. "It's worth it. The trainers are worth it, it's a great team, it's really   fun—and four hours isn't that long."
Heritage Farm trainer Patricia Griffith has seen this sort of dedication before and doesn't shy away from comparing Amira to a talented rider who also trained with Heritage—a rider who also hails from New Hampshire and spent hours trailering her horses, knowing the care of her animals like the back of her hand.
"It was very, very Maggie McAlary-esque, where they were doing it themselves and trailering in," Patricia said. "Hopefully for Amira, she ends up following right along in Maggie's footsteps. Maggie won two national finals on two different horses and Amira reminds me a lot of her."
Five years ago, Leigh ran into Patricia at Pony Finals. The two had ridden together years before Amira was even born. Leigh was owner and trainer at Fox Creek Farm and up until that point, she says it was mostly her and a few wonderful local trainers who brought Amira up in her riding. That day in 2017, Patricia decided to stay and watch Leigh's little rider, and she was impressed. The four-hour drives began, and Patricia started working with Amira in the pony ring.
Patricia still remembers Amira and her pink saddle pads. She recalls showing Amira how to scrub her pony's grey coat with Quicksilver shampoo to make it shine. These moments, the smell of the purple wash fresh on their fingertips, was the start of something special. Now, Amira is 16 and being compared to some of the program's best who came before her.
BREAKTHROUGH YEAR
In 2021, Amira competed in the North American Pre Junior Championship at NAYC on her jumper Campino TH, also known as Nino. The pair had been together for a total of eight months before the competition.
"Young Riders was huge to me," Leigh said. "Nino hadn't had a whole lot of experience because of COVID, but it really came together. It was really the culmination of a lot of work. Amira just did a great job with the whole thing—it was an amazing experience."
"Attending Young Riders for the first time was very exciting," Amira said. "I aimed to have accurate rides there and ended up finishing fourth, which was more than I'd expected."
"We're helping her a little, but she's really making that horse up on her own," Patricia said. "They're doing things together for the first time. His first 1.40m class was her first 1.40m class. I think there's a lot to be said for her as a rider, that she has that kind of feeling for a horse. She's watching what goes into preparing the horse and then she's taking a stab at it on her own and often getting her own horses ready and bringing them up."
Amira also made it to the second round at the USEF Hunter Seat Medal Finals on a horse she had never shown before, and traveled to the ASPCA Maclay Finals for the first time. She advanced to the second round on her mare Gossip SA (aka Gigi).
"That meant a lot to me because Gigi is so special to me," Amira said. "We bought her as my Junior Jumper and she kind of stepped into the equitation when I needed her. It's a team; we work together."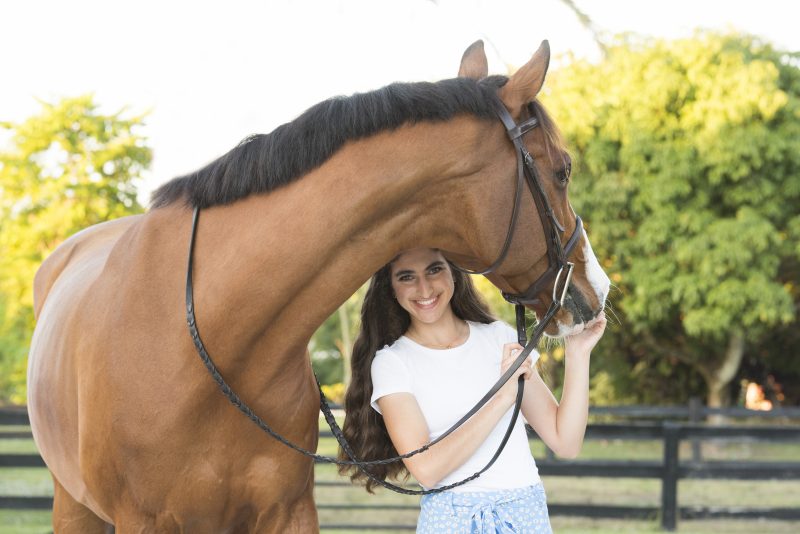 Amira Kettaneh with Campino TH, known as Nino, in Wellington, Florida.
A MIND FOR THE BIG RINGS
Most Junior riders who go on to be remembered are the ones who lay down memorable trips at Maclay Finals, as a pinnacle of the sport. Five riders from Heritage's program have gone on to win the championship. There can be a lot of pressure, but when it's time for big classes, Amira says she doesn't get nervous.
"I know it's an important moment. It would be an amazing opportunity to win a big finals like that," she said. "But I think in order to win, you have to put in a good round. I want to keep calm and focused. I want to put my horses' well-being first. I've learned that my horses respond best to my riding when my mentality puts their confidence first over my placing or points. My goal is always to give my horse a fair and steady ride to have a confident, good experience for both of us. If it works out points-wise, then that's a bonus."
"She goes in and does her job," Leigh said. "She just does what needs to be done and is very quiet about everything. Sometimes I laugh because I feel like if you were looking at her coming out of the ring, you sometimes can't tell whether she fell off or if she won. She's very studied about everything."
Regardless of the class, the show or the points, above all, Amira seems to cherish the opportunity to care for her own horses.
"I get to know all of them and I work with them on the ground," Amira said. "That part is important to me, to create a bond so that they trust me and I trust them—and that carries over to the ring. When I'm in the ring, even if I don't have the most accurate round, we're both there for each other—I help them out when they need it, and they'll help me out. They aren't people, they can't talk to us, but there's an unspoken trust there."
Of all the things Leigh hoped horses would instill in Amria, that sentiment rises to the top of the list. "That empathy," Leigh said. "That level of connection to a horse where she knows what to give and what to take. She always puts her animals first. I don't know if I could have instilled that, but she has it."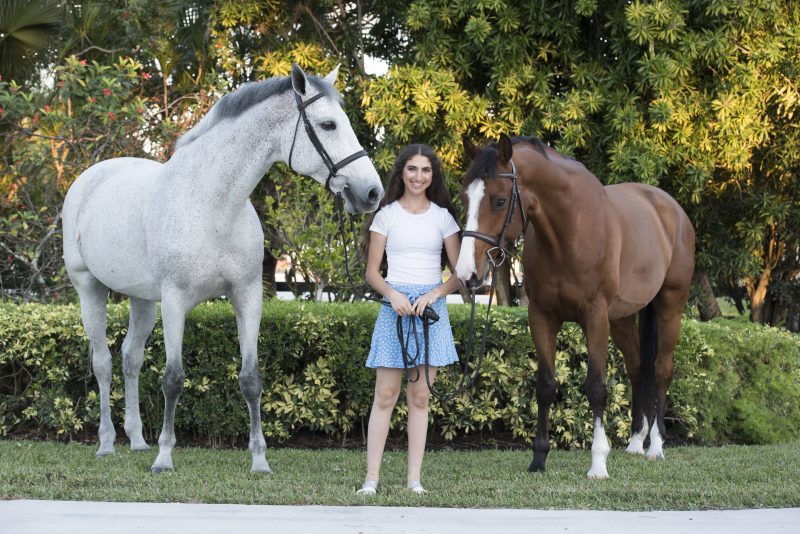 Amira rides with trainer Patricia at Heritage Farm, competing Gigi, left, and Nino.
FUTURE PLANS
Amira doesn't have a memory before horses entered her life. "I've grown up surrounded by horses; it was like my default life," she said. "I was riding as soon as I could walk and showing as soon as I could stay balanced."
When Amira thinks of her future, she first mentions the people who she knows have supported her past and present: the Heritage Farm team, her family and, of course, her mother. "I definitely wouldn't be doing this if it wasn't for her," Amira said. "I'm with her every day. She pushes me to be the best person I can, the best rider that I can be. I'm really grateful for her."
Outside of the barn, Amira loves to bake and to learn, finding a unique joy out of delving into a math problem and getting to the answer. Amira has committed to the University of South Carolina NCEA Hunt Seat Team and is considering an engineering or biomedical degree—but with the same level of poise she uses with her equitation rounds, she knows she has time to adjust and define her goals.
"I think at some point I might run a business or go pro. But I think right now I would work, focus on school, have a business outside of horses, but I would keep riding," Amira said.
If horses are what she wants long-term, she has an open road. "Just like the Maggie McAlarys and the Reed Kesslers, I think she could take this any direction she wants to go," Patricia said. "And probably when I'm too crippled to ride, I'll give her a horse and ask her to ride it. She's that kind of person. I could see her making this a career."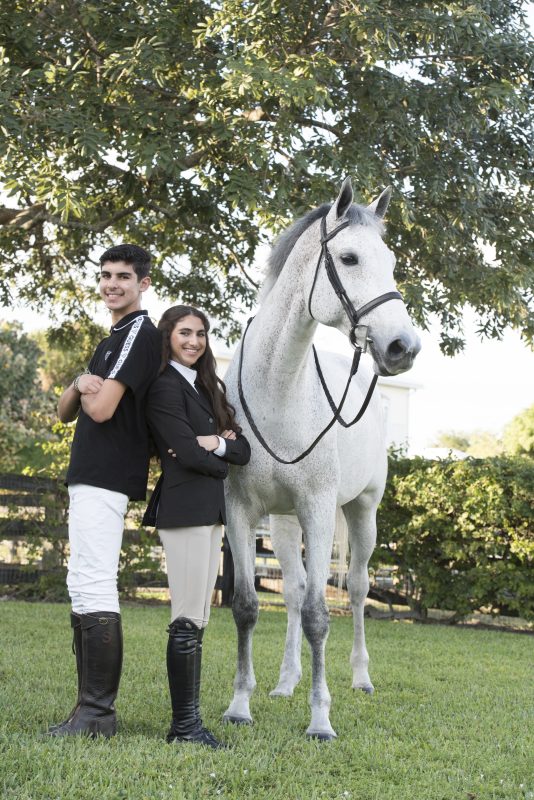 Amira with her brother Sami, a polo player, and Gigi.
Photos by Melissa Fuller, msfullerphotography.com
Double D Trailers Info