By Laura Scaletti
"You can do hard things" is the mantra Andie Sue Roth's parents, Drew and Barbie Tilden Roth, have instilled upon their daughter since day one. Adopted from Guangzhou, China, at 15 months old, Andie Sue underwent amputation surgery below the knee shortly after arriving in the United States. Born without enough bones in her foot to enable her to hold her weight, Andie Sue's doctors at Shriner's Children's Hospital in Northern California decided amputation would be the best way to allow her to thrive in life.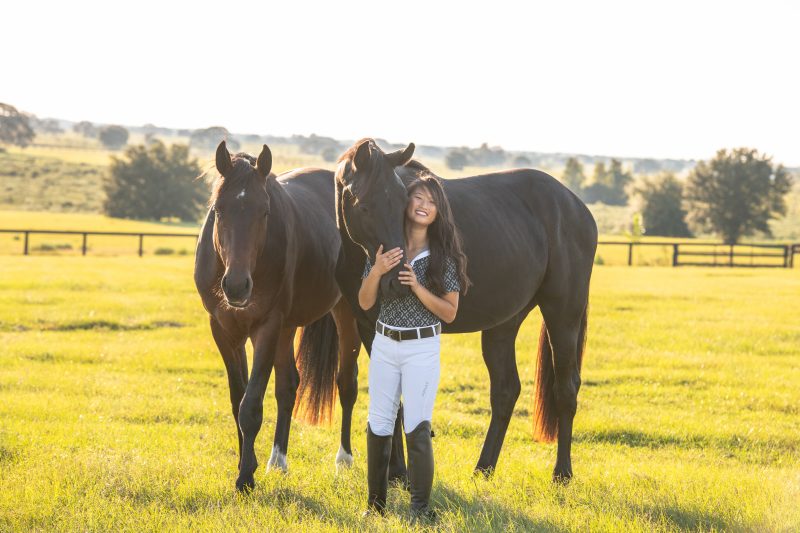 "Being just under 2 years old, she handled the first surgery really well, sleeping a lot afterwards. We kept this little red trike in the kitchen; she would roll all over the kitchen—thud thud thud—with her casted leg up on the handlebar. Without a foot to keep the cast on, her leg had to be bent at the knee and immobilized to keep the cast from coming off," Barbie said. "We knew she was feeling better when she would get on that trike to roll around."
Once the swelling from the amputation went down, Andie Sue was fitted with her first prosthetic at age 2. Since then, she's been on the move chasing her dreams, including Paralympic aspirations in para dressage.
At a young age, Andie Sue found herself in the barn. As a former eventer, Barbie had two horses that lived across the street from their house, and were great on the trails. "Mom and her best friend, Karen, spent a lot of time up Mount Diablo riding. So as soon as she could, Mom put me in a buddy saddle and off we went," Andie Sue said. "Little did I know that Tam, the horse I was riding at the time, would eventually be my Pony Club mount in all disciplines, my camp buddy and lower-level event horse."
Making Strides
Once Andie Sue started riding on a regular basis at age 7, she made another trip to Shriners Children's Hospital to get fitted for a prosthetic to use in the saddle. "She brought her little saddle in; I carried a metal saddle stand and while wearing her boots she told the prosthetist what she wanted. I didn't have to say much, she had it handled," Barbie said. "Her prosthetist at Shriners, Eric Smith, really listened to her. He didn't pass off her requests for her special need, didn't discount her ability to understand how she wanted it all to work."
An Ironman himself, Eric totally understands Andie Sue's need to be physically active and athletic. "He's taken such great care of me, making sure that things fit properly and I can pursue my sport," Andie Sue said. This includes return trips to Shriners Children's as even the tiniest bit of swelling, weight gain or growth makes her prosthetics fit differently, making them painful and requiring new riding and walking prosthetics to be made.
Eric not only designs Andie Sue's legs to be comfortable and functional, but he also makes them so they suit her personality. What started as butterflies printed on the socket has transitioned to a black diamond pattern as Andie Sue has matured. "On the last two riding legs I had made, they even put my sponsors on them! I had a green one that said Devoucoux and my current one is Ariat," Andie Sue said. "It's been super fun personalizing them!"
With a prosthetic designed for riding, Andie Sue started competing and joined Pony Club when she was 8 years old. "Pony Club has probably been the most instrumental part of my entire journey with horses. It's the foundation of learning horse management across disciplines that I believe shouldn't be missed," Andie Sue said. "There are so many opportunities in Pony Club that give participants a lot of experience. I did tetrathlon, eventing, dressage, games, quiz and anything else that came my way."
At age 11, Andie Sue began participating in USEA horse trials with her trusty buddy Tam. "I still can't believe I chose dressage as my primary discipline, because as an eventer, all I thought about was how to get through the dressage quickly so I could jump! But one day, when I was 15, I was having a lesson with an OTTB I had just purchased, Cape Royal, aka Blue, and even though he truly knew nothing about dressage, I felt a power in his lofty trot that I just fell hard for," Andie Sue said. "Each time I rode, I started to get glimpses of what dressage really was and I couldn't wait to try new movements as Blue progressed in his training."
"Blue came to us as a kill-pen rescue after his time on the track culminated," Barbie said. "He had been given nearly a year off by his rescuer and was ready to get to work with his own person. It was love at first sight for Andie Sue, who had tried many horses before she allowed herself to be chosen by this inexperienced OTTB."
To be the best horsewoman she could, Andie Sue took advantage of the opportunity to ride more seasoned dressage horses while Blue was learning the ropes. "My main goal was always to bring that knowledge home to Blue and see what I could teach him. He's not an easy ride—he's quite challenging, to be honest—but when things go well, they go very well," Andie Sue said. "I'm excited to have been able to develop him along the way."
In 2022, it was Andie's partnership with Blue that enabled her to be named Young Rider of the Year for the Thoroughbred Incentive Program. One of the most exciting parts of the year was when they earned a 73% in their freestyle at Championships.
"I think that every equestrian kid dreams of dancing in the dressage court to a mix of her favorite songs with her best friend. It was a magical time, and Blue's been a big part of so many pieces of my horse dreams," Andie Sue said. "Quite a journey for a horse who ended up in a kill pen after his track days. I feel lucky every day that we found each other."
Path to Para Dressage
In 2020, Andie Sue was introduced to para dressage by Hope Hand. A two-time Paralympian herself, Hope founded the U.S. Para-Equestrian Association and helped recruit athletes to the sport.
Hope became a wonderful friend and mentor to both Andie Sue and Barbie. Unfortunately, Hope passed away from cancer in 2022. "I was grateful to have been able to walk a riderless horse in her honor in the dressage arena at Tryon International Equestrian Center following a competition," Andie Sue said. "She was the most encouraging and supporting person, and an incredible advocate for para dressage. She encouraged me to ride in several national competitions doing para tests, and connected me with Barbara Bonk Matson, who offered her amazing Grand Prix PRE Stallion Centeno to me for the para dressage competition at Tryon in 2020. After I rode Centeno I was completely hooked."
From that first experience, Andie Sue connected with Lisa Hellmer, who is now the USEF Para Dressage Development coach. "Andie Sue's experience in Pony Club really helped get her foot in the door with Lisa, as Lisa is a former Pony Club B graduate," Barbie said "She knew Andie Sue had spent a lot of her time dedicated to learning horsemanship and not just riding. This was important to Lisa."
Before connecting with Lisa, it was a struggle trying to find someone to help Andie Sue continue her dressage dreams. "I felt like I called every single dressage trainer in Florida who had even the most remote connection to anyone that I knew," Barbie said. "Finally, I had a friend ask if I had reached out to Lisa, which I hadn't. She was so kind, but didn't make any promises. We are so thankful Pony Club got us in the door with Lisa, it's been the best connection."
After meeting Andie Sue, Lisa was open to seeing if her personal horse, Aniko, would be a good match. Andie Sue happily went to Florida to start training with Lisa in January 2021. For the past two years, Andie Sue and Aniko have been competing on the East Coast with much success, including Aniko helping Andie Sue earn her USDF Bronze medal.
With a shared passion and background, Andie Sue and Lisa immediately had a strong bond. "Lisa has become one of my closest friends and mentors. She understands how to get the best work out of me, she pushes me, laughs with—and at—me and we share a million inside jokes," Andie Sue said. "Having the comfort of knowing that I can make mistakes and learn with Lisa has been a growing experience that is bigger than just being on a horse."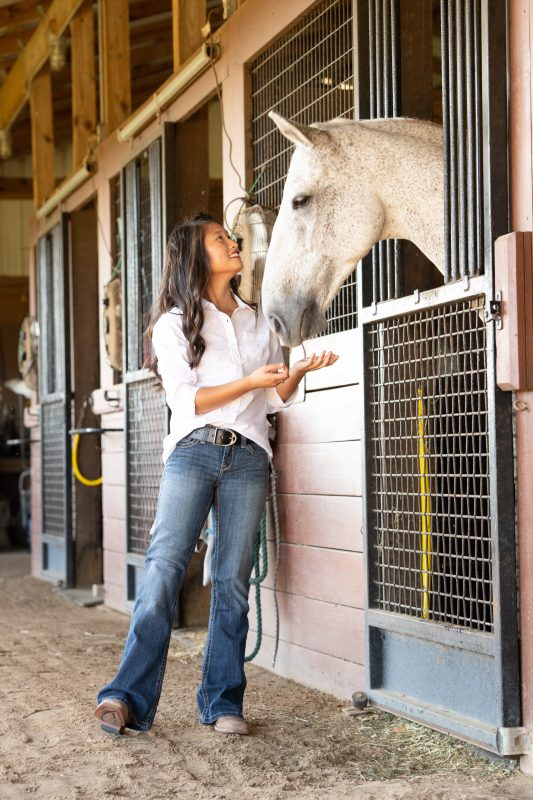 Deciding to become bicoastal to continue her dreams has been fulfilling as well as challenging. What started out as going from California to Florida for a few weeks then returning home for a few months has turned into more and more time on the East Coast.
"My last trip was supposed to be just four weeks, but then things kept coming up that I wanted to do—just one more show, then a 'can't miss' clinic for freestyle with Collier Wimmer of Three Wishes. I kept calling home and asking for a ticket change," Andie Sue said. "Finally, my parents were like, 'OK, you have to come home now!'"
Not only did Andie Sue make her parents happy by coming home, but she was also able to compete at the Pony Club Dressage National Championships and California Dressage Society Championships, earning championship neck ribbons for her own Blue at Training Level and Karen Erickson's Astoria at Second Level.
When Andie Sue returns to Florida for the winter season, she's planning on bringing Blue, if finances allow it. "My mom is very supportive and glad I'm having these experiences, but she misses me being a working student at home, too," she said. "I'm so thankful to have my family supporting my journey."
Setbacks & Success
During her journey, Andie Sue has had her fair share of setbacks—however, her positive thinking has helped her continue to focus on her end goals amidst difficult times. "Encountering a setback can actually be quite productive. I've had a few where I haven't been able to ride for several months, because of surgeries," Andie Sue said. "When that happened, I was able to really focus on other types of learning that were also helpful when I got back in the saddle."
Before COVID hit, Andie Sue had to have a knee reconstruction on her stump leg, which kept her out of the saddle for nearly six months. Combine that with the COVID lockdowns, and Andie Sue found herself with an enormous amount of time on her hands. "I focused a lot on studying, dove into online classes. We knew I was already far ahead in my classes, but when mom was reviewing my transcripts at the end of that year, she found out I had completed all the necessary coursework to graduate two years early," Andie Sue said. With plenty of time on her hands, Andie Sue began taking a few community college credits to further her education.
In addition to traditional school coursework, Andie Sue also did research on how to make a dressage freestyle and took some veterinary prep coursework for her Pony Club H-B certification. However, when Andie Sue went to get her certification, she hit a major mental block. Although she had spent hours studying and memorizing the required knowledge, her fear of failure almost sabotaged her as a month prior to the exam, she decided to cancel her test appointment.
"I used the methods and direction I learned at a recent Daniel Stewart Clinic our Pony Club Region hosted to boost my confidence and get myself over that hump. Daniel encouraged each of us to think hard about why we're hesitant to put ourselves out there, and recognize that it's all based in fear. It made me take a deep look at why I was feeling concerned about the testing, and ask myself what I really had to lose if I didn't pass," Andie Sue said. "I often tell kids my motto is, 'Do all the things.' I just had to remind myself to follow my own advice. Although it wasn't easy, I'm so glad I re-signed up for the test and got my H-B certification."
While Andie Sue has experienced her own setbacks that have tested her grit and grace, she's thankful she's always been able to get to the other side of them. "Being a para equestrian, I always hear about setbacks way worse than mine. Yes, my amputations have been painful, but I have para friends who have lasting pain and chronic illnesses," she said. "I feel blessed that for the most part, I can manage the things that come up in my life and am grateful for my health."
Andie Sue also doesn't solely rely on the judges to let her know she's been successful. "In the moment before the scores come out or the winner is announced, I have a choice to make. I can win by finding the part of my test that I'm proud of, the sections where we are in sync, communicating well and having fun, or I can lose by focusing on what didn't go well or never trying in the first place," she said.
Paralympian Dreams
Andie Sue and Aniko recently competed at the World Equestrian Center in Ocala and then in the 3* CPEDI competition at Global Dressage Festival. "The good news is that the scores she got were enough to qualify her as an addition to the USEF Para Dressage Development List and also to earn an invitation to Lamplight in Chicago for Para Nationals," Barbie said. "She's super excited about those things!"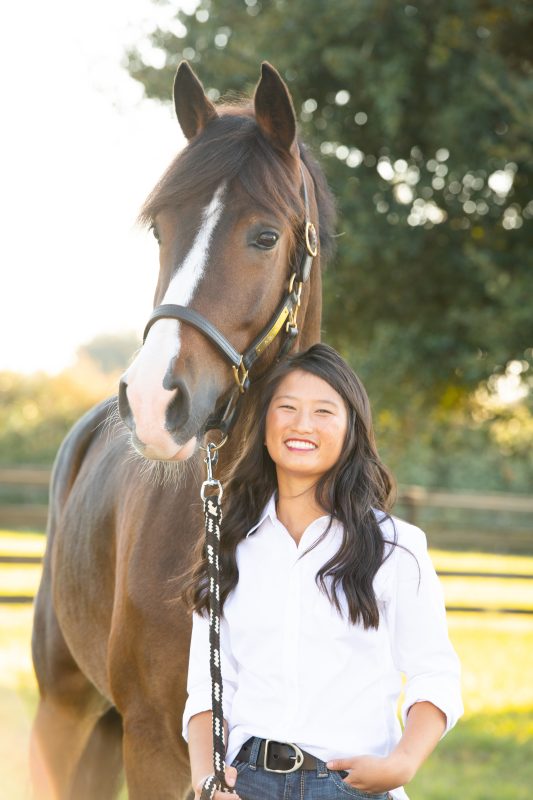 Andie Sue intends to keep this winning attitude as she forges a path to earn a spot on the USA Paralympic team. "I'm working all this year toward a spot on the Paris 2024 team," she said. "However, the U.S. has an incredibly strong group of riders who have been preparing for the next games far longer than I have."
Regardless of whether Andie Sue makes Team USA in 2024, she's excited about participating in the selection process. "I'm looking forward to competing, regardless of the outcome. If the 2028 Olympics in Los Angeles are more in my reach, going through this process will help prepare me for that."
As she chases her Paralympian dreams, Andie also has her eyes on a future career in construction management. "I'd love to have the opportunity to build an equestrian community where people can live near their horses," she said. Andie Sue knows how much proximity to horses can impact a child's dreams growing up.
While chasing her dreams, one thing is for sure. Andie Sue is enjoying every step of her journey.
For more information, follow @andiesue_para_equestrian
Photos by Melissa Fuller, msfullerphotography.com
Double D Trailers Info