By Britney Grover
Portraits by Melissa Fuller
Bliss Heers believes everything in her life has happened for a reason—and that includes a horse falling on her.
At 34, Bliss is one of the country's top show jumpers, being named to the short list for the Tokyo Olympic Team with Antidote De Mars last year. It seems that in every picture, the joy of life and horses emanates so strongly from Bliss that not even a camera lens can dim it. Though she's loved horses all her life, that joy was something she had to lose in order to find.
"I had worked very hard for several years in Europe. In 2016, after selling my best horse, I moved to Holland with a couple of young horses and my two older horses that kept me competing in the sport," Bliss said. "At that point, I wasn't close to a five-star or even a two-star Grand Prix. I was beginning to feel lost and like I may never really make it as a top rider."
Then, what many would consider a disaster struck: A fresh young stallion reared while Bliss was riding him, flipped over and landed on her. Her pelvis was broken, her hip dislocated, and her lower back damaged, forcing her to take some time off for her injuries to heal. "It was a total fluke accident," she said. "I never would have believed it at the time, but the accident and injury ended up being one of the best things that has happened to me in my riding career."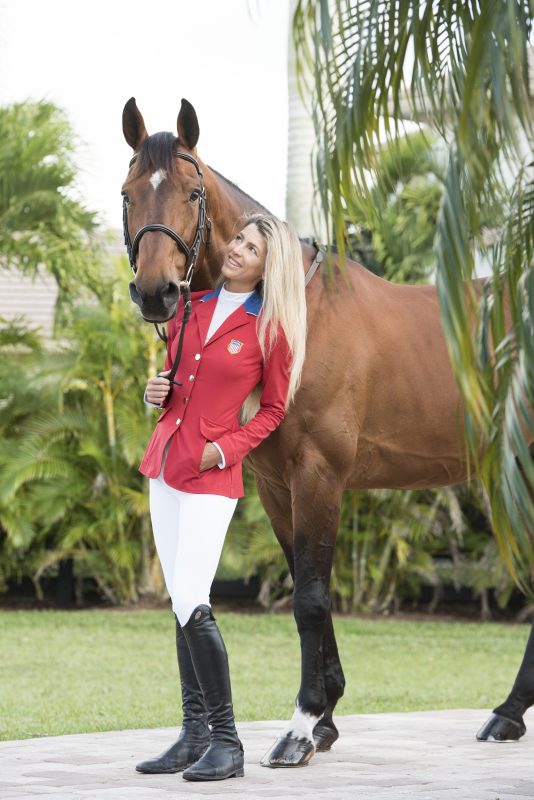 Bliss, with Antidote. "He is so self-secure, and when you walk into the arena with him, you know that together, you can do anything," Bliss said.
Multiplying Talents
Actually, the accident wasn't the first "fluke" occurrence that shaped Bliss' riding career—in fact, her riding started with one. Her parents had both ridden, mainly Western, as kids but hadn't been involved with horses for many years when Bliss' dad "happened" to meet Irish Olympic show jumper Damien Gardiner while out on a run training for a triathlon. The chance meeting rekindled an interest in horses—and, specifically, show jumping.
"I was 5 years old, and although my dad already had me in full-time tennis lessons to become the next Steffi Graf, my mom pushed for us to have mother-daughter riding lessons," Bliss remembered. "From the first time I sat on a horse, all I could think about after that day was horses. As they say, I caught the bug!"
Bliss' mother, Lorraine, had worked at a dude ranch in her youth in exchange for boarding her horse there. A few weekends a month, she would trail ride her horse for hours down the canals to her home in Phoenix, keep her horse in her back yard overnight and ride back the next day. She was the one who initially pushed to have mother-daughter riding lessons, but it wasn't long before Bliss' father, Brett, got involved as well.
"I love that my early memories of riding are not just of me finding my greatest passion in life, but also being so fortunate as to have my family with me, literally riding right by my side," Bliss said. "My father is a competitor; he gives 1,000% in everything he does and raised me and my brother to do the same. Our talents are God-given gifts and we should use them with everything we can! My dad saw from the time I was very young that I was talented, and he has always been my number one supporter."
Without the funds for made horses, the family's first horses included a 4-year-old off the racetrack, a Navajo pony from a reservation, a "jumper" that had never jumped a fence before and more. One of Bliss' favorite early memories is of a pony that would buck her off every day without fail. "Although at the time it wasn't always pleasant, looking back, I can't help but smile when I think of that pony because she was so naughty but taught me so much," Bliss said. "It was always an adventure. We all had to be patient and learn to be horsemen if we wanted to ever make it into the show ring, let alone be competitive."
Another favorite memory—and a day she will never forget—came when Bliss and her parents visited international show jumper Susie Hutchinson's farm. An avid Grand Prix fan, Bliss recognized the recently retired Samsung Woodstock in the paddock right away. "I couldn't believe my eyes," Bliss remembered. "Susie then asked me if I would like to ride him! Of course I said yes. He was the first horse that I ever cantered on, and it was bareback in just a halter and lead rope. I will never forget the only piece of advice Susie gave me: Just don't point him at a jump!"
Though she heeded the advice on Samsung Woodstock, Bliss herself never wanted to stop pointing at jumps. With Bliss' family support, talent and perseverance, many of the ponies and horses she rode ended up being competitive. "We were blessed enough that I was able to financially support my own riding career from very early on," she said. "I always appreciated the process, not just the victories in the show ring. So when my father asked me if I wanted to go to a university or to continue with riding, it was easy for me to say, 'I want to ride!'"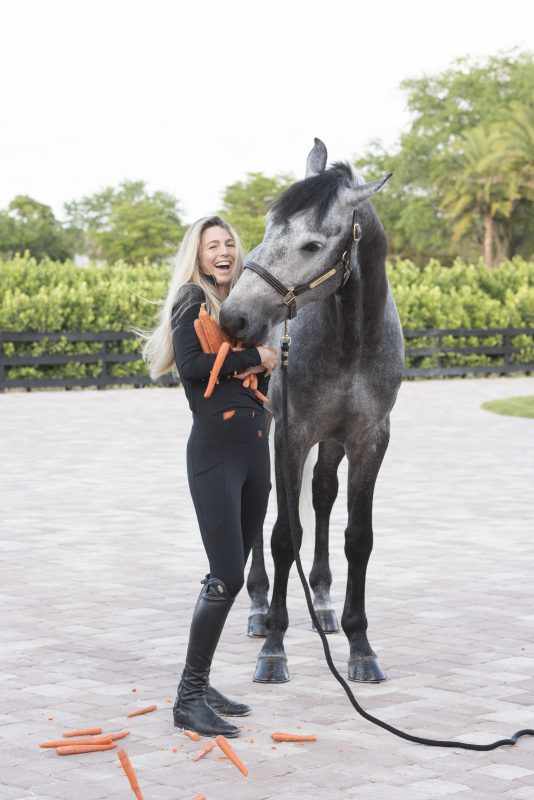 Bliss enjoys a fun moment with Comielfo during their photo shoot for the cover of Sidelines.
Re-Finding Purpose
All through her journey, Bliss' parents have played huge roles in her career. "My mother is an incredible horsewoman who, while I was growing up, studied everything about horses from intricate veterinary details to hunter-jumper exercises," she said. "We had a library full of books on feed, shoeing, conformation and so much more. My mom is so patient and has an incredible eye for detail, and real intuition for horses. I still go to her whenever I have a 'horse mystery' that needs to be solved."
When Bliss thinks about what role her father has played in her riding, she always remembers her first year riding Grand Prix. She was in contention to become the Pacific Coast Horse Shows Association Rookie Grand Prix Rider of the year, but her horse was injured very early in the season. "I couldn't believe it at the time, but I suddenly found myself catch riding lots of different horses during my first year jumping Grand Prix! Between Hap Hansen and Rudy Leonie, I was riding different horses almost weekly," Bliss said. "Needless to say, I was incredibly nervous. Dad would, very calmly, say to me, 'If jump one goes well, then jump two. If two goes well, go to jump three.'"
With her dad's support and guidance, Bliss was able to channel her nerves into positive and productive energy—ultimately being named PCHA Rookie Grand Prix Rider of the Year. "To this very day, whatever the circumstances may be, my dad always encourages me to jump one fence at a time," Bliss said.
When she decided to turn pro, Bliss pointed towards "fence one:" Europe. At first, it was supposed to be a short stay. But Bliss' dad wasn't the only one to recognize her talent, and Bliss ended up spending years learning all she could, working hard and showing bigger and bigger classes. "I arrived in 2011 and I was given the opportunity to train with and ride horses for Otto Becker. It was an incredible experience, and I loved learning from masters such as Manfred Kötter and being able to watch the top riders in the world all day long, every day!" she said.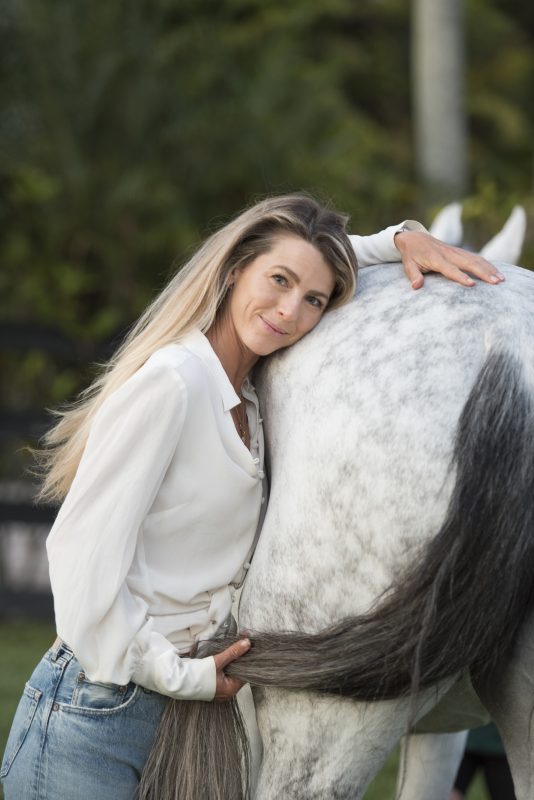 Bliss, with Comielfo, grew up with her family riding right by her side.
But by May of 2018, Bliss was also beginning to feel discouraged. "Prior to the accident, I was in a bit of a rut," she shared. "I had good young horses, but found myself wondering, 'What am I doing?' I was far from my family, working every day to do the best I could, but to what end?"
When she got injured, all Bliss can remember is asking how long she would have to take off, and what she could do to get back in the saddle faster. "From that day, everything changed because no matter what, it made me appreciate every moment in the saddle," she said. "I stopped taking the everyday for granted. If you love what you do, it shows in every aspect of your life. You're winning before you enter the competition ring. The results will follow positivity and dedication."
Bliss moved back to her parents' home in Arizona to recover from her injuries—and figure out what came next. It was while she was still healing and on crutches that she met the stallion Antidote De Mars. "I don't know if Antidote and I would have had the same relationship if it hadn't had been for us being introduced while I was still hurt and insecure," Bliss said. "I tried him and fell in love with his heart, because I felt like he would do anything for me. I still feel that way about him today."
Antidote seemed to sense that Bliss needed a little extra care, and the pair hit it off. Bliss began competing him as an amateur in 2019, taking it slow to regain her strength. But by the end of the year, they'd won their first five-star and competed in Europe.
"Antidote is incredible," Bliss said. "He can do anything. But his greatest quality, even above his talent and intelligence, is his heart. He's a very small, very easygoing horse, but he seems to know when it counts. He sees the arena and grows. He is so self-secure, and when you walk into the arena with him, you know that together, you can do anything."
As it turned out, "anything" included being named to the Olympic short list just two years into their partnership and three years after Bliss' accident. "It felt surreal," she said. "Between the accident and COVID, it was hard to believe that there was now a possibility that I could go to the Olympics! I always wanted to reach this level of the sport but reaching the Olympics is something that even many of the best of the best never achieve. It was a great honor to get on the short list for the Olympics and I hope to have the opportunity again going forward."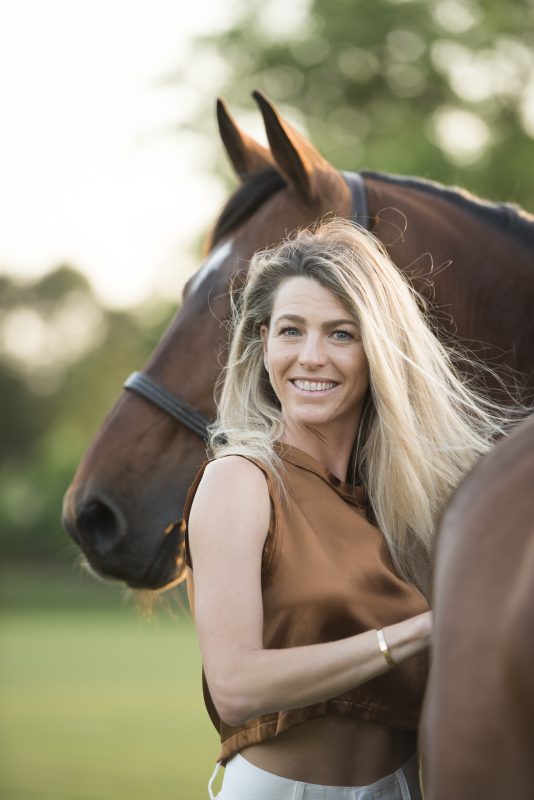 Bliss's strong faith is a constant in her life.
Faith Forward
Antidote only just turned 12 and their partnership is still blossoming, so a future Olympic bid with him is a strong possibility. Making the Olympic team is on Bliss' list of goals—right after being successful in the Grand Prix of Aachen, a goal she's had since she was a child. But Bliss' main goal is to keep growing and learning as a horseman—and she's quick to point out the difference between achievements and success as defined by actress Helen Hayes' mother: "Achievement is the knowledge that you have studied and worked hard and done the best that is in you. Success is being praised by others. That is nice but not as important or satisfying. Always aim for achievement and forget about success."
"Most of my greatest successes come from the partnerships I've built with horses, the trust they gave me and what they did for me despite their past or physical capabilities," Bliss said. "I'm blessed that throughout the duration of my career and from the time I was very young, most of my horses trusted me and have given 1,000% for me. For me, the relationship that I have with my horses is the greatest success of all."
Bliss spends her winter seasons in Wellington. At the shows, she says most people know her simply as "Hero's person" due to the popularity of her Pomeranian, Hero. When it's not show time, Bliss can most often be found riding out on the canals to keep her horses in shape. But if she's not riding or at the barn, she's probably outside on a run, training at the gym, doing Pilates or cooking. "I also love reading or watching documentaries," she said. "I'm pretty simple. I love challenges and learning."
Whether it's at the barn, at home or in the ring, there is one thing that remains constant for Bliss—and makes her who she is. "My faith is everything to me," she said. "I believe in God and Jesus Christ as Lord and Savior. I get out of bed in the morning grateful that I can do so, thankful for everything that I have. I am very blessed. Everything in my life has happened for a reason, and I hope that I can use all the wisdom, talents, trials and victories to God's glory. I even pray before I go in the arena that whether I win or fall on my head, to please keep my horse safe and let it give hope and inspiration to someone."
Bliss says her faith is challenged every day, but it's during the tough times, especially in a sport that requires so much focus, dedication and mental strength, that she finds herself reflecting about it. "And, during these times, my faith has only grown stronger," she said. "For me, it's in God that I find my strength and knowing that in all things, He has control."
Bliss truly loves what she does, and knows that it's during the most difficult and challenging times that she'll grow the most, as a horseman and as a person. She knows it because she's lived through it in the accident that changed her life.
"I'm a totally different rider and competitor now. I used to fight to survive, fight to be the best, and my sole focus was to do everything I could to be at the top. While I still think these are great traits and I'm proud of my drive and discipline, the injury made me pause and appreciate the love and joy I feel every day and every time I get on a horse," Bliss said. "Now, I can't say a day goes by that I'm not excited to get to my horses."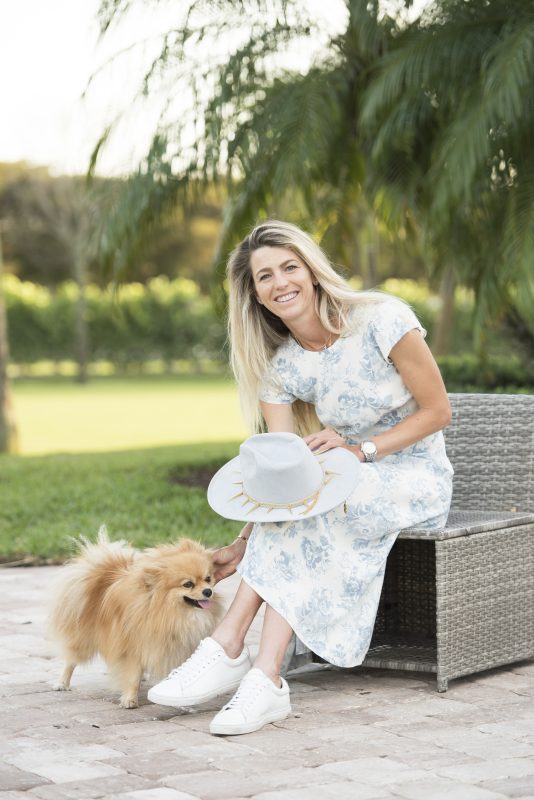 Bliss with Hero, her Pomeranian that is so well known that Bliss said she is referred to as "Hero's person" at shows.
Follow Bliss on Instagram @blisster_h
Photos by Melissa Fuller, msfullerphotography.com
Double D Trailers Info