By Laura Scaletti
"Hurry Up and Wait" is a familiar saying at hunter-jumper competitions. Unlike other disciplines, where riders are assigned specific ride times, hunter-jumper riders typically must check in with the starter at the in-gate throughout the day to determine when they will show. In 2019, Emma Fass decided to put her computer science background to use in the show industry and created RingSide Pro to allow riders to be "ringside" wherever they are.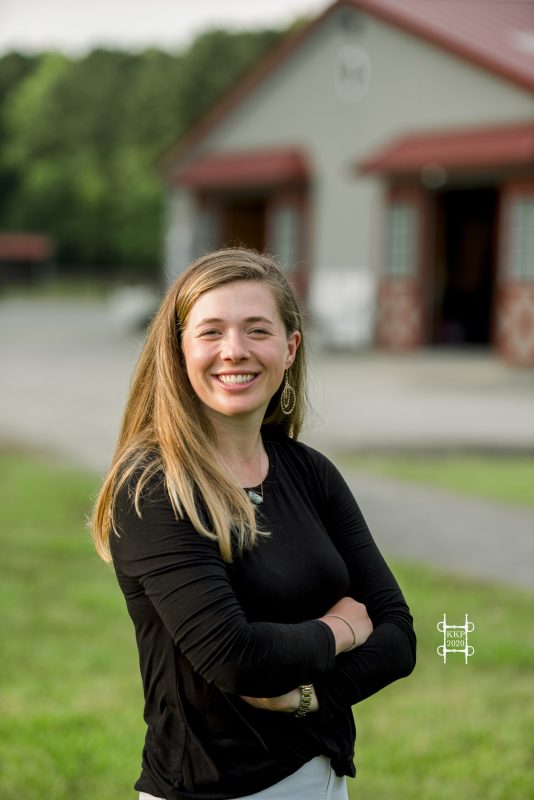 Throughout high school, Emma competed at horses shows on her horse Son Of A Sailor, aka Ernie, oftentimes trailering Ernie into the show for the day with her mom. "That was stressful because we didn't know how the show was running until we got there. Even once we were on the show grounds, we struggled to find information. It's a hike to the rings and the speakers in the barns tend to be unreliable," Emma said. "I would think to myself, There's got to be a better way."
The Better Way
After graduating from college with a degree in computer science, Emma went to work as a software engineer. However, after a few years, she still had the horse bug. "I started playing around with the idea of creating horse show software that would be accessible to all levels of shows and would allow riders to know key information quickly," Emma said.
A few months after taking the leap to develop RingSide Pro, a horse show software solution, Emma had to pivot to a new offering as the COVID-19 pandemic halted horse shows throughout the country. Emma developed Clinics Pro, which allowed riders to continue to get feedback from judges while the world was locked down.
Clinics Pro has partnered with a group of USEF "R" rated judges who view videos and provide feedback based on information the rider submits. "The rider selects the clinician and lets them know if there are specific questions they have about the ride. The clinician has two weeks to respond with written feedback to the video and answer the rider's questions," Emma said. "I'm so proud to work with the incredible clinicians who participate in Clinics Pro."
As shows resumed in late 2020, Emma once again focused on her suite of show solutions and launched RingSide Pro's text alert service, which has now been used from schooling shows to the Capital Challenge Horse Show. "It allows riders, trainers, grooms, parents and spectators to sign up to get text messages from a horse show. Show staff send reminders before the shows, timing updates during the show, schedule changes, hospitality details, sponsor shout outs and more," Emma said. "The service is paid for by the horse show, so anyone can sign up to receive the text messages for free. Plus, users can filter alerts, so they only receive those that are pertinent to them."
Emma loves attending shows that use RingSide Pro. "At first, I worked with a lot of shows that I grew up attending. That created a full-circle moment for me. I could look around and see people avoiding the same problems I had faced as an exhibitor," she said. "Now I've begun working with shows I've never been to before, like the USHJA Green Incentive and International Derby Championships. I livestream these events religiously each year! Just being there was a big moment for me, but on top of that, I got to see my service help the staff and exhibitors."
As Emma keeps expanding her service offerings, she introduced online entry service last year. "Horse show staff can easily set up their classes, schedule and settings, then trainers, riders or parents can submit entries for the show," Emma said. "It's a user-friendly experience and affordable for shows of all sizes."
This year Emma is launching a membership management service that allows horse show associations to easily generate membership forms and accept online payments. Other future goals include creating a suite of barn management services as well as an expansion of the text alert service that will allow equestrian businesses to manage communication with their customers.
"My goal for RingSide Pro is to create a 'one stop shop' for equestrians. Equestrians have so much going on in their lives. I want RingSide Pro to be an easy-to-use platform where users can accomplish all of their tasks," Emma said. "Currently, it's a place where you can store your lesson or horse show videos, participate in clinics, sign up to attend a show, manage how the show communicates with you and view your results online."
Making It Happen
Emma's biggest challenge she faced as an entrepreneur was having the confidence to take the leap and start RingSide Pro. "To tell the truth, I still struggle with feeling confident in my ideas sometimes, but I've found creating a circle of people I trust has helped me overcome this," Emma said. "My circle includes family members, friends, my trainer and show managers. I can pitch ideas to them knowing that they will tell me what they truly think. It's become an important part of my process.
"There will be people who doubt you can achieve your goals. If you're like me, creating a circle of people you trust will be important as you can sort out the critics from those who genuinely want to guide you," Emma continued. "Focus on the people you trust and don't spend too much time worrying about the others."
It's not just her circle who helps give Emma confidence to trust her gut. The feedback she's received from users confirms she's created a helpful product. "I love hearing from people that got useful tips from a clinician, made it to their class on time because of text alerts or successfully signed their kid up for their very first horse show! I started RingSide Pro to make a positive difference in the equestrian community and it's rewarding when I hear I'm doing just that," Emma said.
While Emma can often be found at horse shows in her official capacity for RingSide Pro, that's not the only time she gets to horse around. "I still own Ernie and share him with a high schooler, also named Emma, who half leases him. While I don't show now, I still ride Ernie in lessons, on trail rides and hacking around," Emma said.
Optimistic she will get back into the show ring so she can use RingSide Pro as a competitor one day, Emma simply enjoys her time at the barn these days. "It's my happy place," she said, "and I hope riding will always be a part of my life in one way or another."
For more information, visit www.ringsidepro.com
Photos by Kirsten Konopnicki, @kkonophoto
Double D Trailers Info