By Kimberly Gatto
Portraits by Alex Banks
In the unique and challenging sport of combined driving, Jacob Arnold has proven himself to be a bona fide star. It's been said that success develops from a recipe based on hard work, perseverance, learning and sacrifice, paired with a love of what one is doing. Since the time he was a boy, Jacob has had the right combination of all of those ingredients, which have culminated in a meteoric rise to stardom.
Beginning his career as a Junior, Jacob earned the coveted USEF Junior Equestrian of the Year award in 2011. Since then, he has taken the combined driving world by storm, competing successfully in four FEI World Championships. He also won the USEF Advanced Pair Horse National Championship in 2020 and 2021, among other victories—all before the age of 28, in a sport that has historically been dominated by older drivers. Last September, he placed 12th—the highest of any American driver—at the 2021 FEI Driving World Championship for Pairs in a field of over 100 top-level drivers.
In the Beginning
For Jacob—who is based at picturesque Hermitage Farm in the heart of Kentucky's bluegrass—success has always been driven first and foremost by a deep love of horses.
Jacob is the older of two boys—both now drivers—born to Mike and Penny Arnold of Snow Camp, North Carolina. Born into an equestrian family, Jacob's passion for horses developed from an early age. "My parents tell me that I first sat on a horse at 4 months old," he said. Soon he was learning to ride on ponies.
While he originally enjoyed riding, Jacob was introduced to carriage driving at the age of 6 and immediately became captivated by it. The family had purchased a Morgan driving horse after some friends had become involved in the sport. "Like most kids, I rode," Jacob said. "But from a very young age, I vividly remember being way more comfortable with driving than I was with riding. I always preferred driving. I couldn't really explain why. I just knew that when I had the reins behind the horse or pony, it felt right. I wanted to do more." 
By the time Jacob was 8, he was the proud owner of an 11.2-hand driving pony, whom he affectionately called Duke The Wonder Pony. Jacob enjoyed learning the ins and outs of carriage driving with Duke by competing in pleasure driving shows over the next several years. He eventually discovered the sport of combined driving, in which drivers must navigate through three different phases—similar in some ways to eventing, but with a twist, as the horse or horses must be guided using commands only from the driver's voice and hands. The sport includes a dressage test, followed by a marathon phase which tests speed and endurance, and finally an obstacle cone driving course that involves quickness and accuracy, akin to the stadium jumping phase in a horse trials event.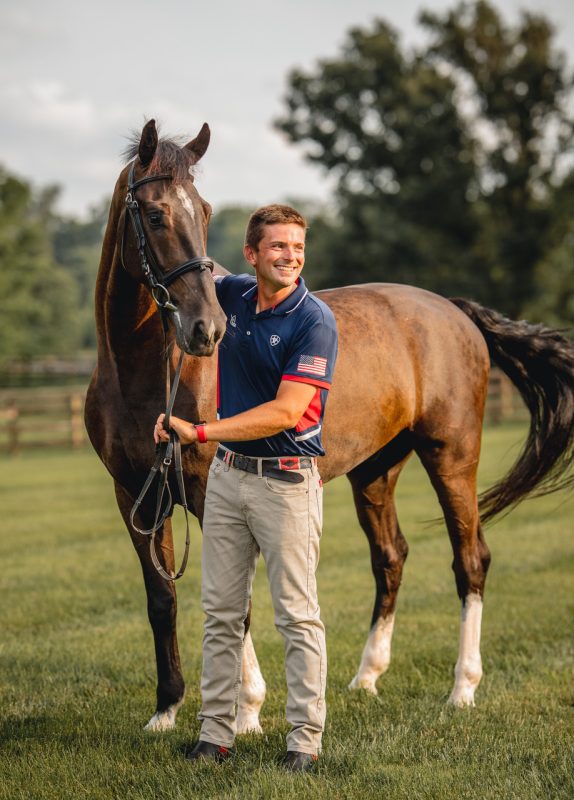 Jacob entered his first combined driving event in the Training Level Single Horse division with his family's Morgan mare, Spring Hollow Dark Shadow—known around the barn as Shadow—when he was just 14 years old. "Once I did that first event," Jacob said, "I was pretty sure I wanted to stick with combined driving." Armed with determination and a strong work ethic, he progressed quickly, moving from Training to the FEI Level by the time he was 17.
A Young Phenom
Despite being younger than most participants in combined driving, Jacob quickly made a name for himself in the sport. In 2011—just two weeks after his 18th birthday—Jacob won his first Single Horse International Combined Driving competition (CAI) at the Little Everglades International CDE in Florida. That same year, he was presented with the USEF Junior Equestrian of the Year award. In an interview discussing the award, USEF Driving Coach Michael Freund described Jacob's driving skills as "unbelievable," then added, "You won't hear me say that very often." 
That was not the only accolade he received. Among others, the USEF's Equestrian Magazine described Jacob as "a combined driving force to be reckoned with." He also became well-known within the combined driving community for his excellent sportsmanship and kindness towards others. While he was still a teen, there were numerous anecdotes involving Jacob helping out or encouraging other drivers. On one occasion when Jacob was not competing in a marathon event, he volunteered to serve as a navigator for other drivers. On another occasion, he was observed answering numerous questions posed by young fans at an event.
In 2014, Jacob was offered the opportunity to drive John Merritt and Karen Chandor's Hotspur's Red Rowl, aka Rowley, at the CAI-4* Izsak World Championships in Hungary after the horse's regular driver was injured in an accident. Despite having only driven the horse once prior to the event, Jacob earned a stellar fourth place finish with Rowley and won the marathon segment. Jacob noted that driving Rowley was one of the highlights of his career thus far. "I was so fortunate to have been given the opportunity to drive such an influential horse," he said. "He took me from being a very green participant at the international level to being a more confident competitor."
Since that time, Jacob has continued to hone his skills, gaining valuable experience along with a huge list of accomplishments in both the U.S. and Europe. 
A Unique Challenge 
While combined driving is a relative newcomer to the equestrian scene, it represents one of the fastest growing segments of the industry. Jacob explains that the sport is most similar to eventing, but with several unique challenges.
"All three phases are complicated in different ways," he explained. "And different challenges arise constantly. If you fixate on one part of an event, you may lose your focus on another. Using a golf analogy, you might solve an issue with your long game, only to find that you can't putt that day."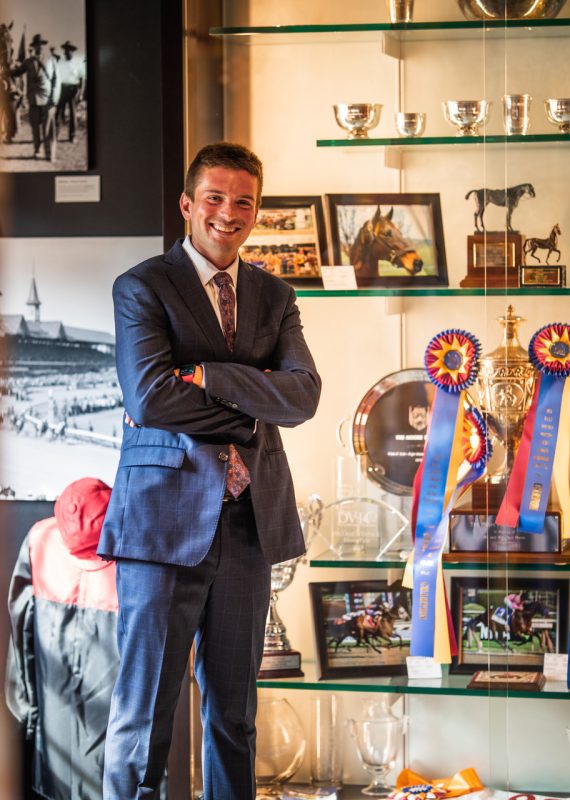 As mentioned, all drivers must navigate a dressage test, followed by a marathon and, finally, a cones course. And sometimes it's done with a pair of horses or a four-in-hand, which poses an additional level of difficulty. "How you prepare to navigate the course depends on your combination of horses and their respective strengths," Jacob said. "And the horses all have to work well together."
If he had to designate one segment as the most challenging part of an event, Jacob would choose driving cones with a horse pair. "After the marathon at a high-level event, it can be difficult to make the pair function well together the following day. The cones segment is similar in some ways to show jumping. If you knock a ball off a cone, it's like knocking down a rail in a show jumping course. It's also more common for people to get time penalties in cones driving than in show jumping. Your performance in cones can really change your final standing a lot."
The real variable, however, is the marathon portion of an event. "In the marathon, there are up to eight obstacles and it's timed, so whoever is fastest wins the marathon," Jacob said. "Every second is a quarter of a point, so you can climb the rankings or drop quickly based on tenths of a second. As you can imagine, it's very competitive at the international level."
Staying Grounded
While he's competing, Jacob makes sure that he stays grounded by spending time with his team of friends. Jacob especially enjoys the camaraderie and team spirit that is fostered within the combined driving community. "I'm very competitive by nature," he said. "So I have to make sure I have fun while I'm out there. Sometimes one's biggest strength can also be a weakness. I love to compete and win, but I have to keep reminding myself to have fun or I will lose focus. Everyone on my team is always trying to make me laugh at shows, since I can be so focused and serious." 
Jacob's team includes owners and sponsors Steve Wilson—a four-time USEF Advanced Pairs Combined Driving National Champion—and Laura Lee Brown, sponsor Eleanor Warriner as well as Jacob's fiancé, event rider Mary Sheerin. The couple met several years ago at an event at the Kentucky Horse Park before Mary came to work at the farm; the rest, as the saying goes, is history. The couple is planning an October 2022 wedding.
Together, Jacob and Mary manage a barn of 10 to 12 horses at a time, including all of the duties that go along with boarding and training clients. Despite his busy competition schedule, Jacob finds the time to teach drivers of all ages and abilities, from beginners through the international level. He also serves on the USEF Board of Directors and is highly involved in the governance of the sport in an effort to bring awareness and to encourage participation, as many are not familiar with combined driving compared to other equestrian sports such as show jumping, dressage or eventing.
One of the appealing aspects of combined driving is the fact that, unlike some other horse sports, people can succeed at any age and with various breeds of horses. While Jacob's primary competition horses are Dutch Harness Horses and Lipizzaners, he has seen people achieve success with Haflingers, Friesians and numerous other breeds. Jacob hopes that he can inspire others to give the sport a try.
"It's a very unique sport in that anyone of any age can compete and with any horse," Jacob said. "You don't have to be young or have a six-figure horse to be competitive and move up the levels. We also have a great team environment. We always have a lot of fun." 
He summarized, "All you really need is a willingness to work and a love of horses." 
For more information, visit teamarnold.com
Photos by Alex Banks, www.alexbanksphotography.com
Double D Trailers Info