By Britney Grover
Portraits by Shawna Simmons Whitty
Going with the flow works well for Lucy Deslauriers. When she was moving up from the children's jumpers, she tried Hester, one of her father's horses, simply because he was in the barn—and ended up with an Olympic-level partnership. 
Since starting in Low Junior Jumpers that first summer in 2013 and finishing in High Juniors by the end of it, Lucy and Hester have had many unexpectedly exciting summers, with busy years balancing school and showing in between. The summer of 2018, their first Longines FEI Jumping Nations Cup team led to the Nations Cup Final in Barcelona, Spain, in the nick of time for Lucy's first year of college to begin.
The next summer, Lucy and Hester went from alternate for the Pan American Games to joining the U.S. team in Lima, Peru, where they delivered a pivotal second round clear performance in the Nations Cup to help the U.S. secure the bronze medal. This summer, after being shortlisted for the 2021 Tokyo Olympics U.S. Jumping Team, Lucy and Hester traveled to Europe for the CSIO Sopot, Poland—where they placed second in the 5* Grand Prix—and the CHIO Rotterdam, where they were double clear in the 5* Nations Cup and clear in the 5* Grand Prix. Over the course of those two observation events, Lucy and Hester jumped a total of five clear rounds at the 1.60m level—tied for the most of any combination on the U.S. Show Jumping Short List.
After this performance, they were named alternates for the team and Lucy continued competing at five-star events in Europe. They started with jumping against a picturesque backdrop of the Chateau de Chantilly in France, followed by Jumping de Dinard, also in France—where Lucy celebrated her 22nd birthday.
"I feel like it's been a dream story," she said. "In all of those situations, there was no pressure for Hester because it was really a matter of me trying to figure out how to ride at the next level. He just answered all the questions and was there to pick up all my mistakes along the way."
Growing Into Grand Prix
Before she had even begun to ride, Lucy was traveling from her home farm in Bridgehampton, New York, to five-star grand prix and Nations Cups to watch both of her parents compete. Her mother, Lisa Tarnapol Deslauriers, had a hot thoroughbred that needed a "babysitter," and the miniature Chocolate Soufflé became Lucy's first mount when Lucy was 6 years old.
On Lucy's 8th birthday, Lisa won the CN Grand Prix at Spruce Meadows in Calgary. Lucy and her twin brother, Jack, got to watch their mother receive her award from the middle of the ring—and from then on, Lucy dreamed of accomplishing the kinds of things her mother had.
It didn't take her long to start: Lucy earned her first national championship, Pony Hunter Champion at Pony Finals 2012, just after turning 13, and added a second at the Washington International Pony Equitation Finals. She had good teachers, both in her mother and her father, Canadian Olympic show jumper Mario Deslauriers. During her Junior career, Lucy also trained with Stacia Madden and the team at Beacon Hill Show Stables.
It was her father's keen eye for horses with potential that played a pivotal role in Lucy's own career. He imported Hester for himself as an 8-year-old in 2013, and began showing him. It only lasted a few months. When Lucy needed a horse to move up to the Low Junior Jumpers on, Mario suggested she give Hester a try, since he was already in the barn.
The pair hit it off, and made their debut at Old Salem Farm. By the end of the summer, they'd moved up to the High Juniors—but no one had any idea then just how far Lucy and Hester would go. "I was just excited by this new horse I had, and he was a lot of fun," Lucy remembered. "He was quirky and difficult at first—he had so much spunk and attitude. But we just really clicked and moved up fairly quickly. It's been sort of a whirlwind, where you just ride the wave and go with it, and we kept seeing what we were able to do together."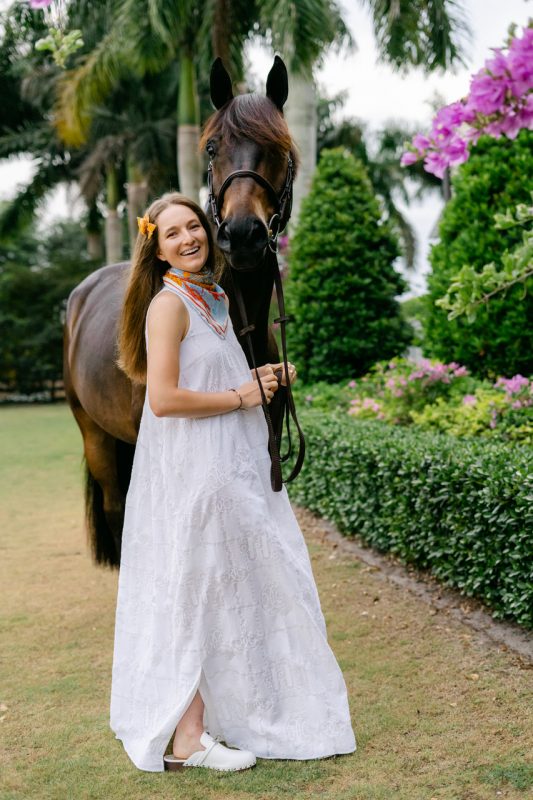 The wave took Lucy and Hester from an individual silver medal at the 2014 FEI North American Junior/Young Rider Championships (now NAYC) to individual gold and team silver the following year, individual and team gold at the USEF National Junior Jumper Championships and USEF Under-25 National Championships, and reserve at the ASPCA Maclay Finals. While still a Junior, Lucy began competing against her father and other professionals in international competitions around the world.
Lucy and Hester amassed a dizzying list of Grand Prix wins, championships and awards as they grew together. "My dad [Mario Deslauriers] has always been my primary trainer," Lucy said. "Stacia Madden and the team at Beacon Hill helped me throughout my Junior career, and over the past few years McLain Ward has also helped me, so it's been a team effort. Between the day-to-day with my dad and then being lucky enough to learn from another great in show jumping. I'm so lucky to have both of their sets of eyes."
Under the tutelage of not just one but two Olympians, Lucy and Hester earned the opportunity to prove themselves on the world stage. In 2018, Lucy was selected for her first senior U.S. Nations Cup team at Thunderbird—competing against her father on the Canadian home team. The U.S. fourth-place finish secured them—and Lucy—a place at the Nations Cup Final in Barcelona, Spain. When one of the team riders had to withdraw from the 2019 Pan American Games in Lima, Peru, it was Lucy and Hester that replaced them.
"International competition has been a huge learning experience for me," Lucy said. "I was really lucky when I was younger, before I competitively rode, to be able to travel to some of those bigger shows with my parents when they were competing there. So I'd seen them a little bit and taken in the prestige—but when you're there to compete, it's a whole different ball game."
Lucy says riding with show jumpers she's looked up to all her life is both humbling and motivating—a sweet spot between having a confident, competitive spirit and the humility to learn from those who are more experienced. "You have to balance riding in the ring with people you've looked up to in the sport for your whole life and simultaneously knowing you're there to perform," she said. "That's been really fun, and I hope to only get to do it more."
School & Giving Back
Two days after the Nations Cup Final, Lucy was in the University of Pennsylvania library, studying for her first year of college. Growing up, she always attended "regular" school and hardly missed days at school for shows—a circumstance she didn't regret, since she's also passionate about learning. Now a senior studying health and societies with a minor in consumer psychology, Lucy continues to work with her professors to navigate around her show schedule.
"Honestly, it's super hard to balance riding and school," Lucy shared. "I really rely on other peers who are also riding and doing school, when I'm in Florida or at other shows, to help me create a work environment. That's one of the toughest things for me when I'm at shows: creating spaces that are conducive to work, or creating a group of us that are motivated to get our work done."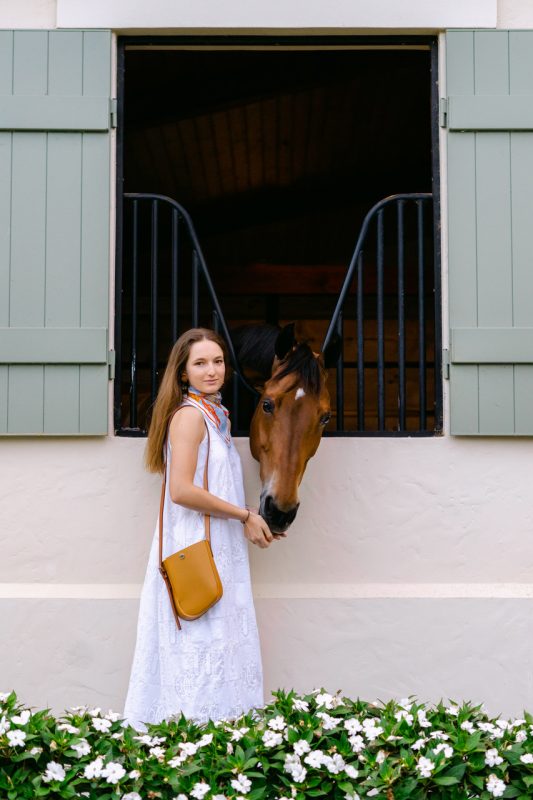 One of Lucy's study partners is fellow show jumper Adrienne Sternlicht. Lucy and Adrienne, a grad student, have become quite close—and though they both have demanding schedules between school and showing, they make time to give back and help others.
Lucy, Adrienne and a group of friends began discussing what they could do to help bring conversations and causes from their home and school environments to the horse show world. They began brainstorming little things that they and their equestrian peers could do to help the community, and to create blueprints for others to recreate if a cause resonated with them—and The Equestrian Cooperative was born.
After hosting equipment donation trunks at horse shows on a small scale, The Equestrian Cooperative held their official launch event last season during the Winter Equestrian Festival's Great Charity Challenge. They sold arm bands, took donations and held a raffle to raise money to relieve medical debt in Palm Beach County.
"We come into these communities and inhabit them for extended periods of time without always taking a look at the people who live there, the communities we're jumping into by coming to horse shows," Lucy explained. "That's where the idea came from, and it was really successful. People were generous and enthusiastic about jumping on board for our first event."
Lucy and The Equestrian Cooperative have lots of ideas for little things that can make a big impact, like creating avenues for equestrians to volunteer for just one hour a week and making a network of people who want to give back. "It's really about getting as many people as possible to do those small things that make impact," she said. "I think our community is full of passionate, caring people who would love to help create more impact if they knew how."
Fashion & Family
It's her compassion as well as her riding skills that made Lucy a Hermès partner rider two and a half years ago. "The foundation of their brand has always been equestrian sport, with the horse at the center of their pieces," she said. "I think Hermès sought out riders who understand their connection to the sport and represent that tradition. It's been a really fun journey with them so far, and it's an honor to be part of their team of riders."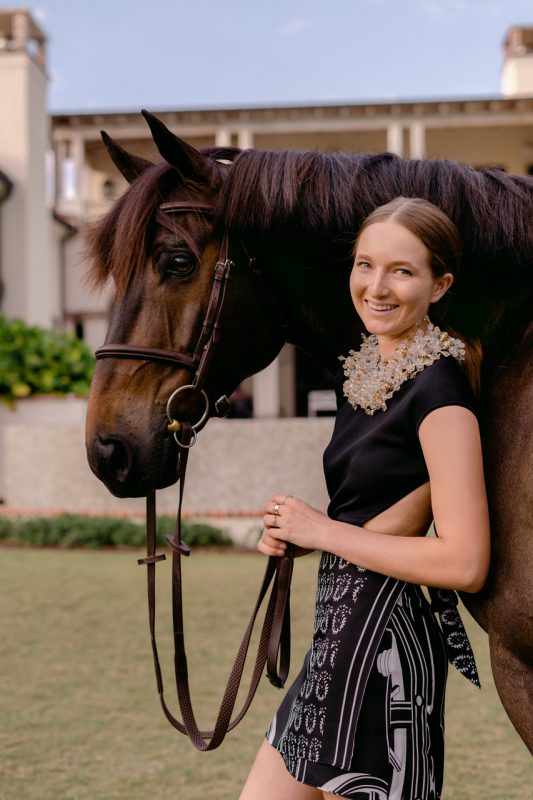 Outside of the saddle, Lucy likes to say that she dresses "New York"—a style that falls perfectly in line with the Hermès vision. "I do really like fashion. There's something about growing up in the city that keeps you attuned to it—or at least I felt that way, and I've always been really interested in fashion," she said. "If you decide you want it to, your wardrobe can say a lot about your character and be a form of expression. I think that's a really cool thing."
With the very traditional style of equestrian apparel, Lucy has enjoyed seeing a shift even in her short career from thick, rigid materials to more breathable athletic fabrics. She feels lucky that both she and her horses are able to use Hermès apparel and gear, with their balance between elegance and functionality.
Lucy hopes to cultivate a long-term partnership with Hermès, which benefits not just Hester but her other up-and-coming horses: Billy De Beaufour, a "speed horse who is tons of fun and super brave;" Enanda, a mare Lucy got last year in the hopes of taking some pressure off Hester in the future; and Diva, an 8-year-old mare Lucy just began riding and will start competing in the fall.
"If you ask me what I would do in a dream world, it'd be ride forever," she said. "The plan right after I graduate is to try riding full time, which I've never done—I've always been in school full time while riding, so I'd love to give it a shot. If my parents are willing to support me, that would be, in an ideal world, the plan."
Lucy is well aware that pursuing that dream is a team effort. Her goal in the sport is to be able to develop other horses to the top level with consistency—the consistency she admires in "teammates" like her father, who competed in the 2021 Tokyo Olympics when Mario represented Canada as the only show jumper. Even Lucy's twin brother, Jack, is heavily involved in the business side of things, keeping everything running though he himself has never had the desire to ride.
It's no surprise they approach show jumping as a team: Sports and fitness have always been important to the Deslauriers family, with one sport event or another always on the TV at home and closely following high-performance athletes across many sports. Lucy and Jack played all different sports as they grew up, and Lucy still enjoys playing tennis as often as she can.
At Home With Hester
The team spirit persists even when Lucy and Mario are competing against one another. "When we're showing in the same Grand Prix or a Nations Cup or whatever it may be, we always joke that we have two chances," Lucy said. "It's fun, and we learn from each other on the ground—obviously, I have much more to learn from him than he does from me. But when one of us goes first, we can relay the information about how the course rode, or how we think the other horse is going to react in the ring."
Though they may joke about who did better one week or another, ultimately, each wants the other to do well—and it's only more exciting when both perform well in the same class, sometimes even coming first and second. At home, Lucy rides with both of her parents every day, and she's convinced she'll get her mom back in the ring in the not-too-distant future.
At the beginning of the COVID-19 pandemic last year, the family expanded in the form of a mini goldendoodle dubbed Noodle. "When we picked her out, I had convinced my family that I would only allow us to name her after a food or another animal," Lucy explained, laughing. "We went through every iteration whatsoever and I finally convinced them she was Noodle. It's funny, because she's totally a noodle and has lived up to the name. It's great."
Even with a puppy around, Hester remains king of the family's barn—and he knows it. "He's pretty cocky, actually," Lucy admitted fondly. "He knows he's a good dude, and the world sort of revolves around him. He's a puppy in the barn, honestly; we let him walk around and do whatever he wants. Supervised, of course, but just when you think he's settling into his age a bit, he lets you know that he knows what's up."
At 16, Hester has been jumping around at some of the most prestigious venues in Europe with impressive results. "He's gonna live forever," Lucy joked. "At this point we know him so well in his management, we just try to do what's right by him and plan for his age and also how he's feeling. Luckily, he hasn't shown any indication of wanting to slow down anytime soon. Hopefully I'll get to show him for many more years."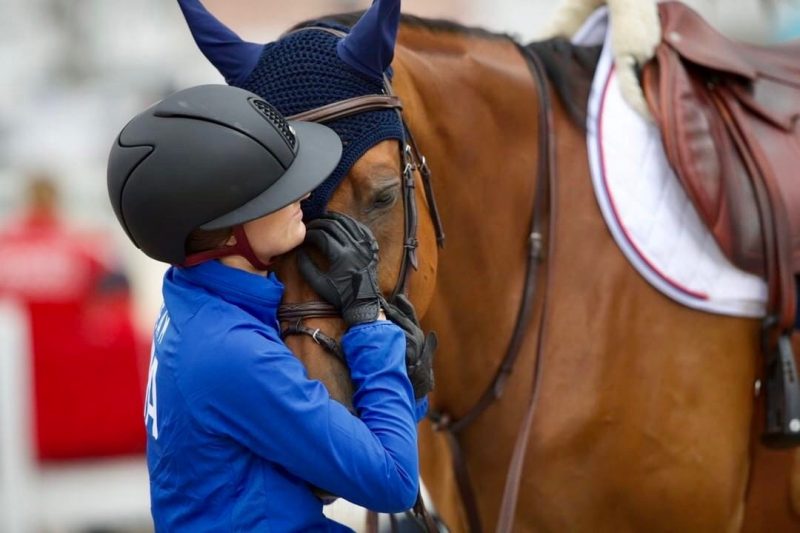 While big moments like jumping in the Nations Cup Final in Spain and the Pan American Games in Peru stand out as favorite memories for Lucy, what's even more special to her is their relationship. She loves being able to look back at pictures featuring young Hester and young Lucy: Lucy at 13, or as a Young Rider with her friends.
"Typically people have cycled through a lot of horses in their career by then," Lucy said, "but he's been through all those big moments with me. My dad has such an incredible ability to find young horses, and I have to give him credit for believing in Hester when he had just tried him. But at the same time, I think we've definitely grown together. It's something you can't plan for when you buy a horse, but he's been the best outcome we could have asked for."
Follow Lucy @lucydeslauriers
Photos by Shawna Simmons Whitty, www.sasequinephotography.com, @sasequinephotography, unless noted otherwise.
Clothing provided by Hermès
Double D Trailers Info