There are people who are motivated, and then there are people who are driven. And if you needed to put Miranda Jones in one of those groups, she'd break the boundaries and be in a group all her own, because she is both of those things and more.
Miranda is a litigation lawyer, which alone is an impressive and challenging career. As someone who goes to trial in patent law cases, she is organized, outgoing and efficient. Then, mix in a husband and three daughters, and you will find she breaks the mold yet again, because she still prioritizes her family while managing her law commitments.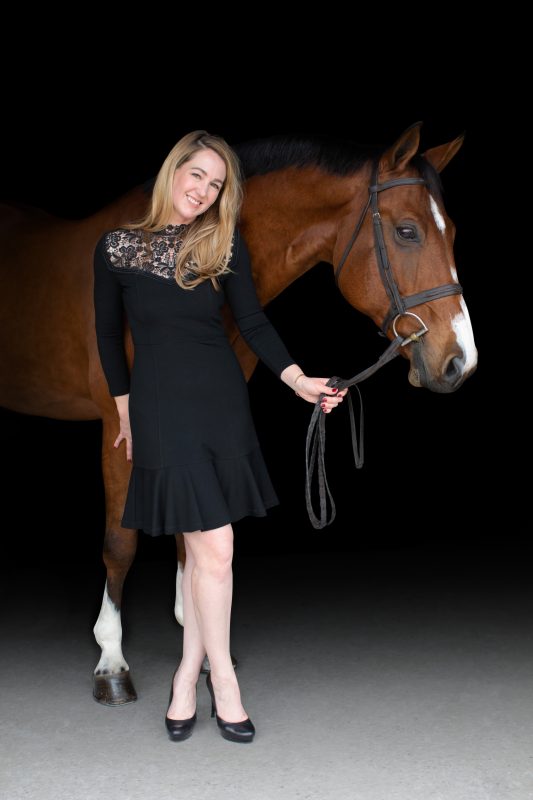 Miranda is also an equestrian, and despite all her commitments, finds a way to ride. It may not be often, and it may not be long, but in the world of Miranda Jones, it is a sanity-saving hobby and a way to share a love of horses with her growing daughters.
As a child, Miranda wouldn't have guessed that her adult life would be what it is. Becoming a lawyer was not in her plans. And while she loved horses, as many young girls do, she didn't ride. Upon entering college, she pursued chemistry. She met her husband, Andy, while studying at the University of Houston, and it wasn't until she married into his family of lawyers—mother Edith Jones is a United States circuit court judge—that law came into the picture.
Miranda felt at that point that working in a laboratory wasn't a great fit, and with the encouragement of her family, took the LSAT on a whim. "I did well, I was accepted into law school, and one thing led to another," Miranda explained. After graduating from law school, Miranda and Andy welcomed their first daughter, Edie.
Between juggling commitments working as a law clerk for a judge in Washington, D.C. and a brand new baby, Andy recognized that Miranda needed something that gave her a break from the stress. "He told me I needed a hobby, and he probably thought I'd pick something a little less intense," she said. Instead, she and a friend found Rock Creek Park Horse Center, an equestrian park located just outside of D.C.
With Andy watching the baby in the evenings, Miranda began as an adult amateur, learning from the ground up while also being postpartum, a physical challenge of its own. "The first time I took a lesson, my childhood love of horses was re-kindled," she said. "I'd go every week and have a different lesson horse. I found I was looking forward to it so much!" It wasn't long before Miranda was leasing a horse.
After her clerkship concluded, Miranda and Andy returned to Houston, where she started work at a boutique patent litigation firm. As a student, she had worked summer jobs with firms where she had dabbled in many different practice areas: corporate, private equity, etc. Eventually she found her calling in patent law. "I resisted it initially, because I felt pushed in that direction—everyone expects an attorney with a science degree to do patent law," Miranda said. "But after I gave it a try, I found I really did enjoy it. I get to use my background; I'm in court and advocating for my clients, who are brilliant inventors, and I find it very rewarding!"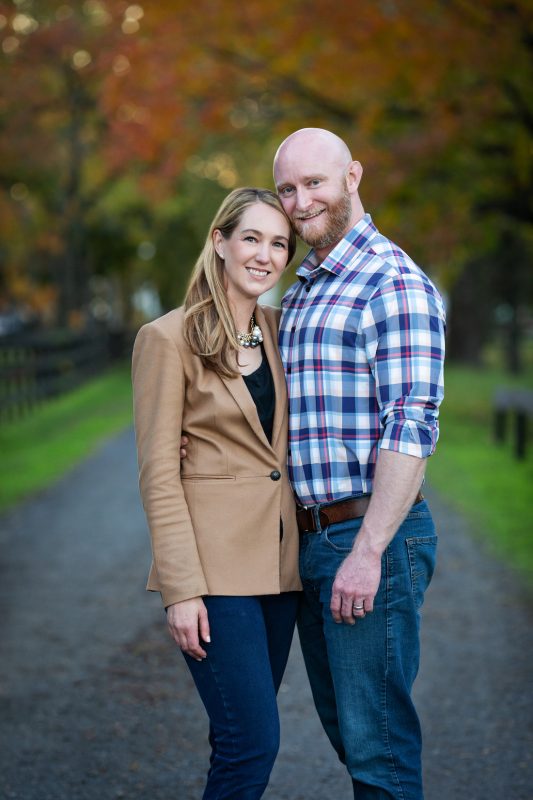 You might say that Miranda's family, her law career and her equestrian pursuits have all grown together. She and Andy welcomed two more daughters, Jane and Audrey; Miranda joined Porter Hedges law firm; and the family now owns several horses that Edie, Jane and Miranda enjoy together.
Sharing the love of horses with her daughters, especially as they've grown, has been a unique pleasure for Miranda. Edie—who sat on Miranda's very first horse, Benjamin Constant, as a baby—now rides Ivan, or Golden Boy, whom they imported from Poland. Jane rides Rollingwoods All Or Nothing, nicknamed Nut, and recently moved up to Short Stirrup with her sights set on the jumpers.
Miranda rides Believe It, barn name Kona, whom she purchased in 2019. "He was my reward for finishing a six-week-long trial in Virginia," Miranda joked. "The horse I had wasn't the right match, and I made the decision to buy a new one. He's been a great partner and so dependable."
Though Miranda's career has its ongoing challenges—long weeks at trial, ever-changing schedules, last-minute oral arguments—it's also tied together her years and experiences with horses.
When her family moved back to Houston, Miranda worked for a small firm for 10 years, but was ready for a change. She was riding with her friend Stacey Thompson. Stacey's husband, James, worked at Porter Hedges and facilitated Miranda joining the firm. A year after Miranda joined the firm, another equestrian, Laura Alaniz, an employment litigation partner, joined the firm. "Law firms are always taking clients to sports events, dinners and other business development functions. I proposed to the firm that we add horse sporting events," Miranda explained. This suggestion led to Porter Hedges becoming a sponsor of Houston's Pin Oak Charity Horse Show in 2021.
Pin Oak began in 1945; its founder, JS Abercrombie, donated money for the construction of the original Texas Children's Hospital in 1952; and since then the show has been a major fundraiser for the hospital. It's a tradition of sorts for Miranda, who has attended as a competitor many times since her family returned to Houston and now she gets to share the experience with clients.
"It's a great show: good competition, good atmosphere and I really enjoy it," Miranda explained. "They'll feature families with a connection to Texas Children's Hospital, and it will pull at your heartstrings."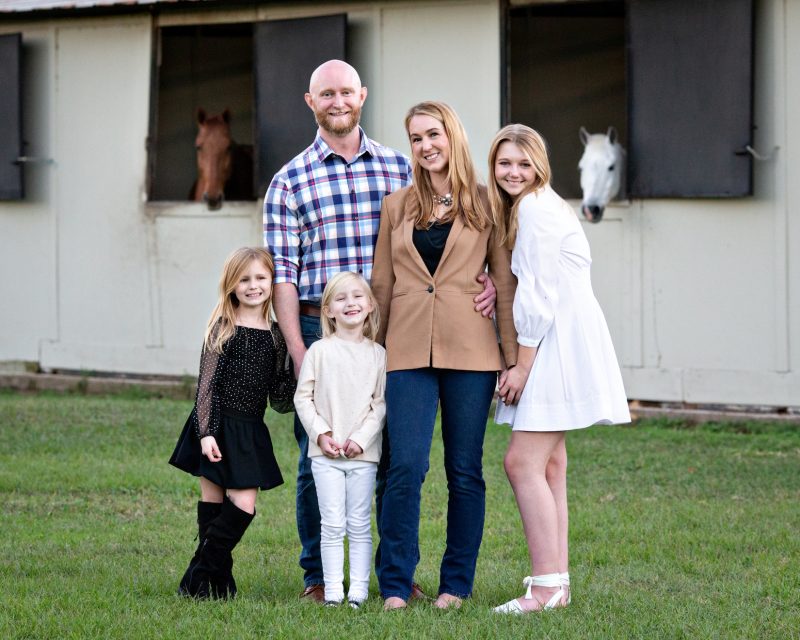 This year Miranda has plans to show Kona at Pin Oak, aiming for the 3'3". Her biggest obstacle is, and consistently has been, time. For work, she's often involved in complex cases and it makes it difficult to make concrete plans. There will be delays, moving deadlines or new trial dates. It's also hard to shut work off, with cell phones and the expectation for one to be available at a moment's notice.
"One good thing about the COVID-19 pandemic is that courts have offered more remote hearings, which were essentially unheard of before COVID," Miranda said. "Sometimes if a hearing comes up and I'm out of town, I can still make it all work. It gives me more flexibility and I can show my horses."
So how does Miranda manage to keep all the balls in the air? "She really is kind of superhuman," Andy said. "It's just through enormous effort and dedication, and it requires a lot of time management!"
The horses truly are a break from the chaos for Miranda. "If I was stressed about work, the horses would pick up on that energy," she explained. "They taught me I needed to check that, bring the energy back down." And for a high-energy person like Miranda, that's truly an exercise in control.
The horses are a most-of-the-family affair for the Joneses, even including Andy at one point. "Within six months or so, he was already at .95m; for me it was so frustrating because it took me years to advance to a similar height!" Miranda shared.
Their youngest daughter hasn't quite caught the bug and Andy has since stopped riding, so Miranda finds herself learning how to deal with the ups and downs a show mom faces and riding along with the life lesson her daughters are learning.
"It's not a sport where everyone wins," Miranda said. "Being a mom to a young equestrian and helping her work through all those issues and competitions can be tough. Reminding ourselves that it's about the love of the horses is the theme of the year for us."
Edie and Jane, for their part, love to be a part of the horse community. Jane hopes to do the Short Stirrup at Pin Oak; she loves that her sister can try new ponies for her and loves to ride big jumps and go fast. Edie calls Ivan her best friend, and as a 14-year-old, already acknowledges that horses have taught her patience, responsibility and forgiveness.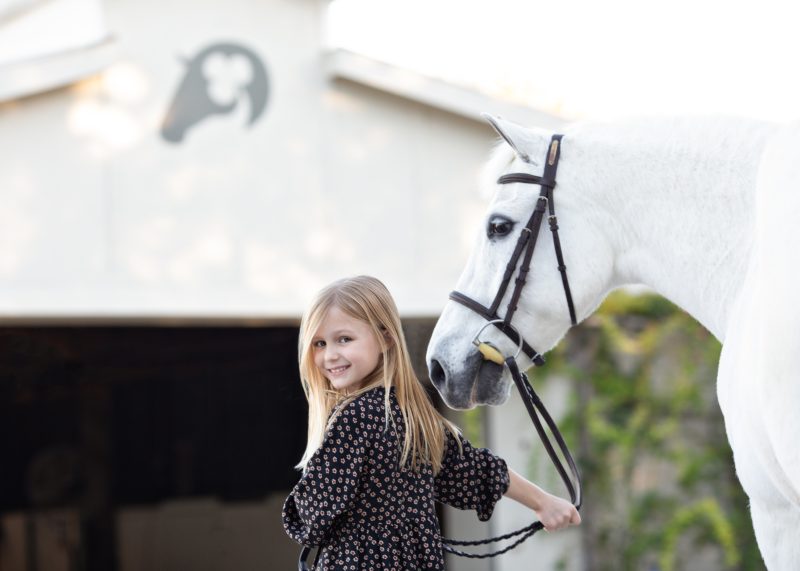 "You have to forgive yourself when you make a mistake while riding," Edie said. "That's one of the hardest things to do when you're a perfectionist!" She also finds it handy that if she's struggling with something or, on the opposite side of things, has a great round or a big win, her mom and sister are there to support her through it or cheer with her.
Miranda plans to continue showing Kona, but as he ages, she has found herself thinking about taking the next big step in equine ownership: buying a horse farm of her own, where older horses like Kona can retire, or younger horses can grow until ready for training.
"If I had a goal, it would be to learn more about barn management," Miranda said. "That, of course, takes time!" Her high-energy personality will certainly come into play when potentially adding to her list of life's "to-do's," but her family has always and will continue to support her endeavors. "If she says, 'OK, I've got to get this thing done at home,' or, 'I've gotta go out and take care of my horse,' she's just going to do it," Andy said. "She's going to find time to get the work, or whatever she wants to, done!"
For more information, visit www.pinoak.org
Double D Trailers Info