By Lauren Mauldin
Photos by Shelby Phillips
The world of horse showing moves constantly. With new trends, modern advances and division rules that seem to change with the seasons, it can be hard to see that some things are just classic. But Susie Humes, lifelong equestrian, trainer and judge, knows how to look past momentary flashes to see timeless beauty in the world around her.
"A great horse never goes out of fashion," Susie said, "just as great art never goes out of fashion." Susie's life, both within horses and art, is devoted to preserving these classics.
Susie saw the world from the back of a horse by the time she was 3 years old, and built her life around them. She spent her youth with horses, going from foxhunting to the show ring to bareback trail rides in the woods. Moving into training and judging was a natural progression for someone as devoted to horses as Susie, who sees judging hunters and equitation as a complex equation to solve.
"It's like putting a puzzle together — starting with the first horse and putting them in order by quality of jump, quality of animal and smoothness of trip," she said. Susie has put this puzzle together at the top horse shows in the country, judging everything from Devon to the Maclay Finals until the stresses and hassles of traveling pushed her to cut back her schedule. Though still judging the occasional horse show for the sheer enjoyment of it, Susie recently has been following another classic pursuit — an appreciation and preservation of art.
Patron of American Art
Susie's great grandmother, Gertrude Vanderbilt Whitney, was a talented sculptor as well as both patron and collector of art in the early 1900s. Witnessing the struggles that innovative artists with new ideas had selling their work in America during that time, Gertrude decided to start buying and showcasing these artists on her own. She became the leading patron of American art from 1907 until her death in 1942.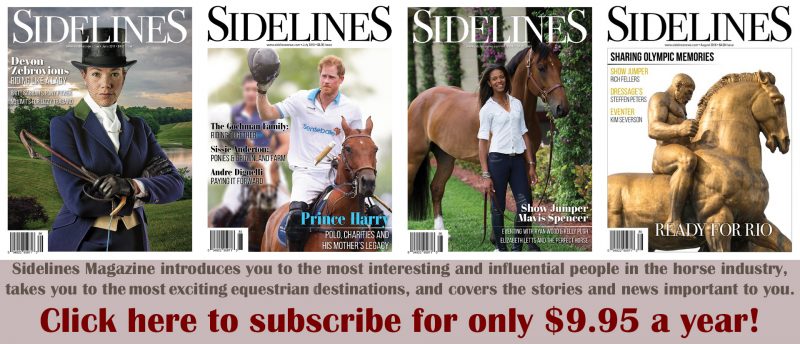 By 1929, Gertrude had amassed a collection of 500 works of art. When the Metropolitan Museum of Art refused her donation, she decided to create her own museum. The Whitney Museum of American Art in New York City, founded by Gertrude and still an important museum today, opened its doors in 1931.
Eighty-two years later, Susie found herself stepping into this artistic world when she and her brother, John LeBoutillier, inherited The Studio, Gertrude's sculpture studio built in 1910 on Long Island. With intricate hallways lined with art and sculpture, The Studio is now Susie's home. In her bedroom, she wakes up each day under a chandelier from Paris, and opens her eyes to a Charles Baskerville mural on the wall. "It's one of the most unique houses in the country. I'm very proud and grateful to live here," Susie said.
The home, styled like a villa that seems like it could exist in France or Italy as easily as it does on Long Island, has a vista in the front that sweeps down to a statue. If you look through the house, there's a straight, long view through to the gardens. The property is scattered with Gertrude's sculptures, including a 7½-foot-tall statue in the garden called "The Shepherd," which is one of Susie's favorites. The entire property is filled with Gertrude's work, including a wall of the living room that's covered in small sculptures. "Each one is beautiful, and there's such a sense of movement and reality to each piece," Susie said about the wall of cascading art.
Living in The Studio with her brother and four Maltese dogs, Susie shares the beautiful building with the world through media. Using The Studio's 20 acres and spectacular collection, Susie coordinates shoots on the property for print, television and film. "It's fascinating to watch the process, and I've gotten to meet a lot of interesting people," she said of the shoots. The side business allows her to spend more valuable time at home during the summer months before she heads to Wellington for horse shows and warmer winters.
A Horse Family
Though Susie would love to be able to sculpt or draw as Gertrude did, creating art isn't her specialty. "I inherited the feel for horses and the ability to pick out a good horse," Susie said, a skill which is as much her family's talent as art. Gertrude's husband, Harry Payne Whitney, was a polo player and owner of Regret, the first filly to ever win the Kentucky Derby.
Harry was also involved in the National Horse Show, which another family member, Susie's great uncle, Reginald Vanderbilt, helped start. Other family members founded the Polo Museum in Palm Beach as well as the Racing Museum in Saratoga. There is a long history of horses and museums in Susie's lineage.
Carrying through on this promise of preserving life through museums, Susie lent some of Getrude's pieces to an upcoming art tour that will visit institutions around the world. Starting in January 2018 at the Norton Museum in Palm Beach, the pieces will make their way across the United States to locations ranging from Long Island, New York, to Cody, Wyoming, before heading overseas to France. Sharing her great grandmother's beautiful work is a labor of love for Susie, who hopes the artist will gain greater appeal through these exhibits.
Susie's long-term goal for The Studio is to live there until the end of her days and eventually mark it as a historic house that people can visit. "It gives you a great appreciation of the art of the 19th century, and an appreciation of how people lived during that time," Susie said about The Studio. For now, owning a few horses and judging occasionally, Susie exists in a happy blend of horses and art.
The Studio and its treasures are like a classically good horse — timeless. "There may be fewer people who can recognize classic art and horses, but they are unique in their fields and still deserved to be studied and loved," Susie said. With her devotion to both The Studio and quality horsemanship, Susie Humes ensures the classics will continue to be appreciated for many years to come.
Photos by Shelby Phillips, www.shelbyphillipsphotography.com
Double D Trailers Info