Lexington, KY – July 31, 2013 – Although there were grey skies in the area for the second day of the Kentucky Summer Classic, the weather did not dampen the competition in the Rolex Stadium. Both the 1.40m and 1.35m Open Jumper classes were determined by just fractions of a second.  As the last in the class, Aaron Vale had the draw on his side as he bested Juan Pablo Gaspar and Shamrock with H&M Cisco in the 1.40m Open Jumpers. In the 1.35m Open Jumpers, Geoffrey Case and Veneziano-C tried to catch Guillermo Williams and Marbella's speedy time, but were just hundredths of a second short.
The course for the 1.40m Open Jumpers was designed by Marina Azevedo of Brazil, and featured multiple rollbacks, a skinny vertical, a vertical-oxer double combination, and an oxer-vertical-vertical triple combination. Eleven horse and rider combinations advanced to the jump-off, which began with a vertical-oxer line with a rollback to the skinny, followed by the double combination, a liverpool vertical, and finishing with a rollback to a single oxer headed toward the gate.
Sarah Scheiring was the first rider to produce a second clear effort with Midnight Dance, owned by Windwood Equestrian of Pelham, AL, setting the time to beat at 34.671 seconds, which held up for fourth place. Her early lead would not hold for long when speed dynamo 15-year-old Juan Pablo Gaspar of Mexico took his turn over the course aboard Shamrock. They laid on the gas, making sharp turns and slicing both of the rollbacks to finish in 31.601 seconds.
Tatiana Dzavik of Malibu, CA, attempted to catch Gaspar's time aboard Delphine, and although they handily left all of the rails intact, they stopped the clock at 32.498 seconds, which would be good enough for third place.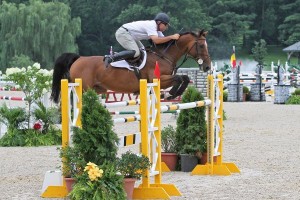 Aaron Vale and H&M Cisco
Aaron Vale was the last to show aboard H&M Cisco, owned by Thinks Like a Horse of Morriston, FL, and they were ready to take a few risks when they took their turn over the short course. He used a curve through the first line to create momentum and slice the skinny vertical. Vale also took a risk at the final oxer, galloping though the timers in a clear 31.224 seconds, just 4/10ths of a second faster than Gaspar to capture the blue ribbon.
"Once again playing with fire, I took a chance at the end, but I wanted to win the class," smiled Vale. "I kicked him pretty hard through the timers. The timers have been a little far away from the jumps these last two weeks, so you can't jump the last fence and take your foot off the gas. I don't think I won by a lot, so that was maybe just enough to get it done."
H&M Cisco arrived in the United States last summer, but after an unfortunate colic surgery the horse was resting until the beginning of this season. "I'm still trying to figure him out a little bit," explained Vale. "He's really athletic. He isn't always the most consistent with his style, so we're just trying to get him more consistent. He plays and kicks and bucks and wanders. We're just trying to get him where he is focused and more consistent. He can jump really big fences, he's careful, and if you make a mistake he'll keep going. He's jumped a few grand prixs, but he loses focuses toward the end of the courses. We're just trying to get where he pays attention the whole way."
The Kentucky Summer Series is always a stop for Vale, and he is thrilled to be back this year. "They have super footing; it's great everyday, doesn't matter if it pours rain," he noted. "There is also a beautiful set of jumps in the ring with great course designers."
The 1.35m Open Jumpers competed next over a speed course, where there were seven faultless rounds. Guillermo Williams and Marbella, owend by El Milagro of Dallas, TX, went fifth in the order, but managed to hold the lead through the class. Despite taking the outside route, the duo proved they had the speed necessary to win, breaking the beam in a clear 61.734 seconds.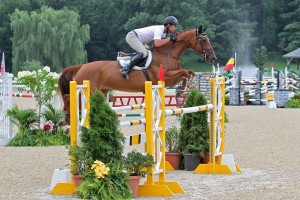 Guillermo Williams and Marbella
Geoffrey Case and Veneziano-C, owned by Group C of Rye, NY, were the only horse and rider combination to come close to catching Williams' time, but they came very, very close. The duo was able to leave all the fences in place with a very quick pace and cross the finish line in 61.785 seconds, just 5/100ths of a second slower for the second place honor. Angel Karolyi took home the third place award with S-Accorda Donaldson, owned by Hollow Creek Farm of Aiken, SC, finishing in a slower clear time of 65.517 seconds.
"When Marbella turns tight she tends to look at the fence and might stop, so all the turns that everybody did inside I did outside because she is really, really fast," commented Williams after his win. "It worked and she jumped beautifully today."
Williams continued, "Marbella is a really nice mare that I bought in Europe four years ago and sold to one of my clients. She stopped riding last year, so we bought her back. I've been riding her about eight months. She's great to a ride, a real sweetheart."
Williams and his student, Eugenio Garza of Mexico, came to Kentucky from Dallas for the North American Junior and Young Rider Championship, where Garza captured the Junior Jumper Individual Gold medal by producing a historic six clear rounds, making for a very special three weeks in Lexington. "This place is amazing," expressed Williams. "The footing is good, the stabling is good; everything is amazing. We will be back next year for sure!"
The Kentucky Summer Classic will continue tomorrow with the fourth event in the Hagyard Challenge Series, the $25,000 Hagyard Lexington Classic, getting underway at 7:30p.m. The Series features seven grand-prix events that offer a $50,000 Leading Rider Bonus. On Saturday, the highlight will be the $50,000 Kentucky Summer Grand Prix, sponsored by Audi of Lexington.
For more information on the Kentucky Summer Series please go to www.kentuckyhorseshows.com.
RESULTS:
1.40m Open Jumpers
1    657    H & M CISCO     AARON VALE     0    0    0    71.027    0    0    0    31.224
2    60    SHAMROCK     JUAN PABLO GASPAR     0    0    0    67.812    0    0    0    31.601
3    874    DELPHINE     TATIANA DZAVIK     0    0    0    0.000    0    0    0    32.498
4    1447    MIDNIGHT DANCE     SARAH SCHEIRING     0    0    0    75.567    0    0    0    34.671
5    978    HARLEY 86     BENJAMIN MEREDITH     0    0    0    77.990    0    0    0    38.006
6    1722    AMARETTO D'ARCO     SHANE SWEETNAM     0    0    0    73.673    0    0    0    38.496
7    881    ACORINA     WILL SIMPSON     0    0    0    67.152    4    0    4    31.617
8    470    DIAMONTE DARCO     WILTON PORTER     0    0    0    0.000    4    0    4    33.758
9    1081    PARK LANE     DAVID BLAKE     0    0    0    0.000    4    0    4    34.902
10    1280    VAROM     ANGEL KAROLYI     0    0    0    0.000    4    0    4    41.189
11    667    ZIPPO II     AARON VALE     0    0    0    0.000    8    0    8    32.891
12    59    GAMA COCU     JUAN PABLO GASPAR     4    0    4    65.914
1.35m Open Jumpers
1    861    MARBELLA     GUILLERMO WILLIAMS     0    0    0    61.734
2    89    VENEZIANO-C     GEOFFREY CASE     0    0    0    61.785
3    1287    S-ACCORDA DONALDSON     ANGEL KAROLYI     0    0    0    65.517
4    1075    AISHA     DAVID BLAKE     0    0    0    66.793
5    646    MATILDA     MICHAEL TOKARUK     0    0    0    69.033
6    912    MTM BALVINO     BRANDON HOWARD     0    0    0    72.245
7    853    VIVARO B     BENJAMIN SIMPKINS     0    0    0    72.877
8    1285    ROMEO     VICTOR SEGOVIA     0    1    1    79.151
9    851    POLARIS     BENJAMIN SIMPKINS     0    2    2    80.874
10    866    PROVIDENCE     EUGENIO GARZA     4    0    4    61.737