"Just a perfect day" was among the comments heard during the Green Creek Equestrian Park's (GCEP) first annual A Day In the Country on October 25th in Tryon, North Carolina. With a hillside covered in picnics, horse trailers, and folks of all ages, the beautiful fall day could not have been a better start for the Tryon Riding and Hunt Club's inaugural equine event at GCEP. Executive Director Laura Weicker said, "Today's event was planned to be an informal, fun day with classes held in an open field setting. Any rider, young or old, whether your interest is in trails, foxhunting, showing or eventing, could join in the fun."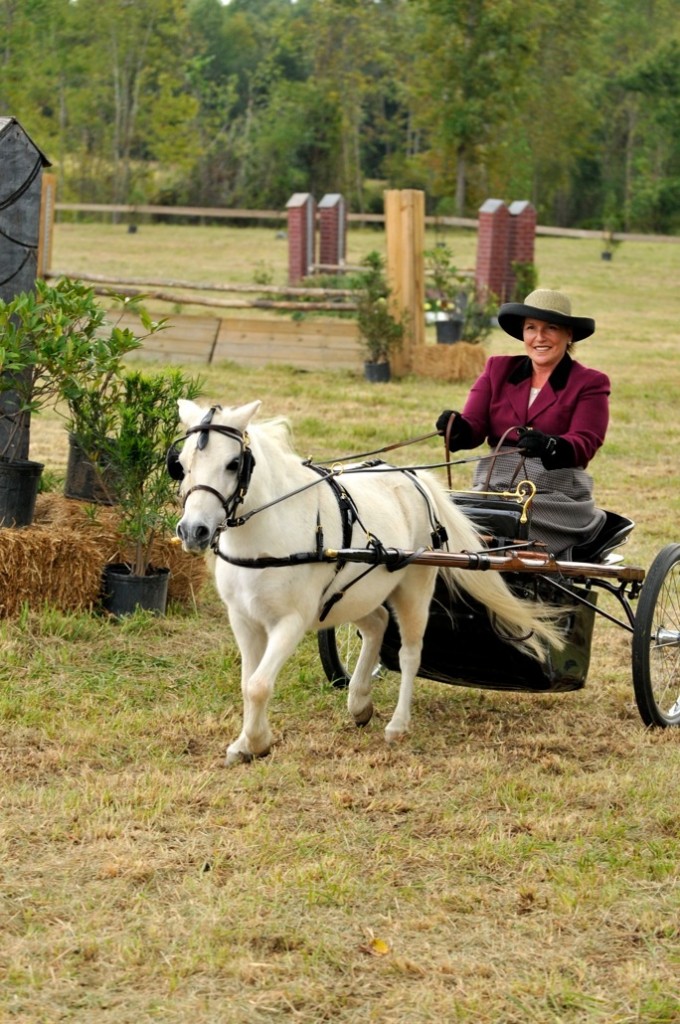 Entries started arriving early as the fog lingered in the amphitheater-like setting. Participants from Converse College's Equestrian Team, River Valley Pony Club, Green Creek Hounds and Tryon Hounds, community riders, and those from afar stood ready at the gate to test their skills through obstacles and jumps on the outside course. "We wanted the community to come out to meet the local horse groups and find out who they are and what they do for our area", said Lewis Pack. Pack, on-site manager, built a traditional field trials-like course similar to those from an era ago with natural brush and festive pumpkins surrounding every jump.
Hunter Metcalf, a 7th grader at Polk Middle School, beamed with pride as she won second place in the first class of the day aboard her pony, JJ.  "I liked today because it was so much fun and we could ride in so many classes over fences and then ride bareback in the Ride-a-Buck," said Hunter.  Bringing back a true class from the past, the Ride-a-Buck tested each rider as they rode with a dollar bill under their leg.  Horse show veterans, Nikki Guerrazzi of Landrum's Clear View Farm and Sue McDainel of The Farm House seemed to take it all in stride when both were tied for the blue.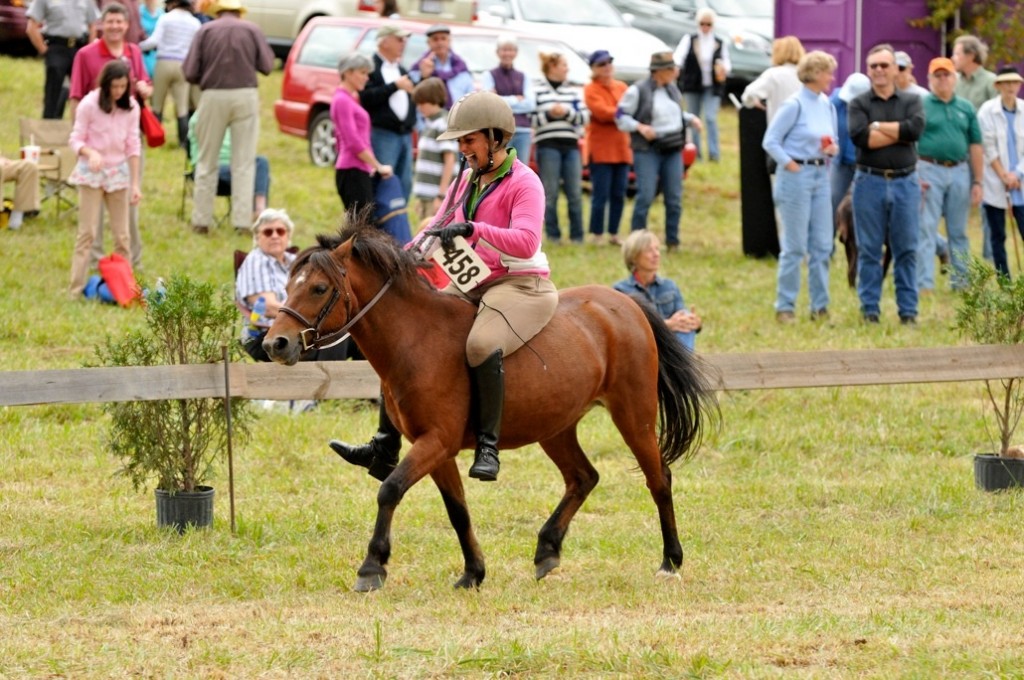 "TOO much fun," said Nikki and she joined with Sue to return their winnings to the TR&HC as a donation.  Such was the spirit of the day.  Diane Randolph of Blacksburg, SC said, "I have ridden three times in the last 30 years and look at me today! As a trainer and breeder of ponies who have qualified for Devon year after year, today was just a wonderful way to bring my riders to something new and different.  As a child I remember making jumps out of cane and corn stalks—This type of fun has been on my "bucket list" for ages."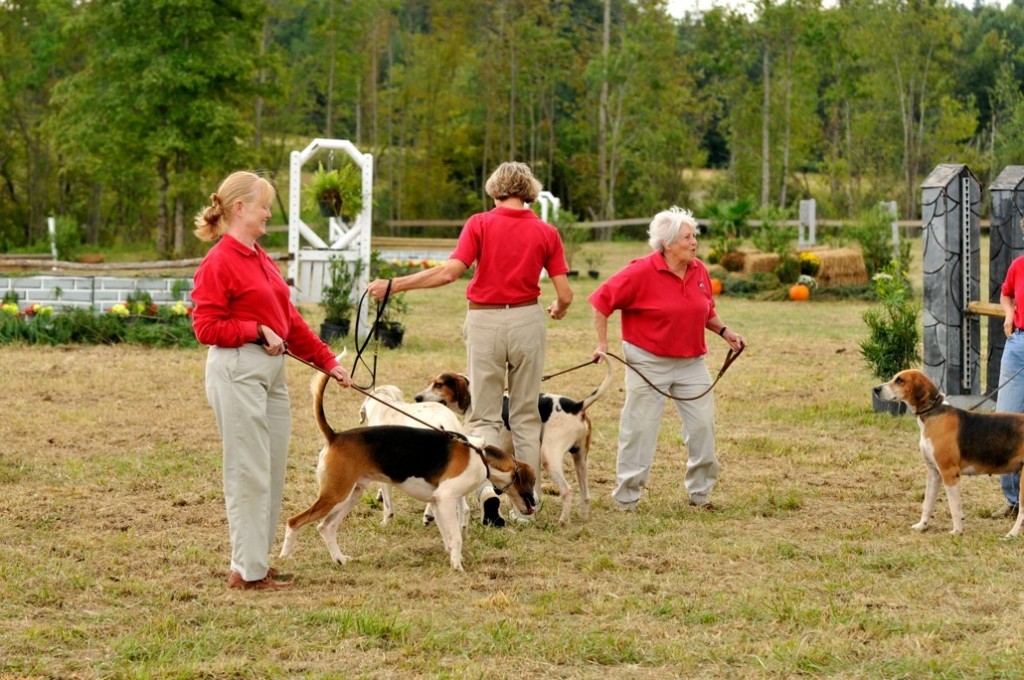 The afternoon classes offered a challenge between the Green Creek Hounds and Tryon Hounds with a class for hilltoppers and first flight hunters alike.  Both hunts were represented as Green Creek took away the beautiful crystal trophy donated by the Farm House with more total points earned.  Joint Master Pat Hale of Green Creek Hounds brought hounds and puppies alike so spectators could see them up close.  Connie Brown, a Green Creek resident and Carolina Carriage Club member, brought one of her beautiful miniature horse to demonstrate great driving skills.
Mr. and Mrs. Norman Peterson of Glassy Mountain Farm in Gowensville, feature sponsors of A Day In the Country, shared their generous spirit from afar.  Ironically, their winning hunter Brunello, co-owned by Liza Towell Boyd, was invited to be a part of the Hunter Derby Demonstration at the World Equestrian Games in Lexington, KY at the very same time.  As a 3rd place finisher in the $100,000 Derby Finals in August Brunello and the Petersons have been busy representing the world of hunters.  "Knowing we can be a part of this great start for GCEP lets us help grassroots riders and international ones alike.  Riding in the field like this can help riders as they move to bigger challenges in the hunt field, trails, and shows.  We are thrilled the day was such a success!"
"We wanted today to be casual—One in which folks could just set up their picnics and watch the fun," said co-planner Lillie Brown.  "This is just the beginning for many great days at GCEP as we look to the future.  Days like this are simply perfect to remind us all of our wonderful community and the equine heritage found here in Polk County."