My name is MacKenna Moss and I am from Colorado Springs, Colorado. I have been riding for about 8 years and I've been a working student for the entirety of my riding career. I have been a working student for Lainie Wimberly, Julie Winkel and my current trainer Harriet Bunker. Right now I am in Ocala, Florida showing on the HITS show circuit in the Big Eq with my horse, Quaxx 2. Two of my future goals are to ride and finish top 10 at Maclay finals and to ride D1 for the NCAA in college. I'm an honors IB student at Discovery Canyon Campus Highschool and I work with a therapeutic riding organization, called StableStrides, outside of school. I'm going to take you through a day in my life as a working student!
I work Tuesdays through Sundays. Everyday I wake up around 7:45 and get ready to go to Blue Ribbon Scholars where I do my school work Monday through Thursday. They do such a good job of keeping me motivated to do school work and I get so much work done while I am there. They are definitely a great option to think about if you need help with school during the circuit. I am done with school at 12:30 and I head over to our show stalls and get on my horse Q. I will either hack him during the week before showing Friday through Saturday or I will do a couple meter jumper classes to prepare for the Medals on the weekend. 
Once I'm done showing for the day, I will go back to the barn and help clean tack or blanket the horses. I will wrap all of the horses at the end of the show as a precautionary measure for swelling in their legs. I also get the opportunity to hold the horses for the vet and farrier, and I get to watch and assist them while they work with our horses. I get many opportunities to learn proper horsemanship everyday by working with my trainer, helping with chores around the stables, and observing lessons. I will also help set jumps with my trainer and help the other clients prepare for the show ring. We operate between both HITS and WEC, so depending on the week, it can get really busy going back and forth between the two venues! 
Later in the afternoon, after we are done showing, I will ride or hack 2-3 horses for my trainer, and another trainer that I ride horses for. Then, it is time to feed at 4pm, so I will help make grain for the horses, feed them, and rinse out buckets. After that, I will go up to the apartment I stay in above the barn and clean and polish my boots. I will take a little break after that and watch Hulu for a little bit before I work on any other assignments I have for school.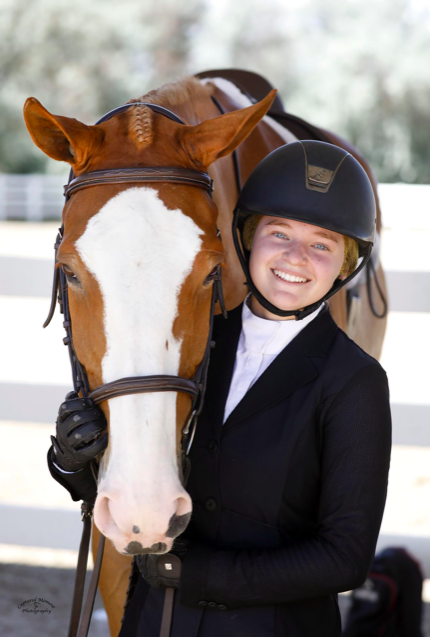 Finally, around 7pm, I will make dinner and relax before I go to bed. Thanks so much for reading about my day as a working student. I hope it gave you some insight on how much effort working students exert to be able to afford this sport! If you want to keep up with my journey to Maclay Finals and NCAA, feel free to follow me on Instagram @mackenna.m.eq and don't forget to go check out Blue Ribbon Scholars on Instagram as well, @blueribbonscholars! 
About MacKenna
I am a Junior honors student taking IB classes at Discovery Canyon Campus High School. I compete in the Big Eq with my horse Quaxx 2 and I volunteer at StableStrides Therapeutic Riding and Military program in my spare time. I am currently a working student, showing in Ocala, Florida, and I have been a working student for my whole riding career. Being a working student has been so beneficial to me as a rider and as a person. It has taught me to be humble as well as practice good horsemanship in and out of the show ring. It has also shown me that if you work hard and are dedicated to what you do, you will get so many opportunities in life.