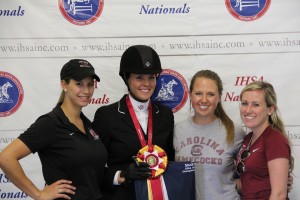 Alumni Tournament of Champions
Alumni From Up and Down the Eastern Seaboard Invited to Participate
Fairfield, CT—July 13, 2012—For alumni riders wishing to continue that intercollegiate experience, an Alumni Tournament of Champions, the brainchild of IHSA alumni representatives, Lena Andrews Licata and Jamie Windle, will premier Sunday, July 29, under judge Louise Kass, and hosted by the Valley Forge Military Academy and College in Wayne, Pennsylvania.
The Alumni Tournament of Champions is open to all alumni riders in IHSA Zones 2, 3 and 4.  The prize list has also extended the invitation to "alumni from up and down the Eastern Seaboard to participate in this newly formed annual event."  All riders must have been active IHSA alumni members 2011-2012.
The event will feature classes on the flat and over fences (up to 2'6") and an Alumni Cup.  Each IHSA Region may send two riders to participate in the Alumni Cup. The class will be run USEF/Cacchione Cup-style with all riders receiving a score on the flat and over six or more fences (at least 2′ 3″ and not to exceed 2′ 9″ in height), and including at least one change of direction. The top four riders will be asked back to test.  An Alumni Cup Perpetual Trophy and top six ribbons will then be awarded.
The idea for the alumni tournament began with a Facebook idea shared between Licata (Zone 3, Region 4) and Windle (Zone 4, Region 4):   "A post suggested our regions should ride against each other for fun. Now we're inviting more zones to compete." The Alumni Tournament of Champions is not affiliated with Tournament of Champions events produced by Beckett Run.
A website has been developed to handle entries (deadline July 15) and to make show photographs available for purchase. "It's blossomed from there," said Licata. "I'm expecting almost twenty alum in the fall so I'll certainly need it." See http://alumnitoc.webs.com.