Time Warner Cable goes 'Behind the Scenes' with champion dressage rider and trainer Kristina Harrison this month  on SoCal's Best
Santa Monica, CA – Time Warner Cable's SoCal's Best proudly presents a "Behind the Scenes" special on champion dressage rider and trainer, Kristina Harrison.  In her own words, Kristina describes the rewards of riding, training and the joy she derives from training her daughter Rison to ride and compete in dressage.
Kristina Harrison achieved renown as a dressage rider when she qualified for the 2003 Pan American Games on her horse "Kantor."  As a member of the U.S. Equestrian Team she helped bring home the Team Gold Medal. 
In 2006, she won the U.S. Dressage Federation Intermediate 2 Horse of the Year, aboard "Rociero ", a white Andalusian stallion owned by Margret Carrera of Auburn, California.  The following year, she rode "Rociero" at the Grand Prix level, the highest level of dressage, where she placed third in the 2007 U.S. Equestrian Federation National Grand Prix Championships. 
Today, Kristina continues to compete and train other riders and horses in dressage.
The story was videotaped on location at Angele Farms, within the Paddock Riding Club in Los Angeles, CA.  Additional footage was recorded at the LA Equestrian Center during the 43rd CDS Championships, Sunday, October 10, 2010.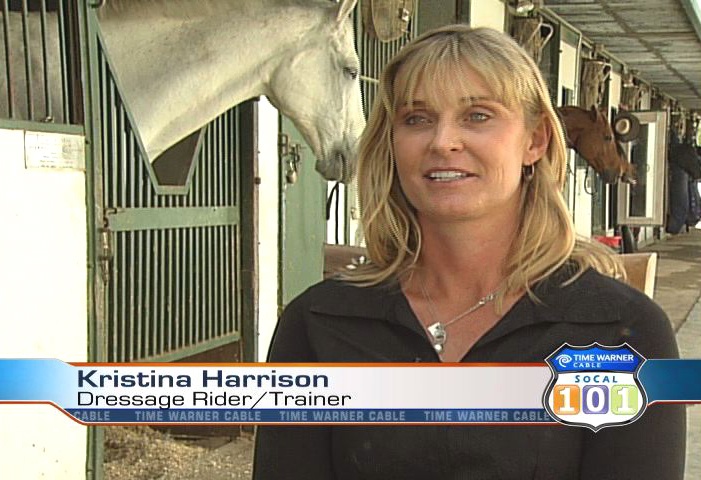 Kristina's story can be seen on SoCal's Best on Video on Demand. To view, customers can tune to channel 1 > Local > SoCal's Best > Behind the Scenes > Dressage-K. Harrison. The story was produced by Allan G. Buller, a Time Warner Cable's SoCal's Best producer in Santa Monica, California.
Presented exclusively by Time Warner Cable, SoCal's Best profiles the hottest topics touching Southern California today, ranging from food, fun and hobbies, to history, culture and characters.  SoCal's Best segments are available for free on Video On Demand anytime on Channel 1, under the "Local" category. In addition, viewers can also view SoCal's Best by tuning into Time Warner Cable Channel 101, or watching it daily at 24 and 54 minutes past the hour on CNN Headline News.
About Time Warner Cable
Time Warner Cable is the second-largest cable operator in the U.S., with technologically advanced, well-clustered systems located in five geographic areas — New York State (including New York City), the Carolinas, Ohio, southern California (including Los Angeles) and Texas.  Time Warner Cable serves more than 14 million customers who subscribe to one or more of its video, high-speed data and voice services.  Time Warner Cable Business Class offers a suite of phone, Internet, Ethernet and cable television services to businesses of all sizes. Time Warner Cable Media Sales, the advertising arm of Time Warner Cable, offers national, regional and local companies innovative advertising solutions that are targeted and affordable.  More information about the services of Time Warner Cable is available at www.timewarnercable.com, www.twcbc.com and www.twcmediasales.com.