The third annual So8ths/Nikon Three-Day Event in the "Heart of the Carolinas" takes place May 2-5 in Chesterfield, SC. Now's your chance to see what this event is all about by reliving all the action thanks to a creative video produced by nFocus Pictures and visible on Southern 8ths' YouTube channel.
This video showcases Long Format Eventing at the amateur level but with the aplomb of a professional level event.  If you are a horse lover, have a passion for Eventing or are simply curious to peek behind-the-scenes at the 2012 So8ths/Nikon Three-Day Event then settle into your seats and fasten your seatbelts for  an amazing 4-minute ride by going to http://www.youtube.com/watch?v=QUBHfKnVc_E.
You'll get a chance to watch not just the competition but see who is teaching the educational clinics and how up close and personal the competitors are with the clinicians. These clinics are taught by some of the top horsemen in the Eventing community. Well-known riders and trainers Charlie Plumb, Will Faudree, Holly Hudspeth, Rebecca Howard and Susan Beebee are joined by "R" Dressage judge Sue Simpson and FEI course designer Tremaine Cooper educating the competitors on all aspects of the Long Format. FEI veterinarian Dr. Debbie Williamson and local vet Dr. Marsha Severt ensure the horses are fit to compete. Groom Natalie Varcoe Cox covers caring for the horses. Marc Donovan walks his show jumping course with the competitors.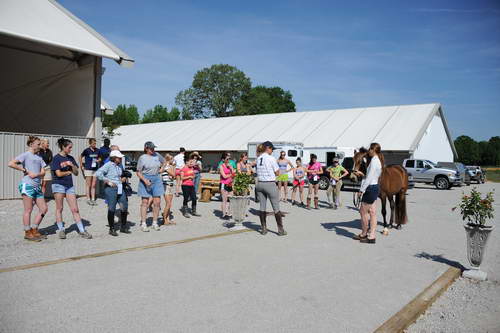 There's also a gala Saturday night barbeque, Nikon hat and photo contest, Kentucky Derby screening and much more. Combine that all in one video photographed on the amazing Southern 8ths Farm facilities and this will be an action-packed ride you don't want to miss. And it just might inspire you to compete, volunteer or even become a sponsor; all supporting the amateur level riders who are truly the bulk of the sport.
Southern 8ths Farm is a premier Long Format equestrian training center. It is a horse lover's playground with a steeplechase track, multiple cross-country and show jumping venues, regulation size dressage rings, a derby course and miles of groomed trails.  These facilities in addition to a modern guest barn and large covered arena provide all the amenities a rider needs to hone their Long Format equestrian skills. You'll get to see all of this and more in this YouTube video. While this video is simply an overview set to music future videos will focus on educating viewers about various aspects of the event.
The So8ths/Nikon Three-Day is a USEA recognized Long Format event. Southern 8ths Farm is also available for equestrian get away weekends where small groups can experience a "tailored training" approach.  The Farm also allows other organizations to host their events at this venue. For more information about attending the event, using the facilities, competing, or becoming a volunteer or sponsor, visit www.So8ths.com, call (843) 623-5005 or email diana@so8ths.com.