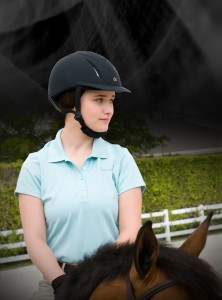 Horse Sports by the Bay Inc., is pleased to announce that English Riding Supply is returning this year as a Horse Shows by the Bay Equestrian Festival Platinum Sponsor and as the sponsor of the Ovation Leading Rider Awards.

The Ovation Leading Rider Awards Program has been part of the Hunter/Jumper awards program at Horse Shows by the Bay since 2007.  The circuit awards are given to the top winning rider in each of the 12 categories recognized – from Pony Hunter to Open Jumper.  Riders who accumulate the most points at the end of the four week circuit win a $500 gift certificate to redeem from the comprehensive English Riding Supply catalog. Winners will receive their awards during Horse Shows by the Bay Series IV.
Says Alex Rheinheimer, Horse Sports by the Bay Inc., owner and show manager, "The Ovation Leading Rider Awards are among the highlights for our participants each year.  For them, choosing from such noted brands like Ovation, Pessoa, Centaur, and Veredus guarantees that they'll find something of value and that is useful.  For me, I especially like this type of award as it rewards consistency.  I can't thank English Riding Supply enough for their continued support of our horse show and of this wonderful awards program".
English Riding Supply's Centaur is also the show's Official Horse Clothier and will dress the show's Grand Hunter Champions in style with Centaur Wool Coolers plus provide beautiful Turbo Dry Show Sheets for the Hunter and Jumper Classic winners.  Series II and Series IV Champions will also receive an embroidered Centaur Dress Scrim Sheet for their accomplishments.
English Riding Supply's Peggy Murray will be onsite during Horse Shows by the Bay and will be providing additional prizes and gift certificates.
Says Murray, "We have worked with Alex Rheinheimer and her staff since the show's beginning.  We've been so pleased that each year we've increased our level of sponsorship and as such we are now Platinum Sponsors."
"English Riding Supply's premier brands of Pessoa, Veredus, Centaur and Ovation are really in the spotlight at this show.  They do a great job at promotion and based on the response we receive from the participants they clearly like receiving our products.  The show itself is terrific – the facility is one of the loveliest in theUnited States and is located in such a great part of the country," addedMurray.
The Ovation brand represents the finest in all types of rider apparel, including an extensive lineup of helmets suitable for show and schooling.
For more information on English Riding Supply and to view their complete list of helmets, brands and an online catalog, please visit www.englishridingsupply.com.
Kicking off events at this year's Horse Shows by the Bay Festival will be Dressage by the Bay Series I and II, June 22-24, which are two back-to-back USDF Level 3-rated dressage competitions. The shows will include a variety of qualifying and special classes.
One week later, on July 4, begins four consecutive USEF AA-Hunter/Level 4 Jumper shows known as Horse Shows by the Bay Series I-IV.
Entries for the Hunter/Jumper shows are currently being accepted on a first come first served basis until capacity is met or June 1, whichever comes first.  The Dressage by the Bay Prize List will be available shortly.
More information on the exciting 2012 Horse Shows by the Bay Equestrian Festival, including links to our Blue Ribbon Lodging and Transportation Partners, can be found on our website: www.horseshowsbythebay.com.