Equilume's Stable Lighting is the newest innovation in lighting technology and provides biologically effective light in a system that replicates the benefits of nature's environmental lighting for the stabled horse. When installed, this science-backed lighting system immediately acts to influence health, performance and welfare by naturally strengthening the horse's circadian rhythms.

A key proven component is the blue-enriched daytime light that best mimics the spectrum of natural daylight boosting metabolism, alertness, appetite and reducing the growth of bacteria and fungi in the horse's environment. The light provides a cleaner environment that contributes to improved respiratory health and accelerated wound healing.
A second unique component of the Equilume Stable Lighting System is that the lights dim to red at night. As we frequently interact with horses during darkness hours, it is often necessary to turn on lights to see at night.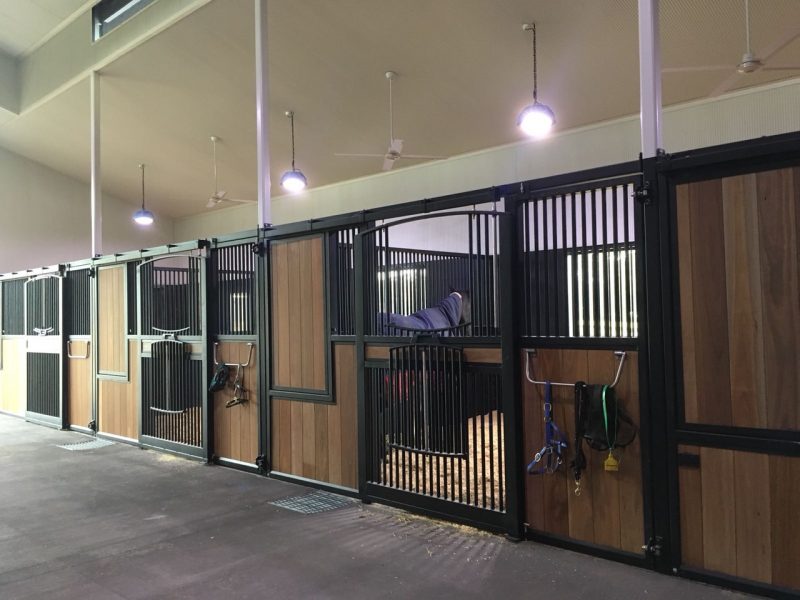 White light at night is a major cause of reduced health and welfare to humans and horses as it disrupts an animal's circadian rhythms. The immune system functions optimally when an animal is permitted adequate rest and recovery at night and when levels of the hormone melatonin are high. This is better promoted under low levels of red light and also allows adequate visibility for staff to carry out routine tasks after dark. 
A third component is the gradual dim up at dawn and dim down at dusk, allowing horses to experience a gradual change in light intensity similar to the natural environment, keeping stress levels low.
The Equilume Stable Lighting system replicates the seasonal changes in day length but with a specially customised programme for horses that extends the duration of peak performance and ensures that horses have the optimum exposure to daytime light even in the dark winter months. Equilume's LED technology functions at a fraction of the cost of traditional stable lighting, greatly minimising energy costs. 
The system's ability to naturally enhance a horse's health and strengthen the immune system will also result in less intervention from your vet further reducing management costs.
For more information visit www.equilume.com
Testimonials:
"Getting horses in great condition is often about keeping them in the best conditions. Health, muscle growth, mood, energy, rest and recovery are all areas that I personally feel are negatively impacted on dark and gloomy days.
The Equilume team have the science to show that the same is true for horses and that their lighting solutions work to improve these factors. We've got our broodmares and performance horses using the Equilume Stable Lights and Light Masks.
We want the best for our horses and we don't want to miss out on a performance edge. Lighting clearly has an important part to play. Plus, who doesn't want their day brightened up?!"
Sam Watson , Ireland, International Event Rider
I was amazed at the overall change in the horses after about six weeks under the Equilume Stable Lights, by the condition they were carrying and the way their coats were starting to look.  We were quietly surprised at how clean all the throats looked when we scoped them prior to shipping out to the sales, clear of pharyngitis, all mucus and guttural pouch infections.
For me, who is sceptical of most things new (because most are just gimmicks), I found these Stable Lights to be one of the only new technologies that worked really well."
Eddie Woods, Leading Consignor, Ocala, FL, USA 
"The Equilume Stable Light system helps to keep our horses in top condition and healthy all year round. The gradual dim up to a red light at night allows us to monitor the horses without disrupting their rest. This system is really easy to adjust to your needs, plus is economical to run."
Jenny Sassier,  Grant Bloodstock Stud Manager, NSW Australia