OTTAWA, ON Jan 22, 2014 — Equine Canada regretfully reports that 18-year-old Dutch Warmblood gelding Orion, beloved partner of Canadian dressage rider Pia Fortmuller, passed away on January 19th.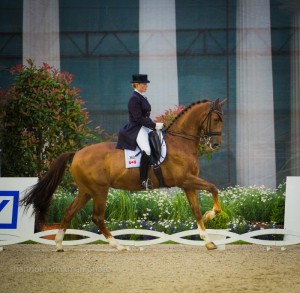 Orion and Fortmuller were the sole Canadian dressage athletes competing at the elite level (CDI4* and 5*) in Europe over the last year. Most recently the pair attended the CDI3* Zakrzow competition, held in Poland from Nov. 8-10, where they won the Grand Prix before moving on to take second in the Grand Prix Freestyle.
Additionally, Fortmuller and Orion travelled to the prestigious Vienna Masters in Austria, where they earned a top 10 placing against an elite group of international competitors in the CDI4* Grand Prix Freestyle and FEI4* Grand Prix classes. They were also invited to compete at the CDIO5* level during the World Equestrian Festival CHIO Aachen in Germany this past July, where once again, Orion demonstrated his incredible talent and heart, taking the pair to ninth place in the CDI4* Grand Prix Freestyle against some of the best equine dressage athletes in the world. Fortmuller called competing at Aachen "…a dream come true," and commented that, "It was an honour to be able to dance down the centerline with Orion in Aachen."
In her time of great sadness Pia Fortmüller graciously offered a loving statement regarding the passing of her beloved mount, below is an abridged version:
"It is extremely difficult to put this in writing, because it means that I have to accept that my Orion, my teammate, my star, my warrior has passed away. Orion was still in top form right up to his last day and it is a shock to absolutely everyone how suddenly he has left us.
"On Saturday January 18th Orion showed symptoms of colic so I immediately brought him to the vet clinic and although we were first able to stabilize him with medication, the vet convinced me to leave him in the clinic overnight, simply to monitor his condition. During the night of the 18th I sat with Orion in his stall and while he was munching away at his hay as I sat cross legged in front of him, I truly thought that I would be able to bring Orion back home with me the following day simply because he made such a healthy and sturdy impression. But during the night Orion suffered from another episode of colic and by Sunday, January 19th at 9 am the symptoms had gotten so bad that we proceeded with colic surgery.
"Before the surgery began I asked for one last moment with Orion, and when I looked him in the eye, Orion let me know that his time had come. Anyone who spends so much time with their four legged partner knows that over time a connection can develop so strong that words are not needed to communicate. And it was in this moment that I knew that I had to let my teammate, my anchor, go. As I closed my eyes and gave Orion one last kiss I had only one thought that I wanted to share with him, and that is "Thank You". Thank You Orion, for being the best teammate anyone could ask for, thank you, for opening up a world of possibilities for me, and most of all, thank you for showing me that dreams really can come true.
"Every time I look up at the stars at night my eyes immediately search for the star constellation "Orion' which is distinguished by "Orion's Belt" and I know that when I look up there I will find my very own warrior who will forever rest in peace amongst the stars."
Equine Canada offers their sincerest condolences to Pia for her loss.  Orion will forever be remembered by all those who followed his career with admiration and respect.
To view Pia's full statement, and for anyone wishing to offer condolences please visit her blog or webpage: