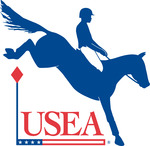 El Cajon, CA – Michele Scott, Vice President of Professional's Choice Sports Medicine Products, Inc. announced today that Professional's Choice has officially partnered with the United States Eventing Association (USEA) as a Corporate Sponsor as the "Official Horse Boot of the United States Eventing Association."

"At Professional's Choice, we believe in partnering with organizations and people who we share common goals and aspirations with. The USEA's goal is to advance the sport of three day eventing through education as a component of its mission statement, and at Professional's Choice we share that passion," stated Scott. Professional's Choice offers a variety of equestrian products and is a leader in the equine leg care industry, placing priority on innovative technology and superior quality.
Professional's Choice has developed innovative technology and products aimed at protecting the equine athlete to the highest standard. Through partnership with the USEA, Professional's Choice hopes to educate the three-day eventing equestrian community about leg care and protection and to support the growth and development of key events and programs within the sport. "We are very excited about our partnership with the USEA and are honored to be their official boot company. Our goal is to continue advancing leg care in all disciplines of equestrian sports and we feel confident our products and technology can help riders protect their horses to the very highest standard," said Scott.
"Professional's Choice products have been protecting event horses, including my own, for the last 25 years," stated USEA Chief Operating Officer Rob Burk.  "The USEA is careful to align itself with sponsors that are dedicated to our sport, and who have principals centered on the health and well-being of our horses and riders.  We couldn't be more excited to continue to grow our relationship with Professional's Choice, and to identify their latest line of innovative horse boots as the Official Horse Boot of the USEA."
About Professional's Choice
Professional's Choice is a family run business that has specialized in equine sports medicine products for the last 25 years. Since the company's start with the sale of the original Sports Medicine Boot for horses, Professional's Choice has become an industry leader recognized for its dedication to the comfort of horses and a manufacturer of quality equine products. In addition to equine leg care products, Professional's Choice offers a wide array of equine essentials including saddle pads, cinches, girths, bits and other horse accessories for both the recreational rider and the professional competitor.
At Professional's Choice we believe all horses deserve the best, because the more comfortable the horse, the better the performance. To learn more about Professional's Choice, please visitwww.profchoice.com.

About the United States Eventing Association
The USEA is a non-profit 501 C (3), educational organization committed to providing eventing enthusiasts with a competitive level suited to their individual skills. By assisting and educating competitors, event organizers and officials; maintaining responsible safety standards; and registering qualified competitions and clinics, the USEA offers a strong and continuous training opportunity for an ever-expanding field of world-class competitors. Just as importantly, the USEA provides a means for all riders, regardless of age or ability, to experience the thrill of eventing. To learn more about the USEA, visit www.useventing.com.