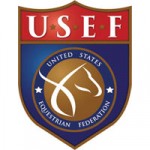 [Wellington, FL] As Nations Cup Night draws near, the United States is calling on all fans to show their support. This weekend, Saturday February 25 and Sunday, February 26, Junior and pony riders are invited to create and submit a poster for the "Team USA Poster Contest." Poster supplies will be available in the Winter Equestrian Festival Family Center located near the pony rings from 10:00 AM to 3:00 PM.
All contestants will receive tickets to the Nations Cup on March 2, 2012 and an official USET Foundation baseball cap. Three poster contest divisions will be offered: 1.) Team USA Spirit, 2.) Current Team Horse and 3.) Team Horses from the Past. The deadline to submit posters is Sunday at 3pm. The posters will be displayed and winners will be announced in the Team USA Tent during the Pre-Nations Cup Pep Rally Reception. Three guest judges from past Olympic Teams will be on site to judge the original artwork, and the winners from each division will receive a baseball cap autographed by the 2012 Nations Cup Team and Chef d'Equipe George Morris.
"We wanted to do something with the Junior and pony kids because our sport is so broad and there are so many people that make up the team," noted Sparky Frost, USET Foundation Coordinator of "TEAM USA Poster Contest. "The Junior and pony riders are certainly a part of that because they are our future. This is also an educational opportunity for participants to learn more about our team, our horses, and the rich history of the United States Equestrian Team. The kids will be able to read books and do some online research to learn about the horses and riders that have represented our country."
On Friday, March 2, from 6-7pm the United States Equestrian Team Foundation and the United States Equestrian Federation invite USA Fans to a "TEAM USA PRE-NATIONS CUP PEP RALLY RECEPTION" held in the "USA" section of the Special Events Pavilion. Bring your team spirit and wear your Red, White and Blue!
Tickets for the USA Cheering Section will also be available on the night of the Nations Cup on a first come, first serve basis starting at 6pm in the USA section of the Special Events Pavilion.
Any older junior riders or parents that would like to volunteer and help manage the poster contest are welcome to join the participants on Saturday and Sunday at the Family Center from 10am-3pm. For more information about this event, please contact Sparky Frost at  sparky.frost@gmail.com.
The United States Equestrian Team Foundation (www.uset.org) is the non-profit organization that supports the competition, training, coaching, travel and educational needs of America's elite and developing international, high-performance horses and athletes in partnership with the United States Equestrian Federation.
For more information on the USET Foundation, please call (908) 234-1251, or visit USET ONLINE at www.uset.org.