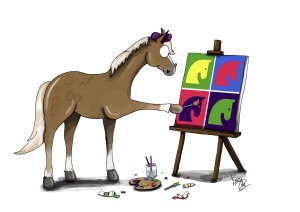 To celebrate the festive season the Equestrian Creative Network (ECN) is giving creative professionals the chance to win a portfolio – each day for twelve days – to showcase their work free for a year. On two of the days in-house teams can win a portfolio to be able to use the ECN Newswire to help gain extra coverage for their press releases.
On the run up to Christmas a portfolio will be given away to a creative in the following categories of ECN membership:
Dec 12 – Photography
Dec 13 – Web design
Dec 14 – Art / illustration / animation
Dec 15 – Blogging
Dec 16 – PR & marketing
Dec 17 – In-house PR
Dec18 – Graphic design
Dec 19 – Journalism / copywriting
Dec 20 – Media/publishing
Dec 21 – Event management
Dec 22 – Video production
Dec 23 – In-house PR
For a chance to win on the day relevant to you post one of the following:
Post a tweet on Twitter:
Hey @EquineCreatives, all I want for Christmas is a portfolio on the Equestrian Creative Network!
Post a comment on the ECN Facebook page:
All I want for Christmas is a portfolio on the Equestrian Creative Network!
Here's the science bit…
You can enter as many times as you wish if more than one day is relevant to your business. You only need to submit one entry each day. One entry per business will be placed in a hat and drawn at random. The competition is global but each 'day' will be identified as the 24-hour period in GMT.
About the ECN
The ECN is an online directory and news site for the creative side of the rural and equestrian industries. The ECN allows people to find the right marketing, media, design or photography pro for their project and helps to inspire out-of-the-box thinking with blogs and updates from members. The ECN Newswire feature allows members to gain extra coverage for the press releases, which can be picked by journalists worldwide.
You can find out more about the Equestrian Creative Network by visiting: equestriancreativenetwork.com or sign up to the newsletter to receive news, views and inspiration from members: http://campaigns.modlia.com/h/r/E6E490AB1450D09A