Gladstone, NJ – December 16, 2013 – As 2013 comes to close, the United States Equestrian Team Foundation reaches its 10th Anniversary. Thanks to the generous dedication of trustees, donors and staff, the USET Foundation has supported the U.S. Equestrian Team through a decade of success.
As a result of the Foundation's comprehensive fundraising programs including annual support, the Gold Medal Club, major gift campaigns and benefit events, it has provided almost $24 million in grants to the USEF for its High Performance programs, making the USET Foundation the largest contributor to this country's High Performance programs.  It has seen net assets go from $7 million to $18.5 million and successfully completed by surpassing its goal the first ever $20 Million Campaign to Achieve Competitive Excellence, chaired by S. Tucker S. Johnson.  The Campaign helped U.S. coaches and athletes develop and implement long-range strategic plans, and laid the platform for future growth as the Foundation looks ahead to the next 10 years.
The results from our athletes and United States Equestrian Teams have been equally impressive over the last ten years, having won two Gold, three Silver and three Bronze Medals at the Olympic Games, eight Gold, eight Silver and 14 Bronze medals at World Championships, three World Cup titles in Dressage and Show Jumping, and numerous Nations Cups and top placings at major international competitions.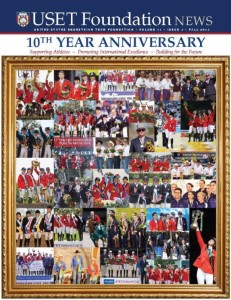 The USET Foundation has also helped revitalize its headquarters at Hamilton Farms. In honor of the 100th Anniversary of the Hamilton Farm Stable (2017), the USET Foundation established "The Gladstone Fund" to preserve this important legacy and historic facility. The most recent improvements include new footing in the indoor and outdoor rings, new landscaping and the dedication of the "The 1960 Courtyard" and the "Vincent B. Murphy Tack Room."
As 2014 approaches, and with the Alltech FEI World Equestrian Games in Normandy, France on the horizon, the USET Foundation is preparing for another 10 years of excitement and success for the U.S. Equestrian Teams.
Executive Director Bonnie B. Jenkins concluded, "The success of the USET Foundation and the way it has matured as a premier philanthropic organization for our United States Equestrian Teams is most rewarding.  We are grateful to the generous individuals who share our passion and contribute to the Foundation's core mission of supporting athletes, promoting international excellence and building for the future and, with their continued help, we know we will see our flag raised and hear our national anthem played around the world for years to come."
The United States Equestrian Team Foundation (www.uset.org) is the non-profit organization that supports the competition, training, coaching, travel and educational needs of America's elite and developing international, high-performance horses and athletes in partnership with the United States Equestrian Federation.
For more information on the USET Foundation, please call (908) 234-1251, or visit USET ONLINE atwww.uset.org.