Remand/Adopted and already in his new home in Indiana!   We apologize for the delay in updating our blog.  It has been a rather busy two weeks with 17 adoptions total from all of our facilities.  Not only were 17 horses adopted they have actually all been picked up and are already in their new homes!  Even better we have 8 horses that have also been adopted (adoption fees paid and contracts signed) that are simply waiting for transportation.  With so many horses leaving we have that and more arriving.  So not only have we been working hard to match each horse up with the perfect home we have had to organize for new horses to come in.  We rarely have empty stalls for longer than a day or two which means we have a ton of new horses at all of our facilities. Smartacus/ Adopted and awaiting his ride to Lexington, Kentucky With the anticipation of the 8 adopted leaving soon and that list growing over the weekend with numerous appointments with potential adopters we have 16 new horses scheduled to arrive by Tuesday. Just to give you a glimpse of where they all come from; we currently have 7 horses coming up from Florida, 2 from Belmont, 1 from New Jersey, 4 from Penn National, and 2 from Kentucky and as long as there are no unexpected snow storms we will be bursting at the seams with horses by Tuesday afternoon.   Of these horses and including several of the ones that arrived this week we definitely have some quality horses that we look forward to working with.  We have a young gray Smart Strike gelding, a Najran gray gelding who is a stakes winner of $278,000, a Tale of the Cat graded stakes placed gelding, a young Congrats gelding, a young Kitten's Joy gelding, an AP Indy gelding, and a gelding who ran in the 2007 Kentucky Derby.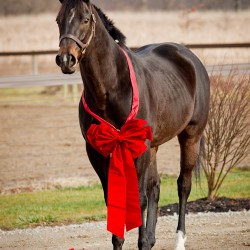 Read more at the source: 17 Adoptions and Counting!
Article excerpt posted on Sidelinesnews.com from Beyond the Track.
Double D Trailers Info