We are frequently asked "what is the secret to your adoption success?"  The answer to this question is not a short one.  There is a lot that goes into New Vocations successfully adopting out over 400 retired racehorses a year. The one major factor to our success that I would like to spotlight is the teamwork that goes on daily behind the scenes.  It is the passionate commitment by our team of underpaid and over worked employees and volunteers that keeps New Vocations going. New Vocations was started in 1992 by Dot Morgan when she set out to provide a safety net for horses retiring from the racetrack so they might find a home and therefore have a future.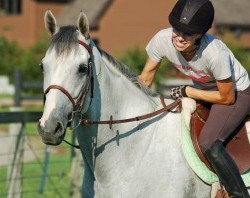 Read more at the source:New Vocations A Team Effort
Article excerpt posted on Sidelinesnews.com from Beyond the Track.
Double D Trailers Info