Wellington, FL – On Saturday, March 17, from 8 a.m. to 12 p.m., the Special Olympics in Palm Beach County will have their competition at the Palm Beach International Equestrian Center in Ring 6. Fifty-five riders will compete in classes that include English and Western Equitation, Dressage, Trail, Prix Caprilli (a combination of Dressage with jumps) and a special encore performance of the Vinceremos Superhero Drill Team at 11:45 a.m. Following the competition, the riders will participate in a parade of champions in the International Arena. The Vinceremos Therapeutic Riding Center is the training home for Palm Beach County Special Olympic Equestrian Team. Along with riders from VTRC, special guests from the Chateaublond Equestrian Center in Haiti will be present to compete in the competition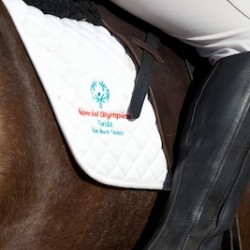 Read more at the source: Come Support the Palm Beach County Equestrian Special Olympics on Saturday, March 17!
Article excerpt posted on Sidelinesnews.com from What's Happenin'.
Double D Trailers Info