The Royal – Nov. 4-13th in Ontario – is more than just a horse show, says our friend and colleague, Michelle C. Dunn, who for the past three or four years has handled both the Royal's photography and PR. It is a celebration of the Royal's motto – "bringing the country to the city" – and the livestock side of the show serves to remind kids of all ages that 'real life' means growing food to fill all those pretty packages that line supermarket shelves. The opening night of the Royal offers spectators a double header of equestrian excitement. The uber-popular horse hockey returns with NHL legends Darcy Tucker and Mark Napier 'facing off' on horseback with Curtis Joseph and Darryl Sittler. We have been hoping for years to run away to the Royal to assist Michelle – maybe next year! This sounds almost as much fun to watch as indoor eventing – Rolex Kentucky 2006 being where we met Michelle for the first time, as numero uno photographer for Marty Bauman's Classic Communications team in the Rolex 3-day event press center.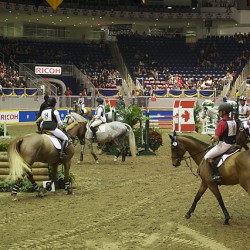 Read more at the source: Happy 89th, Royal Agricultural Winter Fair!!!
Article excerpt posted on Sidelinesnews.com from LaurenGallops.
Double D Trailers Info