©ESI Photography Kids day festivities.   Purina Animal Nutrition closes out the spring series of shows with the highly anticipated Purina Animal Nutrition Kids' Day.  The day of family fun will provide a host of activities for everyone to enjoy, including the crowd-pleasing Horseless Horse Show, sponsored by Eastern Hay & Grain, as well as arts and crafts, face painting and FREE Pony Rides! Festivities started at noon on Sunday.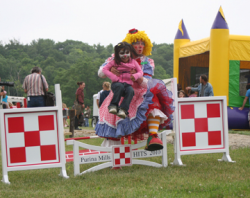 Read more at the source: HITS Saugerties welcomes Purina Animal Nutrition Kids' Day
Article excerpt posted on Sidelinesnews.com from Show World.
Double D Trailers Info